Drano Max Gel Clog Remover, 80 fl oz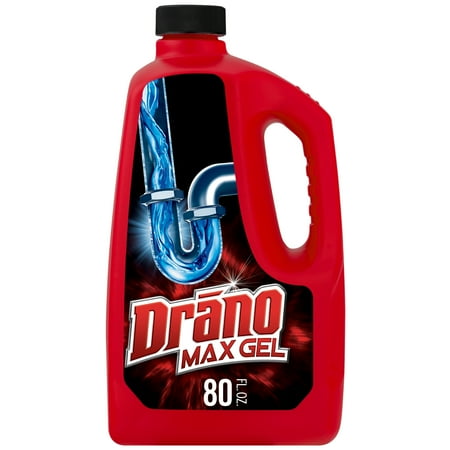 MSRP :

$108.21





Sale :

$7.27

Sold & shipped by Walmart
Product Description

Additional Information

Reviews
Product Description
Drano Max Gel Clog Remover, 2 Qt:

25% more
80 oz for the price of 64 oz
Powerful
Best at dissolving stubborn clogs
Safe on metal and plastic pipes
Additional Information
Formulated thick to dissolve the tough clogs fast
Cuts through standing water straight to the clog
Safe on PVC, metal pipes, garbage disposals and septic systems
Guaranteed to work or your money back
One 80 fluid ounce bottle
Reviews
Joeleelynn
UPC : 019800401092 - Drano Max Gel Clog Remover, 80 fl oz - PickPanda.com
used an 80 oz bottle in portions trying to unclog my tub. It didn't work.
memphisjeepgirl
Tub drains fast
Moved into an apartment and the tub always drained very slow. Hair that was seen was removed from the pipe and it drained better but still sluggish. So I bought Drano Gel and poured half of the bottle in the tub drain. Waited half an hour, poured boiling water down the drain.....presto! My tub drains very fast. No more standing water so I'm very pleased with the results of Drano Max Gel Clog Remover. I have very long hair and try very hard to not let hair go down the drain. But now I know what product to use should the pipe get clogged again.
goodiecookie
Here's mud in your eye...
After the Indian clay facial mask had hardened, I rinsed it off and down the shower drain. As instructed, that was followed with a lot of water to prevent clogging. Best laid plans and efforts often don't produce the desired results which is what happened here. When showering the next day, I was standing in ankle-deep water due to a clogged drain. What to do, what to do? As always, it was Drano Gel to the rescue, although it did take two attempts before we were back in free-flowing drain business again. It has no harsh odor, and has not gassed or spit at me as some I've used in past years have. A much "friendlier" experience. This product is something I try not to be without because drainage problems never seem to occur at convenient times. I have never had to call a plumber because Drano Gel has failed to open a drain. Knock wood!
basho2014
Great clog remover!
Worked well! Used half the bottle for a REALLY slow-running bathroom sink drain. Followed the instructions and waited for 30 minutes and then I flush with hot water. I didn't expect it to work, but it did! Very happy :)
bhbgffrdsredtyhk
Great clog remover!
I have used this type of stuff in the past, with no luck at all. I decided to give this one a try and I was very pleased! the clog was very bad and after using this I really don't think my drain has ever run this fast in the 21 years I have lived in this house.