Windex Original Glass Cleaner Refill 67.6 Fl Oz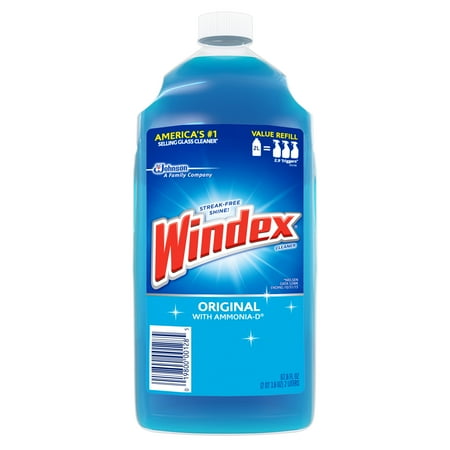 MSRP :

$79.44





Sale :

$5.44

Sold & shipped by Walmart
Product Description

Additional Information

Reviews
Product Description
Get a sparkling clean finish with Windex Glass Cleaner. This powerful solution lifts dirt, stains, grease, fingerprints and more out of the way while being incredibly gentle on the planet. The key ingredient of this blue streak free glass cleaner is Ammonia-D, which attacks dirt on the surface before you wipe it. The concentrated formula is environment-friendly, using biodegradable cleaners. It does include phosphorus or involve animals in its testing procedures. The glass cleaner is created in accordance with the Greenlist process, so the raw materials used have a reduced environmental impact with the same optimal product performance. The bottle is made from 50 percent post-consumer content. The bottle, excluding the trigger, is recyclable. Windex cleaner refill, 2 L can be used on marble, sealed granite, UV-protected windows, mirrors, and bathroom fixtures made of chrome, vinyl, lead or flint glass, tile, Lucite, plastic and aluminum.
Additional Information
Trusted by generations for its famous streak-free shine
Thanks to its patented ingredient, Ammonia-D, Windex Original starts working on dirt and grime even before you wipe
Perfect for cleaning glass and more
Cleans, shines and leaves a refreshing smell
Reviews
disappointedmom
Would love to use it but I can't... Bottle keeps breaking
I have now purchased two different 23 oz bottles of the Windex Orignial within 4 weeks of each other. The spray trigger broke off on the first bottle after about 4 uses. I still had 80% of the bottle left. So I went and purchased a second 23 oz bottle with the intentions of switching out the tops so that I could use the rest of the first bottle. After one use (cleaned 4 windows and a mirrow) the trigger from the second bottle broke too. Now I am stuck with two almost completely full bottles of windex and no way to clean. I will be looking for a new brand...
Firethemarketer
new sprayer breaks after a couple squeezes,
Twice now ever since they introduced the new sprayer bottle, after the very first couple quick squeezes the new flimsy squeezer snaps off, rendering the bottle useless.. these used to last forever and we would just buy bulk refills... is this some idea from some new guy hired to save money idea to make hem break easier so you buy more, oris it just shoddy design? I've purchased a noname glass cleaner sprayer (it was cheaper than buying a new empty sprayer bottle) and will refill with windex left overs, then continue buying no name glass cleaner.... who cares how good it cleans if the sprayer breaks instantly... i am sure some new marketing guy got a bonus and a pat on the back for saving a few cents on a inferior spray nozzle
Susi
new sprayer breaks after a couple squeezes,
Good price and product.
Mountainman821
New "original formula" is disappointing to say the least.
I'm 64. I've used Windex since the early 1960s. Original Windex with Ammonia D (for "distinguished") in the aerosol can was an outstanding product. Since then, Windex has been letting me down. I recently cleaned the inside of my car windshield and I had to do it three times to get what I thought was a "streak-free shine." It looked good UNTIL I drove into the sun. WOW! The windshield, according to my wife, looks even worse than before I "cleaned" it. Not only is it extremely streaky, it is covered with large hazy patches. I will have to try and clean it again. I also cleaned some mirrors around the house. They look pretty good close up. But from across the room, they are all quite streaky. I am sad that the fine product I grew up with has become just another average window cleaner. I will now try to find a new product that will do what I was hopeful your new "original formula" would do but did not. After more than 50 years, I bid you farewell.
sandar
Not the same Windex I grew up using.
I have tried cleaning the inside windshield of my car three times (when it's not in the sun) and I can not get the window clean. Obvious not the same Windex that I used to buy.