Lysol Disinfectant Spray, Crisp Linen, 25oz (2X12.5oz)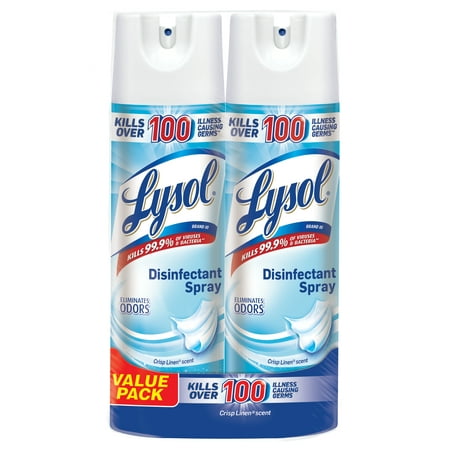 MSRP :

$13.02





Sale :

$8.36

Sold & shipped by Walmart
Product Description

Additional Information

Reviews
Product Description
Lysol Crisp Linen Scent Disinfectant Spray can be used on commonly touched surfaces in your home, on fabric and in the air to freshen. Help protect your family from germs they could come in contact with every day. Use Lysol Disinfecting Spray in the bathroom as a bath tub cleaner, shower cleaner, and toilet seat disinfectant. Lysol Disinfecting Spray can be used in the kitchen for sinks, garbage cans, and refrigerator exteriors. Lysol Disinfecting Spray can also be used in the home, on door knobs, diaper pails, and telephones. Lysol Disinfectant Spray can be used on soft surfaces including couches or sofas, mattresses, and pet beds.
Additional Information
Kills 99.9% of viruses & bacteria*
Kills over 100 illness causing germs, including cold & flu viruses.*
Kills 99.9% of odor causing bacteria*
Prevents Mold & Mildew from growing for up to a week
Sanitizes all kinds of hard & soft surfaces*
Reviews
KatO
Love it
Love this product it help me and my little one not get sick after everyone in my family got sick my son and I used Lysol every where and help us not get sick as often as others in my family.
cold41
Clear the air and disinfect!
With this spray you can clear the air and disinfect the environment your living in. Now the odor will be gone and your home will feel and smell like a fresh new place. Isn't that what every one wants? How else can you get a clean fresh scent in the middle of the area your standing? People will no longer have to use a fan to get the odor out. All they really have to do is grab a can of this and let the can do it's thing! Well, I know I would want to use it where ever I go! It's so practical, I could use it everywhere I go. Whether it be in the office or just around town. It's so good to use it doesn't even leave a mess behind. So you can use it even is an office environment. How great is that? Well, like I said, If you want your area to stay fresh and clean smelling, use this! You won't be sorry! It even gets rid of bad germs too! Where else can you find a product that works in double the time? So, purchase a can spray today and watch your problems dissolve away!
Queenfan
Wow!
I live in Tampa, which has very hard water and is rusty. When I turn on my tap in the bathtub, the water is rusty for the first 30 seconds or so. It's horrid. I live in an apartment, so there's nothing I can do about it. My toilet bowl looked disgusting. The ring around the bowl would not go away, no matter how much I scrubbed, and at the bottom of the bowl could easily pass for an advanced science project. Lest you think I'm not a thorough cleaner, I have a tablet in the tank and clean it weekly with the Lysol toilet wand system. I just got back from the store with the Complete Power Lime & Rust cleaner. I followed the directions and squirted in the recommended amount, then let it set for about 20 minutes. I then used a regular toilet brush--everything came off, and I barely had to scrub! The toilet was so stained I thought I'd lose my security deposit, but now it looks even cleaner than the day I moved in. I am sold, and will definitely be using this from now on!
Happyhomemaker
Lysol
It's Lysol! Just to make sure you have some around it's flu season!
RonnieGMan
Aerosol problems
I like the product but the price is high. The containers usually leak fluid when spraying and some don't use all the aerosol in the can. I wish the product was made with more quality and value.