Lysol All Purpose Cleaner Spray, Lemon Breeze, 32oz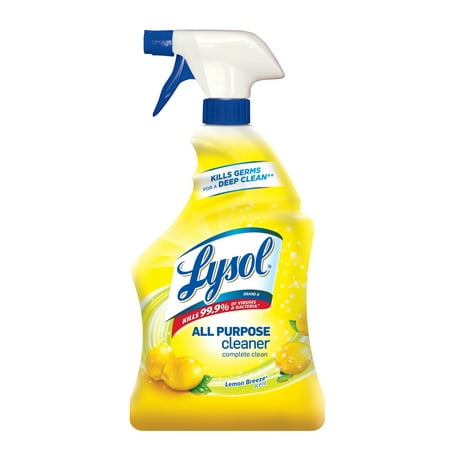 MSRP :

$74.7





Sale :

$2.47

Sold & shipped by Walmart
Product Description

Additional Information

Reviews
Product Description
Lysol All Purpose Cleaner Trigger can be used on surfaces throughout the house - from the kitchen to the bathroom to household areas. It starts cleaning on contact and kills 99.9% of viruses and bacteria when used as directed. Lysol All Purpose Cleaner - Trigger is available in Lemon Breeze and Fresh Mountain Scent. Cleans everyday tough messes!
Additional Information
Kills 99.9% of Viruses & Bacteria*
Cuts through tough grease & soap scum
Ideal for hard, non-porous surfaces throughout the house
Provides long lasting freshness
Lemon Breeze Scent
Reviews
Millie
Excellent!
Not only an all purpose cleaner. It cuts through grease on my stove top and also spot cleans on carpets. Also a great pre treater on fabric stains.
juvinurse
Disinfect without Harm!!
I have always been concerned that our dog may be exposed to dangerous chemicals in the cleaning supplies I use around the house. I was especially delighted to find out that Lysol Daily Cleaner is free from harsh chemicals. As a matter of fact, Lysol Daily Cleaner is made with only three ingredients and is safe to use in pet areas. I did a little research and found Lysol Daily Cleaner killed 99% of surface bacteria. That is as good as, if not better, than many cleaning products that contain dangerous chemicals. OK...so we know it is safe to use around my dog, BUT...how does it perform? How easy is it to use? An easy to grip bottle makes it easy to spray. Wipe down the surface and "tada!!" you are done. Because of the special formula, Lysol Daily Cleanser does not have to be rinsed. How easy is that? I am impressed with this product and would highly recommend Lysol Daily Cleanser for those who use their kitchen to cook, have pets or have infants or small children....well, heck! That is most everyone! [This review was collected as part of a promotion.]
Dmlcll1978
Not Happy with This Product
Claims: Kills 99.9% of germs No harsh chemical residue No fragrances, dyes or ammonia Can be used safely on pet items, baby items, bathroom and kitchen Disinfects with no harsh chemicals Lysol Daily Cleasner was easy to use. I sprayed and waited five minutes then wiped away. I like that it is clear and there was no overpowering scent. I did feel that my surfaces and items were clean. Although I didn't feel that my surfaces were safe without wiping down again with water. I felt it did leave a harsh residue because of the odor. The odor smelled like bleach. It also didnt get the stains out either. There was no list of ingredients. So I'm not exactly sure what's in the Lysol Daily Cleanser. I would not recommend or buy Lysol Daily Cleanser because I'm not confident that there is no harsh chemicals. This post was sponsored by Lysol as part of sampling activation for Crowdtap. I received complimentary products to facilitate my review. My review is 100% my own. [This review was collected as part of a promotion.]
Everybody H8s Kris
This is best "safe" cleaner that I have tried
I absolutely love the Lysol Daily Cleanser spray! Before using this product, I had never cleaned baby toys with a cleansing product, because of all the chemicals. This spray contains No Harsh Chemical Residues! But still kills 99.9% of Germs & Bacteria. So we can safely clean and sanitise. You can clean most anything, including baby toys, pacifier, Pet areas, even Cutting Boards! When cleaning my counters I could feel no residue, no slickness, no oiliness. It left them feeling so clean. While using this it has a light bleach or peroxide type scent- The smell does fade and I could not really smell anything once it dried. It sprays easily. The container looks nice and the liquid is clear! I really like that, too. I have used this to clean my kitchen, inside of my refrigerator, my cutting boards, all of my tables, highchair, my baby toys, baby gates and my foam floor playmat (which it left clean with no marks nor fading, thankfully!). Everything looks and feels very clean! This is a product that I will be using on a regular basis! I highly recommend [This review was collected as part of a promotion.]
mazaria
Cleaning Super Star
I love natural products, but not all are strong enough for my family with 3 boys and pets. We have be careful because our guinea pigs are really sensitive to chemicals. I got a free sample of Lysol Daily Cleanser Spray via Crowdtap. I really wanted to try it out because it said it was strong but safe. I tried it out on my super sticky kitchen table. It had cookie dough and some adhesive crusted on it. I sprayed and got my sponge and was thrilled that everything came off with just a couple wipes. No super scrubbing, no harsh odor. My table even shined after drying it off.next I tried it on the greasy stove....great again!. I used it on my rice cooker lid with sticky cooked on rice, it took care of that too. I love that I didn't need to worry about my rice tasting like cleaner later. I cleaned out the guinea pig cage and the cat box too and none of the animals acted like they noticed anything but clean litter boxes and cages. I honestly love it. It has a slight odor like weak peroxide but other than that no smell at all. Just clean..no germs, no worry about chemicals...a total win for me [This review was collected as part of a promotion.]