Jergens Natural Glow +Firming Daily Moisturizer Medium to Tan, 7.5 FL oz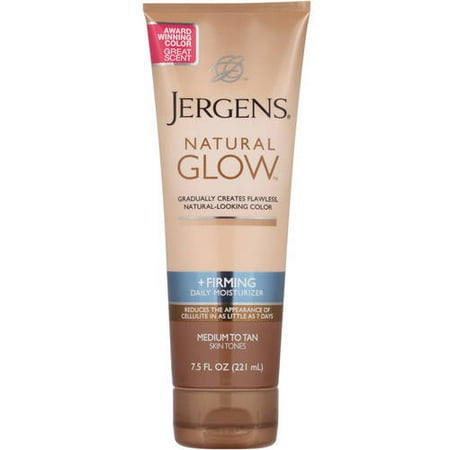 MSRP :

$12.1





Sale :

$8.64

Sold & shipped by Walmart
Product Description

Additional Information

Reviews
Product Description
Jergens Natural Glow Daily Moisturizer, 7.5 fl oz, helps to gradually create natural-looking color with a subtle skin darkening complex. It also helps to hydrate your skin to create an smooth and youthful look. This Jergens Skin Firming Moisturizer is made with collagen and elastin to even out wrinkles and firm your skin to make it appear more vibrant. It visibly reduces the sight of cellulite to ensure that your skin is at its firmest appearance. The Jergens Natural Moisturizer is for fair, medium and medium/tan skin tones.
Additional Information
Jergens Natural Glow + Firming Daily Moisturizer Medium to Tan Skin Tones 7.5 Oz:
Jergens Natural Glow moisturizer gradually creates a healthy, golden glow
Helps to reduce the look of cellulite in as little as seven days
Clinically proven to deliver natural-looking color
Doesn't leave any streaks
Easy to apply
Reviews
Thankful
really works
Love this stuff! My arms are always darker than my legs, so this helps balance out my look. I truly love this stuff! It saves me in the summer especially. Thick thighs don't tan as fast as skinny parts of the body. This pic I have no stockings on...don't need it thanks to Jergens
ENSL
Perf
I got this product because my legs are a significantly different color than the rest of my body, and could use a bit of firming action. First off it smells absolutely amazing and it very moisturizing, so much so that I would repurchase just based off those two factors alone. It is firming, I noticed around my thighs they had an overall healthier appearance. As far as gradual tanning, it really does what it says. I used it daily for one week and by day 3 I noticed a significant difference and by the 7th day my legs had a nice tanned glow. After the first week I used it every other day, and it still gives my legs a nice color. The instructions do say to wait a few minutes before putting clothes on, and this is an important step. I had tried using it on my torso and then put a bra on, my bra now has slight coloring from it. So I would not recommend if you do not have the time to let it set. Only thing I am a bit bummed about is that I am already half way through the bottle after only two weeks.
Sonja
Perf
Best self tanner I've used. Doesnt leave obvious lines
LoveTryingIt
Love it!!!
It works great!! Smells good. And it really works. I didnt really think it would but WOW!! it does. It looks natural too. I love it!! Its a must have for me. ;)
FLMomma
Awesome Product!
I'll take this over UV rays any day! This stuff looks great and not orangey at all. I used it for a week and went to visit my mom, she asked if I was going to the tanning bed again. Once I told her about the product she started using it too. Word to the wise though, proactiv will strip the color from this right off your face on the first wash!