Jergens Natural Glow Daily Moisturizer, Medium to Tan Skin Tones, 7.5 Oz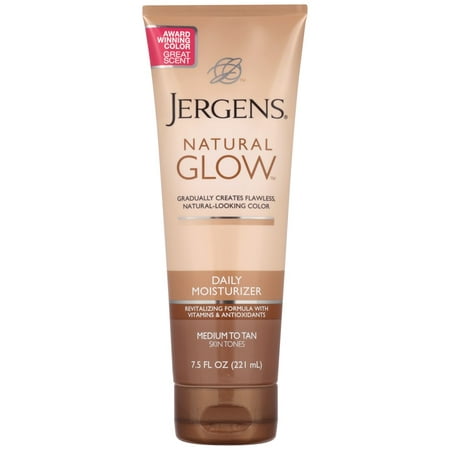 MSRP :

$8.99





Sale :

$8.64

Sold & shipped by Walmart
Product Description

Additional Information

Reviews
Product Description
Getting a perfectly gradual, gorgeous glow has never been easier. JERGENS(R) Natural Glow(R) Daily Moisturizer delivers fabulous, natural-looking color that lasts longer than the leading sunless tanner lotion.
Additional Information
Product FeaturesAward winning color great scentGradually creates flawless, natural-looking colorRevitalizing formula with vitamins & antioxidantsStarting point, after several days, after one weekwww.jergens.comReg. U.S. Pat. & Tim. Off. Please visit www.jergens.com/patents to determine if this product is protected by any U.S. patents.© 2015
Reviews
Suzy0210
It's alright
Pros: Noticeable color after even just one application Easy to apply Doesn't look orange or streaky Cons: Disgusting dha smell after about 4 hours of application After a week the color fades REALLY splotchy and uneven!
Frieda
Love Love Love!!!
I got a Level 1 spray tan 5 days ago and I felt disappointed that it was too light. The employee there recommended a bronzer product developed by the tanning salon. It was 2 ounces and cost $7.00. I was unsure about spending more money so I went to Walmart and bought Jergens Natural Glow for medium/tan skin tones. You get much more for your money and it really works. I used it the next day. I don't feel it has an odor at all. In fact, the fragrance is nice. I noticed a difference the next day and I actually received a compliment on my tan yesterday! I use it every day and another friend told me it looks like a natural tan. Jergens is saving me money because I don't have to go back next week for another spray tan! I have to agree with another reviewer - for the areas I was already slightly tan Jergens just enhanced the tan, but for the areas that were not too tan, Jergens is making my skin a little orange. So I feel Jergens will enhance skin that is already tan and extends the life of your tan.
SunshineJulie
Sorry - Still has a strong odor :(
So years ago I made it my mission to find the best tanning lotion. I have tried them all and Jergens is my fave. That being said, their new ads that claim "without odor" are not true. It smells exactly the same. I put some on about 5 hours ago and the smell is still burning my nose. Nice try, but no deal. I still think it gives the best color of all that I've tried, but it smells :)
TheMartiansRhere
Good product
Jergen's natural glow went on smoothly and produced a natural looking tan in just a few days. Was skeptical but it really does work. I made sure to rub it in completely and evenly to produce optimal results. If you can't go out in the sun and get a real tan, this product is the ticket. It will not disappoint.
Kiki
Disappointing
I have olive skin and this is lighter than my skin color. It's a waste of time and money.