Jergens Shea Butter Moisturizer, 16.8 oz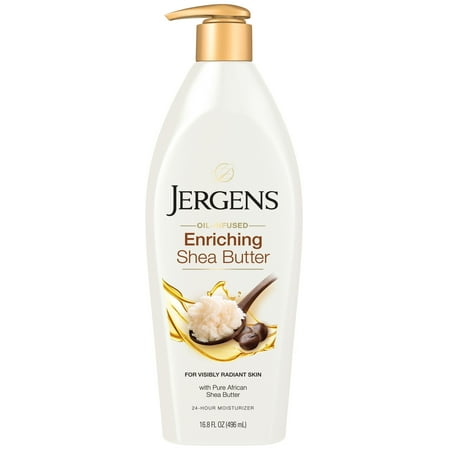 MSRP :

$12.55





Sale :

$5.84

Sold & shipped by Walmart
Product Description

Additional Information

Reviews
Product Description
Jergens® Shea Butter Moisturizer helps you reveal deeply luminous, more radiant skin. This unique formula contains an Illuminating Hydralucence® blend, as well as pure African Shea Butter. Enhances skin's sheen by deeply conditioning dry, dull skin to reveal three times more radiance.Jergens® Moisturizers are created to make a beautiful difference for your skin—a difference you can actually see, feel and experience. Only our formulas are made with an illuminating Hydralucence® blend. Restore your skin's deep luminosity to reveal skin that's never looked so beautiful. Hydralucence®.
Additional Information
For Visibly Radiant SkinWith Pure African Shea Butter24-Hour MoisturizerDermatologist Tested
Reviews
Angie77777
Best Beauty secret
This product is amazing!!!! I apply first the Shea oil on damp skin ( it absorbs faster this way)and after the moisturizer, my skin feels like a baby... when people touch me when they say hi or something they all say "wow what a soft skin" and they keep touching and touching telling they have never feel such a soft skin... this is a beauty secret worth spreading because before i tried it, I expend years trying to make my skin soft using all kinds of creams, scrubs and oils and yes it was soft but never like the way it feels now. and I no matter what i used on my skin there was always an area that never got soft like I wanted it, but now with shea butter is like a miracle!! The best part is after 1 hour you dont feel sticky any more, unlike the other creams i used before. the only part i dont like to much is the smell, i feel like smells like milk, but i will take it for now, i hope the company improve the smell of this great product.
lovethesoftness56
Best Beauty secret
all i have too say is that this shea butter lotion is really great. and smells nice too..........loved it.....
Frank
Smaller Size
Love the product. Not so happy with the reduction in amount by 3 oz. and still charge the same price.
WallyMcMarten
The best I have ever used.
I have tried them all from and I have found Jergens Shea Butter lotion to be the best. Not oily and smells wonderful. If you do some research and find out the benefits of shea butter, you will never use anything else. I tried Olay shea butter lotion first but if you read the ingredients, you don't even see shea butter listed. Shea butter is the second ingredient in Jergen's. Jergen's is cheaper than Olay also.
wjfields
Love Jergens Shea Butter
Love this moisturizer. both the fragrance, and the creaminess.