Jergens Ultra Healing Extra Dry Skin Moisturizer 32 fl. oz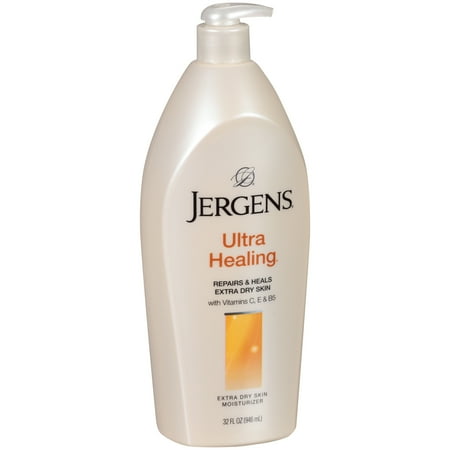 MSRP :

$15.26





Sale :

$7.93

Sold & shipped by Walmart
Product Description

Additional Information

Reviews
Product Description
Let the nourishing formula of Jergens Ultra Healing Moisturizer give your skin softness that lasts the whole day. This Jergens Skin Moisturizer, in a 32 fl oz bottle, takes even your roughest spots -- heels, elbows and knees -- from a state of extreme dryness to a state of lasting softness. With its moisture-retaining lipids, this fast-absorbing extra-dry skin moisturizer goes deep beneath skin's moisture content, healing dryness at the source and preventing it from coming back. Healing, softening and dermatologist-tested, Jergens Ultra Healing Moisturizer is an excellent choice if you want long-lasting smoothness.
Additional Information

Jergens Ultra Healing Extra Dry Skin Moisturizer, 32 fl oz:

Jergens skin moisturizer repairs and heals extra dry skin
With vitamin C, E, and B5
Jergens moisturizer is dermatologist tested for safe use with all skin types
Formulated to go through 5 layers of the skin for optimum results
Exclusive Hydralucence formulation
Pump bottle is recyclable
Jergens Moisturizers are created to make a beautiful difference for your skin - a difference you can actually see, feel and experience. Only Jurgen's formulas are made with an illuminating Hydralucence¨ blend. Restore your skin's deep luminosity to reveal skin that's never looked so beautiful.
www.jergens.com
Reg. U.S. Pat. & Tm. Off.
©2014
Please visit www.jergens.com/patents to determine if this product is protected by any U.S. patents.
Reviews
Honest Dude
Why did Jergens change the formula ?
I read through some reviews and I'm happy to see I'm not the only experienced Jergen's lotion user to notice a change in effectiveness from the old to the new formula. I too have been a loyal Jergens lotion user for over 25 years now and when I bought the new ultra healing formula I noticed a difference. Hands went dry in about 5 minutes. I have to keep re-applying but this was not the case with the old formula. I appended a photo of the old vs the new. I read through the ingredients of the old, also appended and compared to the new. I have now started searching for a lotion that works as Jergens used to. To Jergen's competitors... Copy the old formula and create your own "new" brand. Advertise it and watch how many consumers start using your product if Jergens won't go back to the old. I presume the idea of "more applications" is best for sales but not if consumers search elsewhere. P.S - I don't put much emphasis on reviews from consumers who never knew the old formula. Here are the ingredients of the advertised new Ultra Healing vs Jergen's old Ultra Care formulas. Ultra Healing : New INGREDIENTS: WATER, GLYCERIN, CETEARYL ALCOHOL, PETROLATUM, STEARIC ACID, C12-15 ALKYL BENZOATE, ALUMINUM STARCH OCTENYLSUCCINATE, DIMETHICONE, LAURETH-3, CETEARETH-20, DMDM HYDANTOIN, ALLANTOIN, METHYLPARABEN, ARGININE, SODIUM HYDROXIDE, PROPYLPARABEN, CARBOMER, FRAGRANCE, PANTHENOL, PENTYLENE GLYCOL, LECITHIN, ALCOHOL, ASCORBYL PALMITATE, TOCOPHEROL. Ultra Care: Old (see pic attached.) Ingredients in old formula not listed in new formula. (see below). LIQUIDUM, CETYL-PG, HYDROXYETHYL PALMITIMIDE, GLYCERYL DILAURATE, CYCLOPENTASILOXANE, MYTHYLPARABEN, Sincerely, Disappointed loyal Jergen's user.
Honest Dude
I love the way my skin feels!
I have been using the travel size bottle for about a week now for my "Jergens One Week Challenge" & I absolutely love the way my hands feel. Plus I love that its the perfect size to carry with me in my purse wherever I go for easy & instant use. Since usually my hands are dry & cracked just from daily activities. However now with this lotion my skin feels pampered, soft & presentable! I received a free travel size Jergens Ultra Healing Nourishes & Heals Lotion 3FL from influenster for this review.
deb0911
Ultra moisturizing bath
I received a free sample of JERGENS BATH AND SHOWER WET MOISTURIZER, and I loved it! Almost always, when I would get out of the shower my skin would be so dry after toweling off, until I put on moisturizing creams, Jergens came up with this new product moisturizer on wet skin and it works. Saves time, and money because I'm not paying high end prices for beautiful soft skin. Jergens has been around for many years, I trust the tried and true. And with all the new ideas in lotions, who better to trust than Jergens.
tonytannahill2
Better Choice
Jergens Wet Skin Moisturizer With Refreshing Coconut Oil is great for that have combination skin. Seams to do a great job except for my cracked heals. Really love the scent. Use several brands. Jergens is a smart choice!
Pauly
Great fir my deberic skin
Live this it's good for my dry skin works instantly