Jergens Ultra Healing Extra Dry Skin Moisturizer, 21 Ounces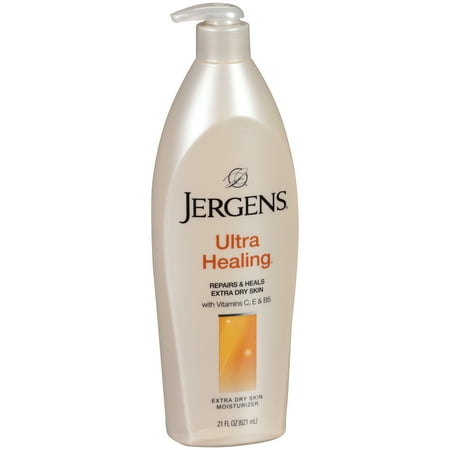 MSRP :

$6.02





Sale :

$5.84

Sold & shipped by Walmart
Product Description

Additional Information

Reviews
Product Description
Jergens® Ultra Healing® Moisturizer helps you reveal deeply luminous, visibly healthier skin. This unique formula contains an illuminating Hydralucence® blend, as well as enriching Vitamins C, E and B5. Penetrates through 5 layers of the skin's surface to repair, heal and deeply nourish extra dry skin.Jergens® Moisturizers are created to make a beautiful difference for your skin—a difference you can actually see, feel and experience. Only our formulas are made with an illuminating Hydralucence® blend. Restore your skin's deep luminosity to reveal skin that's never looked so beautiful. Hydralucence®
Additional Information
Moisturizer, Extra Dry SkinRepairs & heals extra dry skin with vitamins C, E & B5. Nourishes & heals. Jergens Ultra Healing Moisturizer helps you reveal deeply luminous, visibly healthier skin. This unique formula contains an illuminating hydralucence blend, as well as enriching vitamins C, E and B5. Penetrates through 5 layers of the skin's surface to repair, heal and deeply nourish extra dry skin. Jergens Moisturizers are created to make a beautiful difference for your skin - a difference you can actually see, feel and experience. Only our formulas are made with an illuminating hydralucence blend. Restore your skin's deep luminosity to reveal skin that's never looked so beautiful. Hydralucence. Dermatologist tested. Questions or comments? www.jergens.com or 1-800-742-8798.
Reviews
PThao
My holy Grail lotion
This is really a healing miracle on dry skin. Many years ago, I had really dry cracked heels. I was never one to use feet buffers (it makes me cringe). I started using Jergens Healing lotion every night on my feet and wow, did it do me some miracles. Been using it every night ever since and it's been probably almost 10yrs now. Just a few weeks ago, my 2mth old daughter's skin had a reaction to her body wash. Her whole body, especially her legs were dry, patchy, and rough. I started using Jergens Healing lotion on her and within about a week, I noticed major improvements on her skin. Two weeks later, her skin is silky smooth again. As soft as a baby. It has a pleasant smell, not too overwhelming like other lotions, so it's great to use at night. After applying, it's not overly oily at all, which is also another great thing for nighttime use. You don't feel all sticky and oily before bed. I would pay good money for this product, but thank goodness I don't have to. Please don't ever discontinue this product! My skin depends on it.
deb13
The best lotion on today's market
I had itchy painful Eczema I try every lotion and meds a Dr gives known to man. Then I try this because I was low on money and it was affordable, I swear to god this stuff is a miracle, It clear me up and stop me from itching and gave me my life back, I wish and pray they made ultra healing face cream body wash and shampoo because we get eczema on our head as well. This don't leave your skin sticky and no strong perfumer smell, Thank you a million times Jergens
BeeDeal
Fast Absorbing, Soft Clean Scent, Works Great!
I received a travel size bottle (3 ounces) of Jergens Ultra Healing Moisterizer for Extra Dry Skin from Influenster for testing purposes. I took the 1 week challenge to see if I could tell the difference in my skin, specifically my hands. A little background on my skin, my hands were really dry and felt tight. I was washing my hands often and washing dishes for 5 days without gloves. After using this moisturizer I felt and saw a big different. The Jergens moisturizer is soft, not thick in consistency. It absorbed quickly and didn't leave a greasy feel. I loved the clean scent it has which is great when applying at night before going to bed. It has vitamins C and B5 which I think its what makes this moisturizer give me the results I was looking for in just one week. Its formulated so it can lock moisture for up to 48 hours. When you wash your hands you will feel the lotion coming off but you don't feel it once applied so it does stay on the skin quite well.
xmandaaa
I'm in love!
I was completely surprised by this product. My current Jergens moisturizer was so greasy I barely used it. Then I got a travel size bottle of this new moisturizer and totally love it. It's greasy for a minute and then it feels super smooth. I've also used the restroom and washed my hands about an hour after applying it to my hands and it almost feels like there's a shield of lotion on my hands. After wiping my hands dry, the "shield of moisture" is still there! It lasts a long time. It claims to last up to 24 hours so sometimes I have to use once a day, sometimes once every other or every two days because it keeps my hands moisturized for so long! I will definitely start using these on my super dry legs and hope to see similar results. I would highly recommend this product. I want to purchase travel sized versions of this for all my friends for Christmas just to share the moisure and smoothness! It's totally worth trying! ** I received this product for free for testing from Influenster. **
Heng
Finally I found Best lotion .!
I'm a man but want to be a good looking guy and skin .! This lotion is thick and smooth .! Absorb fast .! Thanks Jergens and keep going .!