Biore Deep Cleansing Pore Strips 14 Count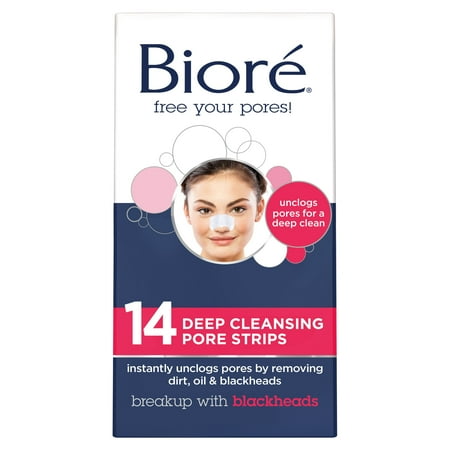 MSRP :

$8.99





Sale :

$7.52

Sold & shipped by Walmart
Product Description

Additional Information

Reviews
Product Description
Biore Pore Strips Deep Cleansing are designed to remove dirt and oil from your pores. These Cleansing Pore Strips help to unclog and diminish for instantly cleaner pores. Biore Nose Pore Strips are easy to use and fast acting. Start your day and meet the world with clean, healthy skin.
Additional Information
pore strips, skin care, strips, biore, unclog pores, blackheads, deep cleansing, pore treatment, facial strips
Reviews
JessicaRabbit
Yep, it works.
Better than anything I've used before. Even that charcoal peel stuff.
Blondecatty
Esthetician Recommended - THEY WORK!
NO KIDDING – I have used all different types of products (high-end, medical grade and the lowest discount store brands). I have been to medical spas for skin care, chemical peels and facials. I cannot stand blackheads or feeling like my skin is "dirty"; it grosses me out. I even purchased a metal pore cleaning "tool" to use for extractions. Ugh, yah, that didn't work. My esthetician actually recommended the Biore strips to me and SHE uses them too. I have been buying and using them ever since. This particular package includes the face and nose strips. The value packs are great because I use them on my chin and nose and it makes them a little cheaper per use. You could utilize them anywhere on your face (chin, cheeks, forehead, nose). The package says to not use more than every three days on the same portion on the face. That sounds about right; I use about twice a week to keep my pores clean. My skin is somewhat sensitive and I have no issues using these. This is a Biore product I will continue to use because they work!
icj9
It worked. . . considering what we were up against
I purchased these strips for my daughter as she always has problems with Blackheads. She has a lot of them surrounding her nose area. . . She moistened the area around her nose with a warm cloth & followed the instructions on the box. There was a noticeable difference after the pulled off the strip as a lot of the blackheads were removed. However, due to the fact that she had so many to begin with - there were still some left behind. We are going to continue to use this product to see if we can get rid of most of them. For the most part, I was pleasantly surprised at the results.
CoolGags
Wonderful product
This is amazing. I never thought it will be so effective. Initially had little problem understanding the usage instructions but that was a minor hurdle. All the blackheads on my nose are gone. And my nose surface is so smooth. I love it.
MC424
a good affordable product
its good...i use it once a week...and it has helped me get rid of some of my blackheads and clean up the pores...its bit sticky after you remove it..but i wash my face or use a wash cloth to remove the glue..