Sea Foam Motor Treatment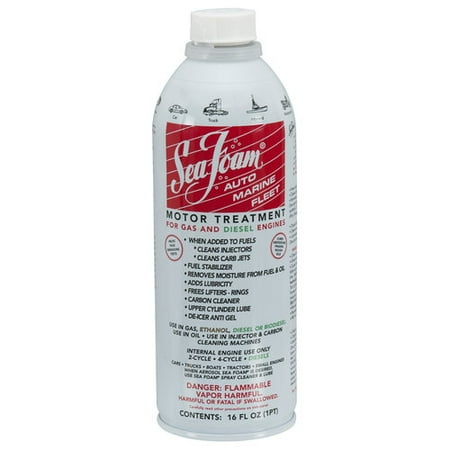 MSRP :

$20.82





Sale :

$6.97

Sold & shipped by Walmart
Product Description

Additional Information

Reviews
Product Description
Sea Foam Motor Treatment is a safe and versatile additive that can be used in fuel, oil or added directly into the combustion chamber on 2-cycle, 4-cycle, rotary and diesel engines. Sea Foam is a 100-percent pure petroleum product, so it is as safe for seals, o-rings, sensors and other fuel system and engine components as the fuel or motor oil that runs the engine. Sea Foam contains no harsh chemicals.
Additional Information
Sea Foam Motor Treatment, 16 oz:
Safe and versatile additive
Add to fuel, oil or a combustion chamber
For 2-cycle, 4-cycle, rotary and diesel engines
Made from 100% pure petroleum
Contains no harsh chemicals
Model# SF16
Cleans injectors and carb jets
Adds lubricity
Sea Foam Auto Marine Fleet works as a fuel stabilizer
Removes moisture from oil and fuel
De-icer anti-gel
Frees lifters and rings
Safe for seals, o-rings, sensors and other components
Reviews
Unknown Customer
Faulty Cap Design
I purchased a bottle of Seafoam this weekend from Walmart. I followed the instructions on the cap by squeezing the two tabs and twisting, but after several tries, I could not get the cap off. I then went into my home and gripped the cap with a pair of common pliers. As soon as I squeezed the cap, the entire top of the product popped off (see photo) and the bottle slipped through my hands and landed on the floor. Of course, having a bottle of fuel additive splashed across the kitchen caused a huge difficult mess. In my experience, the top of the product is not well designed. It will leak, making the bottle slippery, and will also separate from the bottle fairly easily. I write this hoping no one else will experience this problem. I wish I had given up trying to open this and just returned it to Walmart.
Eddie
maintainance for the vehicle or motorcycle.
My 2001 Avalon (200,000 miles+) used to start with the turn of the key. Then about 4 yrs ago I had to step on the accelerator to start it. About a yr ago my friend recommended Seafoam & I tried it. I placed a can into the tank & about a small cup (spray paint can plastic cover) through the vacuum hose. The car started on its own & lasted about three weeks. I repeated this procedure & it lasted about 3 months. Again repeated this procedure & it lasted another 3 months. It worked as a temporary fix & I was thrilled to have my old car back again. Last I took removed the air filter elements & sprayed the inside with carb cleaner. Then I used a toothbrush to clean out the carbon. Also I sprayed into a very small port hole in the same area. Now I pour a can of Sea Foam into the tank to maintain a clean fuel system about every 3 months. It feels good to have & drive the old car again.
KawiNinjaChic
Motorcycle Winterizing God in a can
Just thought I would share for those that don't know.... I was told about Seafoam back in 2010 while taking the motorcycle safe class 2 days before I bought my Ninja. He said if you remember anything remember this will be your best friend after your bike has sat through the winter. Note I'm a chic, with a sport bike who only knows how to ride it, but knows very little about the mechanics of the bike well except how to change a clutch because I have non the less. Yea Youtube. lol Seafoam should be the go to for after your bike sits through the winter. I pour an entire can in my 4.5 gallon tank yep it has old gas in it. After it takes a few times to start once it does I help it warm up then let it run for about 15 minutes, take it for a short trip up to the gas station put new gas in it (have always used top grade it runs better) take it the long way home and she's all better. After I cycled through a tank of gas and seafoam I put another can in there because she sat for nearly 5 months.... Take it from a chic who rides it's your after winter knight in shinning armor... lol
Geeezer
This stuff is magic when used properly
Been using this stuff for 25 years. It is magic, esp in marine applications. Using it with alcohol free rec gas is double magic.
Janie
Great product!
We put a full can of this in with a full tank of gas per recommendation from my father in law who loves this stuff and uses it often. My sons 2003 Cadillac deville had a rough idle and it has already improved with the Seafoam. Assume it will only get better! Walmart has the lowest price for this product!