Professional Makeup Brushes, 24 Piece Set, Black, Great for Highlighting & Contouring, Includes Free Case, By Beauty Bon®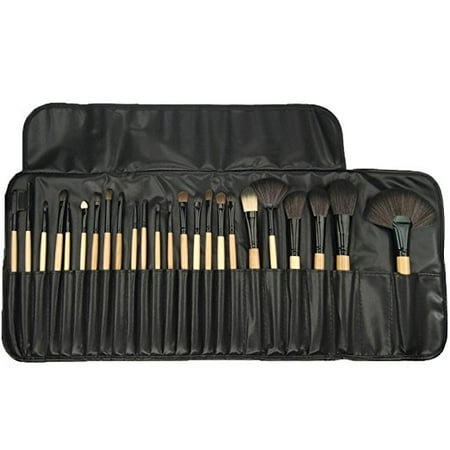 MSRP :

$36.33





Sale :

$13.92

Sold & shipped by US Pride
Product Description

Additional Information

Reviews
Product Description
24 PIECE PROFESSIONAL MAKEUP BRUSH SET: Beauty Bon® brings you an amazing 24 Piece Makeup Brush Set that is of professional quality. From blush brushes to contouring brushes, you will find all you need in this diverse set!SOFT BRISTLES THAT STAY: Beauty Bon® makeup brushes are the best because we make our brushes with fibers that are super soft and don't tear or irritate your skin. The bristles also do not fall out during the makeup application process.
Additional Information
LET BEAUTY BON TAKE YOUR MAKEUP GAME TO THE NEXT LEVEL WITH OUR 24 PIECE MAKEUP SET

Every woman knows that when it comes to makeup, if you don't have the right brushes, you'll have a hard time making your face flawless. Brushes are essential tools for perfecting your beauty game!

If you love to put on makeup, then you know the struggle of finding makeup brushes that work well! The other brands have brushes with itchy bristles that fall out, irritate, tug at your skin, and distribute makeup unevenly. That is why Beauty Bon® has created a makeup brush set that applies your makeup perfectly, is economical, and is made of only the highest quality materials.

This Beauty Bon® 24 Piece Makeup Brush Set is unique because all 24 pieces have a specific purpose in your makeup process. Made of the highest grade materials, this diverse selection of professional brushes contains 2 wedge brushes, a brush specifically for applying cream, an eyeliner brush, an eyelash brush, a brush for quick-fix touch ups, and more! We make it very easy to seamlessly blend makeup with this essential brush collection. Our 24 Piece set also comes with a free holder! Ladies, get ready to blend!

Product Information: This is a 24 Piece Makeup Brush Collection:

• 1 x Big Sector Brush

• 1 x Full Coverage Face Brush

• 1 x Face Blender Brush

• 1 x Foundation Brush

• 5 x Eyeshadow Brushes

• 1 x Small Plane Brush

• 2 x Wedge Brush

• 1 x Angled Eyeshadow Brush

• 1 x Touch Up Brush

• 1 x Lip Brush

• 1 x Eye Definer Brush

• 1 x Eyebrow Brush

• 1 x Cream Shadow Brush

• 1 x Eyelash Brush

• 1 x Sector Brush

• 1x Eyeliner Brush

• 1 x Eyebrow Comb

• 1 x Ultra Fine Eyeliner Brush

• Free Holder Included
Reviews
Courtney
It's a good product but...
It's a great quality of brushes the one thing I don't like is how pink the 4 brushes are and 4 of them are brown but overall it's a great product, it came in early and it's super soft!!
WalmartShopper
very nice set for professional make up brushes!
This set has taken number one place on my list of favorite brushes. I am the proud owner of four really cheap sets of brushes. My first set had been my baby for a while and the others well they kind of were never at par with the original. I have never paid more than 14 dollars for brushes and that $14 dollars set had 11 pieces and a contouring palette. Again, they were never as good as my original set of brushes. However, this kit has come and taken fist place. Why? Well, the bag is awesome. It allows you to store each piece individually in its own slot which will help protect them. The top has a flap to cover the brushes to make sure no dust gets on it and also I assume to keep the bristles protected. The whole ting wraps into itself to make a kind of wallet you can easily carry around. The outside of the case if faux leather and there is a string that ties it all in place. It has a very classy look.
nancy
Love it. ;-).
Those brushes are a must to have. Of course that I don't use them all at the same time. But for this price why not buy them. They're so soft. And strong they spread the powder eventually and soft look. When I cleaned the brushes none of the hair fall. That is nice:-).
Mardi79
Great value!
They are very soft. I liked the colors and the feel of them. They are just as good as other name brand brushes I've owned before. It could have been delivered in a better package though. It was sent in a plastic see through bag.
NanaDi
I bought as a gift for my daughters 44th birthday.
I bought it for my daughters 44th birthday. She's always been girly and into make up. She was completely thrilled with the set. She was totally amazed by the quality of the brushes and thoroughly impressed with the leather case they are in.