Purina ONE SmartBlend Natural Lamb & Rice Formula Adult Dry Dog Food - 40 lb. Bag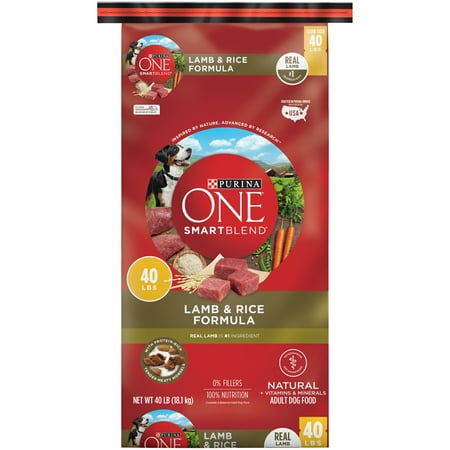 MSRP :

$116.28





Sale :

$40.06

Sold & shipped by Walmart
Product Description

Additional Information

Reviews
Product Description
In our Lamb & Rice Formula Dog Food, real lamb is our first ingredient. Why? Because it's tastefully rich in protein. And just like puzzle pieces that fit perfectly together, lamb blends with grains and other ingredients to create a complete protein profile. It's choosing ingredients that work better together than they ever could on their own that inspired us to call this dry dog food SmartBlend.
What's a Dual-Defense Antioxidant Blend? One That Works Inside & Out. It's probably not something your dog thinks about, but his SmartBlend is working around the clock. It starts with a dual-defense antioxidant blend of Vitamins E & A along with minerals zinc and selenium in a 100% complete diet. Together, they make a healthy difference on the inside by supporting your dog's strong immune system and on the outside by supporting healthy skin and a radiant coat.
We're inspired by the science in nature, discovering the power of ingredients that work together for your dog's body health.
Additional Information
Made with high-quality protein sources, including real lamb as the #1 ingredient
Omega-6 fatty acids, vitamins and minerals help support healthy skin and coat
Dual-defense antioxidant blend supports a strong immune system
Natural sources of glucosamine to help maintain healthy joints
Protein-rich, tender, meaty morsels plus crunchy kibble for great taste your dog will love
Reviews
oarie
My dogs loved it!
I have two dogs, a Belgian Malinois and a German Shepherd. The Malinois will eat anything, however the GS is very picky and has turned down many different brands of dog food and treats. Even her current food, she eats reluctantly. When I opened the bag of Purina One SmartBlend Lamb and Rice, they couldn't wait to try it. The GS actually stuck her face into the bag and began chowing down! Of course the Malinois followed suit. The first thing I noticed about the food was the wonderful smell. As I poured the food into their bowls, I was amazed at the amount of meat included-- and large chunks too. Both dogs quickly ate it all and were hoping for more! I'm definitely switching their food to Purina One SmartBlend! So glad I found something my dogs are excited to eat. I received a free product for the purpose of my review. Opinions are 100% my own. [This review was collected as part of a promotion.]
SuCa65
My 3 dogs love Purnia One Smartblend Lamb & Rice
I have 2 one yr old sister Lhasa Apsos and a mixed collie that is 4 years old. Alabama will eat most any food but her sister, Ziva is extremely picky. The collie, Festus, has always eaten Beneful but this summer he became picky as well. Needless to say it has been an expensive try & failure period to find a food pleasing to all 3 dogs. The biggest failure was Dog Chow(thanks for the coupons anyway). Festus would actually dump the food out & then cover it with his bowl! I came to realize Dog Chow has no odor to attack or inspire the dogs to eat it! Fortunately, I found a coupon for Purnia One Smartblend Lamb & Rice. Problem solved, they love it! They also love the Chicken & Rice formula. Although I have tried other brands of Lamb & Rice/Chicken & Rice, Purina One Smartblend is the brand they love. I'm planning to try the cat formula as well.
KarenPizzuto
My dogs and cat love Purina One
Both my dogs are rescues. Charlie, my golden is 2 years old and was in bad shape when I got him. Now he is a very healthy dog. His coat has improved immensely. He loves the lamb and rice the most. Mister, my Red-Nose English Staffordshire /Pit Bull was my brother's dog. He is 11 years old. I enheirted him when my brother passed away in December 2015. Mister was a Gravy Train dog. He absolutely loves the lamb and rice. Usually he would leave half the bowl of Gravy Train but the Lamb and Rice, he licks the bowl clean. I will always feed Purina One to the dogs. My cat, Winston has kidney problems and Purina One has a dry cat food for him. Thank yoiu so much....
mare630
Food my dog absolutely loves
I have a Saint Bernard and we feed him the lamb and rice one. I had read that was good for their skin and it has not disappointed. He loves the food and the little morsels. Once, my dad accidentally picked up the puppy one instead of Lamb and Rice but he still loved it. Occasionally will get the chicken flavor but he loves them all. They are especially good because they have glucosamine and with such a big dog, the extra help is great for his joints. So many benefits to a food he absolutely loves.
AwesomeDogOwner7
Love the little dry meat
I have two dogs a German Shepherd and a mixed Dachshund/Chihuahua. Bear my handsome German Shepherd loves this dog food. My Buddy the Dachshund/Chihuahua loves only the dry Lamb part of the dog food. But Buddy is also really picky on that he eats. lol