Beneful Baked Delights Snackers Peanut Butter & Cheese Dog Treats, 9.5 Oz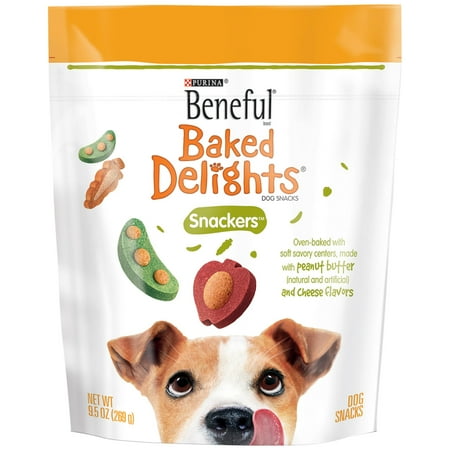 MSRP :

$42.76





Sale :

$2.67

Sold & shipped by Walmart
Product Description

Additional Information

Reviews
Product Description
Oven-baked with soft savory centers, made with peanut butter (natural and artificial) and cheese flavors.

We believe in the timeless power of a smile. In the simple, happy wonder of creating things in an oven, and sharing them. How they make us feel warm & good, like we're lit up from the inside. Like a joyful hug.
Additional Information
Beneful Baked Delights Snackers Peanut Butter & Cheese Dog Treats, 9.5 Oz
Reviews
Jetty
Best Dog Snack !
This is my dog's favorite snack. It's great to break up the snack to do training exercises or refresh the skills that the dog already knows. Every puppy dog I've given the snack to, loved it! Walmart makes it affordable for me to stock up on these Snackers!
Grace
Beneful
I love to see my pets happy they love this snacks and is healthy for pets thanks alot purina you did it again❤
Mair
Beneful
My dog is a picky eater but she likes these treats.
jakeandsadiemaesmom
True heaven!
When my husband and I first bought the "Babes" these treats, my German Shepherd asked to go outdoors ALL night, just to get her potty treat! She was a rescue 9 yrs ago and at almost 2 we had a hard time training her to go out. She has always gone for her treat since. So that night we went all night long. Our Malamute/Huskey mix was crying this morning? Never does this. I went searching for him, and found him sitting in the corner crying? I asked him what was wrong and he turned around and faced the treat cupboard! It was a first for him. He knew they were in there with the regular potty treats, Milkbone Marro Snacks which were their favorites. He has gone so far as to refuse a Marro Bone when he knows the Benefuls are an option! They prefer and generally will only eat the Snackers!!! They are so adorable and loved. Thank you for these wonderful treats.Jake and Sadie Mae
Claire
We have a fussy King Charles
Our King Charles Maxwell is very finicky, but love these beneful snacks, or as we say Dessert. One of a few he loves.