Purina Cat Chow Naturals Original Plus Vitamins & Minerals Dry Cat Food, 18 lb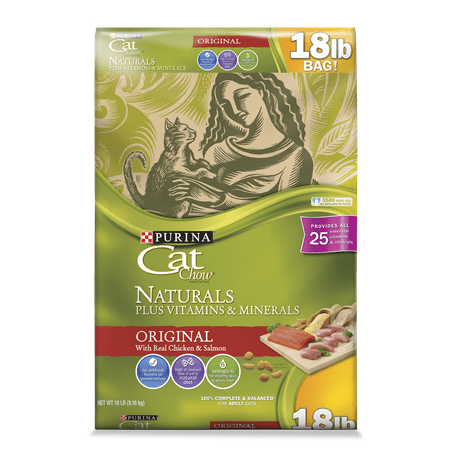 MSRP :

$17.48





Sale :

$17.48

Sold & shipped by Walmart
Product Description

Additional Information

Reviews
Product Description
When it comes to what your cat eats, why not go natural? Purina Cat Chow Naturals leaves out the artificial additives and gives cats the nutrition they need with natural ingredients like real chicken, whole grains and a touch of leafy greens. High in protein like a cat's natural diet, it's a formula cats find naturally delicious, complete with a fiber blend to help control hairballs. Every meal of Purina Cat Chow Naturals provides complete and balanced nutrition, including essential vitamins and minerals. This 13lb bag is also available in a 16oz pouch, as well as 3.15lb, 6.3lb and 18lb bags. And don't forget, Purina Cat Chow offers a variety of great-tasting formulas, all with trusted nutrition for feeding great relationships: Purina Kitten Chow, Purina Cat Chow Complete, Indoor, Healthy Weight and Gentle.
Additional Information
Made with natural ingredients, including real chicken and salmonContains 25 essential vitamins and minerals to support her overall healthHigh in protein like a cat's natural dietOmega-6 fatty acids support her healthy skin and coatFormulated for all life stages
Reviews
Kreation72013
Very happy
My cat has a very sensitive stomach and I had tried all kinds of food. She will only eat dry food and never eats anything else. She even turns her nose up at a can of tuna. She was constanly throwing up after she ate. At first I thought was hairballs so bought the tube of treatment you put on thier food but she still threw up and it was always in my bedroom and on my bed. It was a daily clean up and I got so I just kept my carpet cleaner sitting in the bedroom ready to use. I fed her Iams and that helped a little but not much. When I tried the Cat Chow Naturals it was all the difference in the world. She may still throw up occasionally but it is very rare. I would recommend this to anyone with a cat that has sensitive issues. It works so much better and is a lot cheaper than the Iams.
Tootbig
What a difference!
What a difference this made for my cats for several reasons. I was feeding my cats a 9-Lives dry cat food, but one of my cats had a really bad allergic reaction, and all three's excrement smelt so bad, so I knew it was time for a change. Been feeding them Cat Chow Naturals for about two weeks now, and what a difference it has made for my one who was allergic to the previous, she started clearing up within a few days. And now, she's about 70% clear and getting better every day. And for the smell, wow, just not one. What a huge difference Cat Chow Naturals has made in our household. Would definitely recommend for single or multi-cat owners.
Tootbig
Excellent Product!
So, I recently adopted my friend's cat (Tony) and since he was a kitten, he was eating Friskies. I took him to the vet because he was scratching a lot (I thought he had fleas) but it turns out, he had dry skin! Who knew a cat could suffer from dry skin? I was told this was a good alternative, because Friskies is just "cheap" and not nutritious. About a month on this new diet, his fur is absolutely soft and fluffy and he's no longer scratching all the time! Thank goodness. I'll admit this brand is a little more expensive, but it's worth the money if my little Tony is happy and healthy!
catloverlady
Purina naturals good quality food
my cats really like this cat food. some brands and types they do not tolerate. It is hard to find the large 13 lb bag at all walmart stores, but their price is lower than competors.
Strive2ShopSmart
Not "Natural" like name indicates
Unfortunately, I made the ultimate mistake and purchased this based on the name and not by reading the ingredients. The 1st 5 ingredients of healthy/natural cat food are NEVER supposed to be corn, wheat or soy and this food has 2 in the 1st 5.