Purina Cat Chow Naturals Original Plus Vitamins & Minerals Dry Cat Food, 18 lb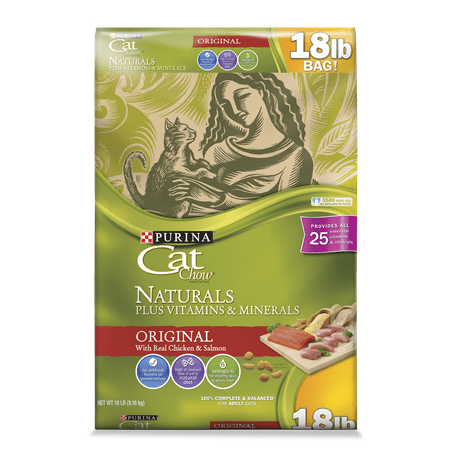 Sale :

$18.44

Sold & shipped by Walmart
Product Description

Additional Information

Reviews
Product Description
When it comes to what your cat eats, why not go natural? Purina Cat Chow Naturals leaves out the artificial additives and gives cats the nutrition they need with natural ingredients like real chicken, whole grains and a touch of leafy greens. High in protein like a cat's natural diet, it's a formula cats find naturally delicious, complete with a fiber blend to help control hairballs. Every meal of Purina Cat Chow Naturals provides complete and balanced nutrition, including essential vitamins and minerals. This 13lb bag is also available in a 16oz pouch, as well as 3.15lb, 6.3lb and 18lb bags. And don't forget, Purina Cat Chow offers a variety of great-tasting formulas, all with trusted nutrition for feeding great relationships: Purina Kitten Chow, Purina Cat Chow Complete, Indoor, Healthy Weight and Gentle.
Additional Information
Made with natural ingredients, including real chicken and salmon. Contains 25 essential vitamins and minerals to support her overall health. High in protein like a cat's natural diet. Omega-6 fatty acids support her healthy skin and coat. Formulated for all life stages
Reviews
Kreation72013
Very happy
My cat has a very sensitive stomach and I had tried all kinds of food. She will only eat dry food and never eats anything else. She even turns her nose up at a can of tuna. She was constanly throwing up after she ate. At first I thought was hairballs so bought the tube of treatment you put on thier food but she still threw up and it was always in my bedroom and on my bed. It was a daily clean up and I got so I just kept my carpet cleaner sitting in the bedroom ready to use. I fed her Iams and that helped a little but not much. When I tried the Cat Chow Naturals it was all the difference in the world. She may still throw up occasionally but it is very rare. I would recommend this to anyone with a cat that has sensitive issues. It works so much better and is a lot cheaper than the Iams.
Kimber22
Amazing Results!
I have used meow mix and a few others but then one day this was on sale so I grabbed it..My cats all LOVED it! My Maincoon really enjoyed it,of course my outside cat loved it and even the feral cat I feed but the most amazing thing was my Tortoise cat who has an allergic reaction to fleas & it only takes one bite for her hair to start a viscous cycle of falling out or atleast that is what the place told me where I adopted her but she has some sorta dermatitis, I live in Florida and it has been a tough couple years with fleas here. Anyway, she was looking like a hair patched rat even though she did not have any fleas. So I started feeding them this food and within the past few months I noticed her hair is long,thick and she is the pretty little kitty she once was! I know many have said it is bad food but whatever is in is making my balding kitty a gorgeous furball now.
Eddie
Affordable and quality grain free kitty food!
Finally a grain free food that all my cats love! I have tried several more expensive brands of grain free dry cat food and my cats are so picky! I was getting very frustrated. I have 3 lovely little kitties and it always seemed like one cat would refuse to eat or have gastrointestinal issues with all the other previous food that I purchased. This food surprisingly made them and their tummies happy! And 13 lb is do affordable! And I trust Purina. Here I was spending twice that on expensive alternatives when I should of been using this all along! Definitely worth trying. The quality and price will keep you coming back! I also get it delivered via Walmart 2 day delivery! So convenient!
DocNyto
My cat's favorite
Not only does my vet recommend this. My two cats love it. Their good health and beautiful long fur coats convince me it's great for them. Glad I can find it at my Walmart.
2dog2catmom1234
Yummy
My five cats all love this food. I put out two types of dry and this is by far their favorite.