Purina Cat Chow Naturals Original Plus Vitamins & Minerals Dry Cat Food, 18 Lb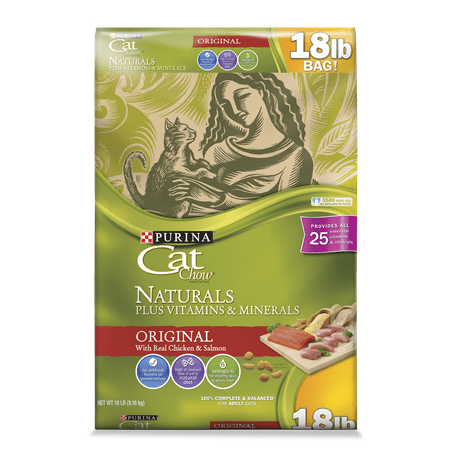 MSRP :

$17.48





Sale :

$16.48

Sold & shipped by Walmart
Product Description

Additional Information

Reviews
Product Description
When it comes to what your cat eats, why not go natural? Purina Cat Chow Naturals leaves out the artificial additives and gives cats the nutrition they need with natural ingredients like real chicken, whole grains and a touch of leafy greens. High in protein like a cat's natural diet, it's a formula cats find naturally delicious, complete with a fiber blend to help control hairballs. Every meal of Purina Cat Chow Naturals provides complete and balanced nutrition, including essential vitamins and minerals. This 13lb bag is also available in a 16oz pouch, as well as 3.15lb, 6.3lb and 18lb bags. And don't forget, Purina Cat Chow offers a variety of great-tasting formulas, all with trusted nutrition for feeding great relationships: Purina Kitten Chow, Purina Cat Chow Complete, Indoor, Healthy Weight and Gentle.
Additional Information
Made with natural ingredients, including real chicken and salmon
Contains 25 essential vitamins and minerals to support her overall health
High in protein like a cat's natural diet
Omega-6 fatty acids support her healthy skin and coat
Formulated for all life stages
Reviews
2dog2catmom1234
Yummy
My five cats all love this food. I put out two types of dry and this is by far their favorite.
HatCat
Cat loved it
Purina sent me a free sample bag of the Naturals Grain Free food for Hat Cat's birthday. It was a nice size that really let me know for sure that she liked it. She is not a picky cat but I just gave her a little bit from the bag to start with and she ate it all up. That surprised me, because she always leaves some food in her dish. Later that day, when I went to feed her again, she ran to her dish when she saw the bag. I liked the sample size, it was enough for 2 feedings and was enough to know that it was something that my cat would eat. She liked it so well, that I intend to buy a large bag of the Naturals Grain Free formula. I try to feed Hat Cat the best food that I can and look for grain free food and real ingredients. Purina's Naturals Grain Free formula fits that criteria for my cat. I am so happy with the food that I have recommended it to my family and friends. Thank you, Purina for the sample bag and introducing me to this new formula for cats. [This review was collected as part of a promotion.]
MommaOfPepperAndBittyBit
Our Girls Give It 2 "Tails Up"!
Our girls, Pepper and Bitty Bit, love their regular Purina Indoor Cat Chow. We have them on this "half diet" food even though they have a pet door and play outside much of the day. You see, though Bitty Bit's nickname is our Feline Supermodel, one of Pepper's nicknames is Princess Butterball. Well it just so happened that the day we received this sample of Purina Naturals we had forgotten to buy cat treats at the store. Because it wasn't an indoor/diet food, we decided not to change their regular food but to see if they'd like it as a rich treat. Our cats are trained to come when we ring a little brass bell and give them a treat. This helps us get them inside at bedtime, when a storm is coming, or if we're going to be gone for hours. Well, the experiment worked perfectly: they loved the Purina Naturals. Our grocery store doesn't offer the Naturals Indoor variety or we'd consider switching to it. Pepper and Bitty Bit proudly give Purina Naturals two "tails up". [This review was collected as part of a promotion.]
PrairieRain
Best choice for the price
Searching for and testing many dry cat foods that are affordable, have healthy ingredients, are very palatable to the cats, and don't cause cats to vomit their food back up, this currently gets closer on more criteria than others, and is possibly the best for under $1 per pound. Though I would prefer more natural meaty ingredients (no grains, no "by-products"), cats find this food very appetizing, and keep it down. This is in comparison to Purina Cat Chow Complete in the blue bag, Purina Cat Chow Indoor in the green bag, other big-name dry cat foods (which some cats can't keep down), well-known "healthy" dry cat foods (which haven't appealed to the cats), and limited-ingredient cat foods (one of which they'll eat, but they're not fond of). Cats and I also can recommend the Purina Beyond line of cat foods, as well as the Purina One line, for those owners looking for more natural ingredients and less constrained by expense. This analysis is based on personal observations of over 30 cats and numerous brands of cat food. Loses one star for not having an actual meat as the first ingredient (it's chicken by-product meal), but possibly the best choice in its price range.
formerfan
the best catfood out there.
I have three large cats that eat Purina cat chow naturals on a regular basis with one can of tasty treasures, between the three of them per week. I also feed a couple strays. I go thru 13 pounds of food per two week period. My cats, and the two that have adopted me are healthy and happy. Unless they change the recipe, I will be sticking to this brand for years to come.