Purina Cat Chow Naturals Original Plus Vitamins & Minerals Cat Food 18 lb. Bag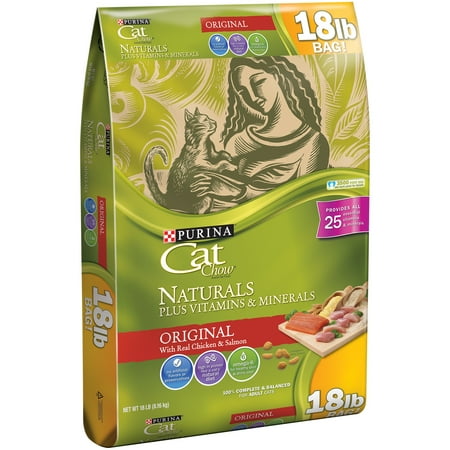 Sale :

$17.48

Sold & shipped by Walmart
Product Description

Additional Information

Reviews
Product Description
When it comes to what your cat eats, why not go natural? Purina Cat Chow Naturals leaves out the artificial additives and gives cats the nutrition they need with natural ingredients like real chicken, whole grains and a touch of leafy greens. High in protein like a cat's natural diet, it's a formula cats find naturally delicious, complete with a fiber blend to help control hairballs. Every meal of Purina Cat Chow Naturals provides complete and balanced nutrition, including essential vitamins and minerals. This 13lb bag is also available in a 16oz pouch, as well as 3.15lb, 6.3lb and 18lb bags. And don't forget, Purina Cat Chow offers a variety of great-tasting formulas, all with trusted nutrition for feeding great relationships: Purina Kitten Chow, Purina Cat Chow Complete, Indoor, Healthy Weight and Gentle.
Additional Information
Purina Cat Chow Naturals Original Plus Vitamins & Balanced Formula for Adult Cats

High in Protein Like a Cat's Natural Diet

Natural Fiber Blend Helps Control Hairballs

100 percent Complete & Balanced

Provides All 25 Essential Vitamins & Minerals

No Added Artificial Flavors or Preservatives
Reviews
2dog2catmom1234
Yummy
My five cats all love this food. I put out two types of dry and this is by far their favorite.
MommaOfPepperAndBittyBit
Our Girls Give It 2 "Tails Up"!
Our girls, Pepper and Bitty Bit, love their regular Purina Indoor Cat Chow. We have them on this "half diet" food even though they have a pet door and play outside much of the day. You see, though Bitty Bit's nickname is our Feline Supermodel, one of Pepper's nicknames is Princess Butterball. Well it just so happened that the day we received this sample of Purina Naturals we had forgotten to buy cat treats at the store. Because it wasn't an indoor/diet food, we decided not to change their regular food but to see if they'd like it as a rich treat. Our cats are trained to come when we ring a little brass bell and give them a treat. This helps us get them inside at bedtime, when a storm is coming, or if we're going to be gone for hours. Well, the experiment worked perfectly: they loved the Purina Naturals. Our grocery store doesn't offer the Naturals Indoor variety or we'd consider switching to it. Pepper and Bitty Bit proudly give Purina Naturals two "tails up". [This review was collected as part of a promotion.]
Rose224
Finicky Eaters!!!!
I tried this product with my 2 cats and they absolutely would not eat it. Their normal brand cat food is Purina One Tender Selects Blend with Real Chicken so I figured I'd give the Naturals a try since they are made by the same manufacturer but no luck. I adopted them a year ago and the Purina One is what they were already being fed. I was disappointed that they didn't like the Naturals because I would have liked to have saved some money and still have them get quality in their food but being a cat owner (slave) I've accepted the fact that you can't make a cat do anything that they don't want to. Their ultimate decision health and happiness is my goal.
KatMom18
Sample loved by 2 out of 3
I tested the sample Naturals on my 17 year old, 15 year old and 7 year old. Was a hit from the start with everyone but the 17 year old (and she is extremely picky). I plan to buy a bag and see if they like on a day to day basis. Thanks for the sample! [This review was collected as part of a promotion.]
TheLioness
Black Rose Loves Natural
My kitty cat Karagul (Black Rose in Turkish) has been eating this brand and formula ever since we got her at 3 months old. She is now 9 months old and she has grown so strong and healthy! Her coat is super soft and shiny, except when she rolls around outside, and she hasn't had any problems with the formula. She's never thrown up once due to the food, or any health issues at all. I'm positive the food we feed her is keeping her strong and healthy and growing like normal!