Purina Cat Chow Complete Dry Cat Food, 22 lb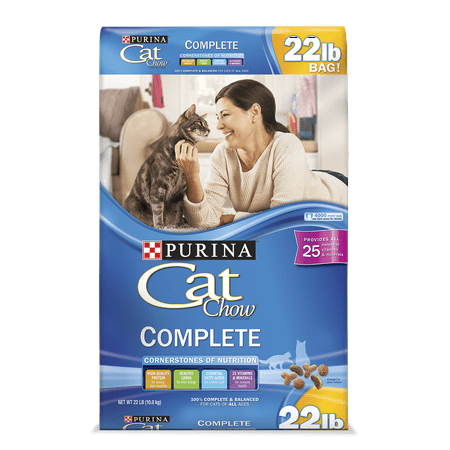 MSRP :

$20.48





Sale :

$18.48

Sold & shipped by Walmart
Product Description

Additional Information

Reviews
Product Description
Animal feeding tests using Association of American Feeding Control Officials (AAFCO) procedures substantiate that Purina Cat Chow Complete Cat Food provides complete and balanced nutrition for all life stages of cats. Purina has dedicated over 80 years to developing high-quality products that satisfy the needs of dogs and cats. To find out how they can help you provide a long, healthy life for your pet, go to Purina.com.
Additional Information
Wholesome ingredients and a great-tasting recipeHigh-quality protein to support strong musclesHealthy carbs help to deliver vital energy25 vitamins and minerals to help support her overall health, including a healthy immune systemEssential fatty acids support her healthy skin and coat
Reviews
Carolita
Purina Complete Cat Food
I have 3 inside cats and 5 outside. They all do well on the Complete Purina Cat food. Used it since they were kittens. Now inside cats are 7 years old and going strong. The others are different ages and doing well.
VnessaNVa
CAT NEW FAVORITE FOOD
My cat was in love with Friskies dry food by Purina. I kept seeing the commercials for this brand. I always knew I wanted to upgrade his food so I tried the Naturals cat chow by Purina that one he didn't prefer. When I finally decided to try this one it was a great success. You need to slowly remove your cat off the old food brand. However, my cat started devouring the cat chow and would leave his old food bowl full. That's when I realized how wonderful this item was b/c my cat really enjoys it. I placed this food next to his old food and his cat chow bowl is always empty. My cat has spoken and Cat Chow Complete is the winner
SBenkman
Good ingredients...
Good ingredients, great price for this larger bag. The cats, ferrets and let's be honest, thieving puppy dogs, all think it's tasty. We usually buy cat and dog food from Costco, but this brand is a good alternative in quality when we can't get to Costco.... Plus, Walmart delivers! We got free shipping by purchasing both cat and dog food and (oxiclean) and it came right to the door from FedEx within 2 days!
QueoteEyes222
Too high in Magnesium/Ash
March 2013 my 2 1/2 year old male, neutered sweet baby had a urinary blockage caused by crystal formation which is caused by lower quality foods that contain a high content of Magnesium and Ash in their products. As you can see, Purina does not list the maximum they allow. Any good quality food will list the max Magnesium content and sometimes the Ash content as well. These 2 ingredients are dangerous for the urinary tract in male cats. Don't get me wrong, I had been feeding Purina Cat Chow Complete exclusively to all the cats in my rescue. A total of 27. On April 10, 2016 the meds were done for my 2 1/2 year old, he had been urinating fine that morning, eating all his meals, drinking plenty of water and he started having problems urinating again by that evening. I took him in on April 11, 2016 and was waiting at the door when they unlocked it that morning. I saw my vet and explained that it was only a morning after he had taken his last dose of meds. He was stumped, suggested surgery and I took my vet's advice to do the needed surgery to save him. He was completely blocked again. Mind you, I watched him like a hawk from the first day he showed signs of urinary problems... The surgery went great, he came out of surgery, woke up long enough to have his IV moved from surgery and in only a short time he was gone. His kidneys had too much damage to come back up after surgery and work properly. On April 11, 2016 at 1:52 pm, while I was getting ready to go see him at 2 pm that day when owners can come and stay with their pets after surgery and while in recovery, I got the call saying we lost him. My vet was shaken by the incident, he had never lost a cat to urinary blockage. I have had the same vet for all of my feline and canine rescues (An encyclopedia of many that have been rescued, adopted out, saved from terrible mistreatment and neglect and are with me still today as I do not adopt out animals that have had bad pasts. I feel they deserve to have a furrever, caring home with me...) and my vet has seen them all through. Young, old, injured, horribly sick. He has taken amazing care to help them and he knows what each and every one of their lives mean to me. My vet and ALL of the staff were just blown away on the horrible loss and of course how hard I took the news. I was almost in the car on my way to sit with him when I got the call... And sadly, it does not end there. On May 2, still shocked and saddened by my sweet boy being taken from me so young... My 10 year old male Maine Coon who I had adopted from the individuals had had them dumped on their front door step, (He and his sister. I adopted them both) was showing all the signs of a urinary blockage. I wasted no time. He went in within the hour. My vet said his bladder was empty. I told him we needed to be sure there was no blockage as I watch all my animals in this rescue like a hawk and usually know in the first 24 to 48 hours if they are not acting properly. At that point, my vet took a sample of urine directly from his bladder with a needle. There was only a very small amount, but in it, it showed blood and he tested positive for UTI. He was put on meds just as my other kitty was, I was told to watch him as I always do and bring him back immediately if any signs pointed to a blockage. We got home, he ate fine, drank ALOT of water and at 11 pm I went to bed praying the outcome would be better this time. At 4"45 am the next morning, I heard a cat yelling that woke me up. It was my 10 year old. He was blocked and ll the water he had must never have come out since the night before. I l/m for the vet and told him I would be waiting at the door for emergency surgery. At my apt with him, that morning, my vet's face was frightful, he was at a loss he had NEVER seen this happen in all his years as a vet. (He began in his early 20's, he is around my age in his 50's now. He point blank stated, "This is crazy! Change the diet for your cats, there is no other cause that could be hitting them all at the same time like this! He was worried and I was scared! I went home with dry and wet cat foods designed for urinary care that afternoon. My cats never saw the Purina Cat Chow Complete again. My 10 year old made it out of surgery, recovered very well and is home with me and back to his happy, healthy self. For those of you that may wonder if there was some other food, treat or any other type food/treat that could have done this, rest assured, I am very strict with their diets. How else can I know what is or is not the problem? THAT is why I am so strict... I could have lost another or many more lives while trying to figure out just what caused it. I am thankful I did not lose any other kitties and would given so much to have known the "Complete" cat food I was giving was going to take the life of such a young kitty that I loved so very much... I continue to say, what if I would have provided a better food... But all the what if's will never bring him back or change the horrible experience my 10 year old had to go through... I will never forgive myself for not knowing exactly what is in my animals foods and being sure none of the ingredients will harm them in any way... The only thing I can do is share my experience, honestly, with the community so that they can ask the questions themselves before hand and not be as saddened as I. For now, we go on as a very large family and much better nourished. The loss is still to new to not think about with regrets at this point... Take care of your babies. They get but one life and it is what we give them. They don't get the choice. God Bless to all >(*!*)<
Suzanne
Good Chow!
We've used this for years and our cats have always flourished. The price is reasonable and the cats seem to love it.