Purina ONE SmartBlend Natural Chicken & Rice Formula Adult Dry Dog Food - 31.1 lb. Bag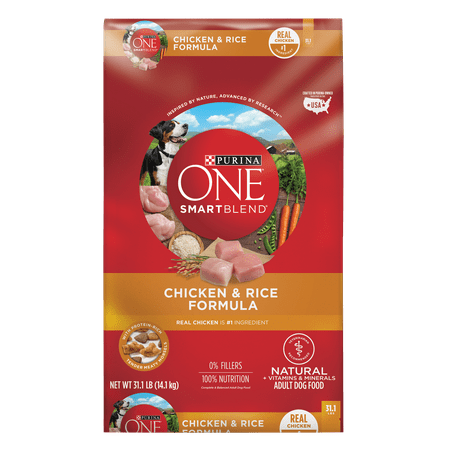 Sale :

$33.99

Sold & shipped by Walmart
Product Description

Additional Information

Reviews
Product Description
What's a Dual Defense Antioxidant Blend? One That Works Inside & Out. It's probably not something your dog thinks about, but his SmartBlend is working around the clock. It starts with a dual defense antioxidant blend of Vitamins E & A along with minerals zinc and selenium in a 100% complete diet. Together, they make a healthy difference on the inside by supporting your dog's strong immune system and on the outside by supporting healthy skin and a radiant coat.
We're inspired by the science in nature, discovering the power of smart ingredients that work together for your dog's whole body health.

Animal feeding tests using AAFCO procedures substantiate that Purina ONE SmartBlend Chicken & Rice Formula provides complete and balanced nutrition for all life stages of dogs.
Additional Information
Real chicken is the #1 ingredient
Dual-defense antioxidant blend to help support a strong immune system
Natural sources of glucosamine help to support healthy joints
Protein-rich, tender, meaty morsels and crunchy kibble for a taste dogs love
High protein helps to support strong muscles
Reviews
Jo
Dogs love it
Dogs love it. I believe in their product. I tried the grain free but glad I didn't keep buying it now with the recalls.
Dollyrose2
The BEST for all my dogs
I absolutely LOVE this product of Purina One Smartblend. I have tried all them for my German Shepherds puppies, adult German Shepherds dogs, older small dog and even the formula for cats. I can't believe the difference this product has made in the coats of my German Shepherds. Bright, shinny, thick and just the overall condition of my dogs. They have never looked as good as they do now going into winter with a hot summer. My dogs too like to pick out the chicken pieces. I have one young 9 month old shepherd that after she get finished with her bowl she goes to where another bowl being eaten out of and sticks her paw out to the bowl and pulls it over to her. All my dogs just love this product. I have finally found a good product that not only is good for my dogs and cat but also pretty good to the pocket book. Any one that does breeding of dogs and has puppies throughout the year will find out how good this product is in just a few months of using. GOOD JOB PURINA-THANK YOU
Skydivinredhead
The BEST for all my dogs
We feed this to our Boxer and Standard Poodle on a regular basis and they eat it well and thrive on it.
Kimmy
Best Dog Food
My 2 furry babies love this food! They run and watch wait by their bowls whenever they hear me opening the bag of food. I have tried Blue Buffalo which they liked for a little while but then just stop eating it. So I went back to what they love Purina One SmartBlend! They are in great health which is also a bonus.
Dobemom
Only Food for My Dog!
I have a 130 lb. Doberman mix with a very sensitive immune system. His allergies have been a thorn in our side since he was about 9 months old. His skin gets so bad he loses his hair, he gets thick, gooey eye boogers and ear infections. Another side effect of the allergies is a very loose stool. We tried so many "premium" foods when he was young - grain free, venison, duck, etc. Every gimmicky, expensive food promising positive results we tried failed. I received a coupon for Purina One and tried the chicken and rice variety. Within a couple of days the stools firmed up. His skin began to clear up after about 2 weeks and 5 years later it is the only dog food I buy. He still gets seasonal flare ups of skin, eye and/or ear problems but they aren't as drastic and don't last as long as before. My son got a rescue husky mix and I get to dogsit him on occasion. One day my son was lamenting that his dog was so snooty he wouldn't eat his dog food, regardless of what brand or variety he tried. I told him that he always eats for me with no hesitation - cleans his bowl in one sitting, not a few bites and walk away, nibbling throughout the day as he was doing at home. My son bought a bag of the chicken and rice and now his dog is also exclusively a Purina One chicken and rice pup. We are definitely a Purina One family! Thank you Purina.