Purina Puppy Chow Complete With Real Chicken Dry Puppy Food - 16.5 lb. Bag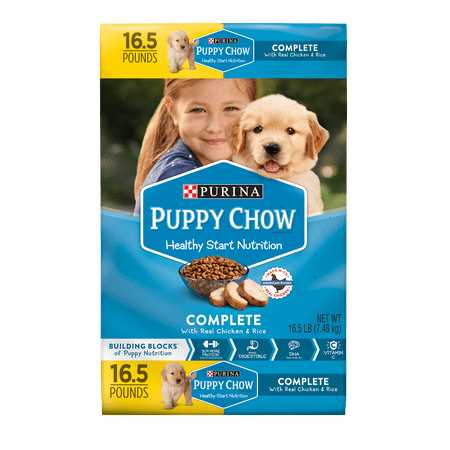 MSRP :

$95.04





Sale :

$12.89

Sold & shipped by Walmart
Product Description

Additional Information

Reviews
Product Description
Your puppy's first year of development helps lay the foundation for a healthy, active life. And you want nothing more than to help him get off to a great start with the essential nutrition your puppy needs. Because when your puppy is at his best, it shows--in his personality, in his play, in the way he interacts with the whole family. Total Care Nutrition: Total Care Ingredients: Formulated for healthy growth and development including: high quality protein and DHA & essential nutrients also found in mother's milk. Total Care Benefits: Supports: Healthy brain & vision development; Everyday resilience; High digestibility. Total Care Excitement: Every bowl contains the great taste, texture and variety to keep your puppy happy and satisfied day after day.

Animal feeding tests using Association of American Feed Control Officials (AAFCO) procedures substantiate that Purina Puppy Chow provides complete and balanced nutrition for all life stages of dogs.
Additional Information
Carefully crafted and formulated to meet the unique nutritional needs of growing puppies
Contains DHA, vitamins and minerals also found in mothers' milk
27% protein from high-quality sources, including real chicken, for growing muscles
Helps support healthy brain and vision development and everyday resilience
Highly-digestible formula
Reviews
JulieSuperGrossedOut
The most disgusting thing I've ever encountered.
I bought a box of puppy chow at a local gas station as it was late at night and none of our grocery stores were open anymore. I got home abd opened the box and began to attempt to pour her dog food into her bowl and notice nothing was coming out. So I looked in and at first glance, thought that there was a bag or something that I had to go thru also. I stuck my fingers in there to try and break what I thought was a bag open and was disgusted to see a web or best of some sort covering the top of the food. Bugs and worms started crawling out. I was terrified and have never experienced anything like that before. I'm not on social media or i would be posting this on Facebook to warn others. That is absolutely disgusting and I'm still thinking about how grossed out i am.
Kate44
A+
I have 3 German Shepherds, 2 of which I had as pups and raised on Puppy Chow. I also had a litter of 6 GSD's and I tried the expensive vet food... made all of them sick! They loved puppy chow and had not one issue on it! They are all big, strong, healthy adults now. My vet was always impressed on how great they looked and how healthy they were/are! I also put my momma on puppy chow while pregnant and nursing because of the high calcium content to help with milk production! [This review was collected as part of a promotion.]
Checo56
Great puppy food!!!
I have a 31/2 month old Blue American Razor's Edge puppy named Bruno. I had to take him at 29 days old because the mom no longer wanted to feed them. They were getting too big and hurting her at feeding time. I've been feeding him Purina Puppy Chow since I got him. He has progressed super nicely! He doubled in weight the first three weeks between vet visits. The first visit he weighed 6.2lbs. for his second visit and second set of shot he went from 6.2 to 12.4lbs. The vet even told me he was in great health. I totally recommend Puppy Chow!
KimberlyML92
Unbeatable
There is absolutely nothing better than to feed our pup than puppy chow she is still a baby and this gives her everything she needs to continue to grow and be as healthy as can be. Hands down PURINA is the best!! No doubt about it! [This review was collected as part of a promotion.]
AnnaM
PURNIA Brand - The only name I trust
I love dogs and they have been a part of my life for over 50 years. I have witnessed adult dogs and puppy litters thrive and have healthy fulfilled lives. I have put my trust in Purnia brand foods throughout their lives to provide the best nutrition available.Our pets are a very important part of our family, I depend on Purnia Puppy Chow Complete to be the building block for our loving pets! [This review was collected as part of a promotion.]