Purina Beneful Healthy Weight With Real Chicken Adult Dry Dog Food - 3.5 lb. Bag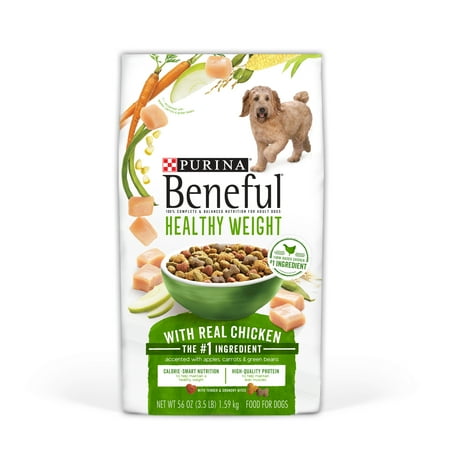 MSRP :

$35.99





Sale :

$5.48

Sold & shipped by Walmart
Product Description

Additional Information

Reviews
Product Description
Healthy dog food that tastes great and is calorie smart? No, it's not too much to ask. Help your dog maintain a healthy weight and still get excited about mealtime with the calorie-smart nutrition in Beneful® Healthy Weight. You're giving your adult dog 100% of the nutrients he needs to help him thrive every day. All in a mix of tender and crunchy bites dogs love. Just because your dog may benefit from a specific kind of nutrition doesn't mean he should have to sacrifice taste! We want ALL dogs to enjoy mealtime. The calorie-smart nutrition helps your adult dog maintain a healthy weight with 10% fewer calories than Beneful® Originals With Real Beef and 100% of the nutrients he needs.
Additional Information
Real farm-raised chicken is the #1 ingredient
Accents of real peas and carrots add variety to his diet
Antioxidant-rich nutrition to help support a healthy immune system
Proudly produced in Purina-owned U.S. facilities to ensure safe, quality food
23 essential vitamins and minerals support overall health
Reviews
ashley_al_11683108
My dog loved this!
We have a very large pitbul puppy. He is a little over a year and he is already pretty big. His name is Anarchy. We have been trying to find a dog food that he likes and will actually eat. It has been very hard because he is very picky. We were buying him the gravy train dry dog food and mixing with warm water, he liked it ok but would just eat it up. It would take all day for him to nibble around on it before he would acctually finish the food in his bowl. When I got this sample, I poured it in his bowl, and 2 minutes later it was gone. He really liked this brand of dog food. We are usually hesitant about buying a new type of dog food because we don't want to but something he will not eat. Getting this sample really helped with that descision.We went the next day to our local tractor supply and purchased a 30 lb bag of beneful healthy weight and since then, Anarchy has been cleaning his bowl shortly after every feeding. I am very happy with this product and would highly recommend it!! [This review was collected as part of a promotion.]
will_nc_11657224
Tastes Great, Less Fattening
I have to tell you this stuff is great. I have three dogs and at least two of them are big fatties, so I was excited to see if they'd like this food. At first I just gave them a few to see how they'd like it, they loved it. They really wanted more of them, so I tried a couple just to see what all the fuss was about and I've got to tell you, they're pretty good. A little crunchy, but zesty with less oily mouth feel than other, lesser dried dog foods. I could kind of understand what my little furry friends were thinking, but I wanted to really get into their head space (mouth space??) so I tried a few more of these tasty morsels. I tell you, they just got better and better. Before I knew it we'd finished the whole bag. The very next day I went out and bought six different kinds of small bags of Beneful just to find out which tasted the best. The dogs like the beef best, but I thought the salmon was good on toast with cream cheese in the morning and just think of all that protein. [This review was collected as part of a promotion.]
jess_va_11594866
My dogs seem to really like it.
So being completely honest, I'm generally not a big fan of dog foods that incorporate a lot of filler ingredients (i.e. corn, corn gluten meal, by-products, etc.). One of the reasons I've gotten into ingredient reading is due to the fact that one of our dogs has a food intolerance. Because of this I usually don't try other dog foods. I don't want to have to worry about issues with chronic IBS and diarrhea again. Given that the sample was free and cheaper than our current dog food, I decided to give it a try. Though our current dog food is a good dog food, our dogs don't really seem to like it. They take forever to eat it. I decided to mix a little of the sample in with ours and they ate it right away. One of my dogs even went as far as picking out all the sample dog food and leaving his current dog food in the bowl. Now that I know they can handle Beneful without any adverse affects, I've been converted. They like it and we don't have to pay as much as we were for dog food. It's a win win. [This review was collected as part of a promotion.]
IsaBELLAcorsolina
Keeping My Girlie Figure
I'm a Cain Corso so keeping that weight off the hips is a challenge. Vet says I'm okay so far at 122 lbs. Although a girl can't be too careful about loosing that sexy look and I draw a lot of attention because of how shiny and silky my glowing black coat looks. Mom knows better than to bring home anything else! I love, love, love the chicken flavor and what (if any) is left in my bowl after I get my stomach full, I share with the swans off my floating dock at the side yard. They pray every day that there is some left, so mom puts plenty in my bowl. If they have to come to the house begging, it is so scary 'cause they stand taller than me and hiss. It's important to be kind to the flying and hissing tidal birds around here. Beneful brings great pleasure (and safety) to my life. Thank you, Bella (4yrs old) p.s. tried to add a pix, but only "rolled" like it was trying. You could have seen for yourself. A picture is worth a thousand words! But, I AM Beautiful because of Beneful.
jennifer__sc_11642983
PURINA BENEFUL HEALTHY WEIGHT ADULT DRY DOG FOOD
I received a small bag of PURINA BENEFUL HEALTHY WEIGHT ADULT DRY DOG FOOD for my dogs. I did give it to my oldest dog to try. She is getting a little picky in her senior years. I liked the size of the kibble. Lately, she has had some trouble with any larger kibble. She really enjoyed this dog food. I like that it doesn't smell generic. It has a good kibble size. It also has a great ingredients list. It is a healthier choice for her too. It will help maintain her weight better now that she is getting into her golden years. She seemed to like it very much. She ate it right up with no problems. She has had other products from the line because it is a brand I trust and I like all their options for dry and wet food. Overall it was a good experience and I would definitely get it again for her. I was given the product in exchange for an honest review. All opinions are my own. I do already feed my pets products from this brand, I would recommend their products for all pets. [This review was collected as part of a promotion.]