Purina Beneful Healthy Puppy With Real Chicken Dry Dog Food - 3.5 lb. Bag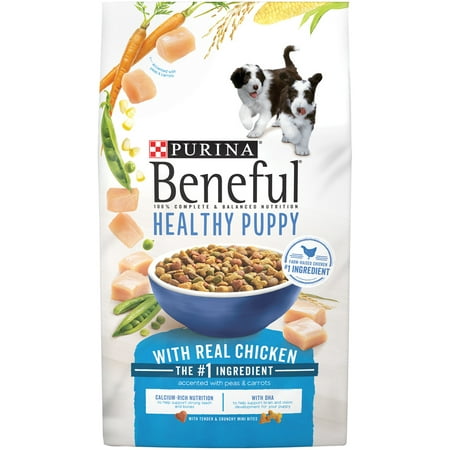 Sale :

$5.48

Sold & shipped by Walmart
Product Description

Additional Information

Reviews
Product Description
Healthy puppy food that tastes great too? No, it's not too much to ask. When you give your dog Beneful® Healthy Puppy, you're starting him off with 100% of the nutrients he needs to help him thrive every day. Plus DHA to help support healthy brain and vision development. It's everyday healthy and all kinds of yum. Beneful Healthy Puppy is part of Beneful's Purposeful Recipe's line. Just because your puppy may benefit from a specific kind of nutrition doesn't mean he should have to sacrifice taste! We want ALL dogs to enjoy mealtime. And with our purposefully selected blends with good-for-him ingredients in a mix of tender and crunchy bites, we're sure he will. The calcium-rich nutrition helps support your puppy's teeth and bones while DHA helps support brain and vision development.
Additional Information
Real farm-raised chicken is the #1 ingredient
Added calcium helps support strong bones and teeth
Made with DHA for brain and vision development
Crunchy and tender mini bites are perfectly sized for his small mouth
Accents of real peas and carrots add variety to his diet
Reviews
kyderry6
Great value, solved tummy troubles!
We adopted a boxer/cane corso at 8 wks old and a golden retriever/lab at 6 months old within two days of each other... We have had them for about two months now, and they have been on Beneful puppy food for about two weeks... Both pups were on Pedigree puppy food when we got them, and they both had bloating and very stinky gas following every meal, so I had to do something about their diets! We have four children, so buying expensive, vets office pet food was not an option. I found Beneful at our local grocery store priced within a dollar or two if their other food, so decided to try it, and what a difference! Their costs are now sleek and shiny and we no longer have fur all over everything, they are excited for meal times, and the gas and bloating problem is virtually GONE! Thank you for making a high quality, affordable food for our newest family members!
Shanna
My puppy loves this food!
Ever since I brought lucy home at 7 weeks she's been eating this food she is now 13 weeks old and demands more of it she'll pick her food bowl up and bring it over to me that's her way of showing me hey mom I'm. Hungry get me food! I get the big bags which last me about a month and it's not expensive but it's worth it in the long run! I only want what's best for my little lucy! Shes a beagle/blue tick coonhound mix but she defiantly has more beagle in her!
MsMarieJac
I Love Beneful Puppy Food
I have a Golden Retriever puppy who is now 15 weeks old and is 42 lbs. I thought I was over feeding him until I looked up the recommended cups he is to get each day and I am underfeeding him by 2 cups. I am so glad I came to this website to review how long he should get the puppy dog food. It was very educational. I called my daughter and said "Give Jordan a extra cup each meal". From 8 weeks to 15 weeks :-).
MissVickie
We adore Beneful Healthy Growth Puppy Food!!!
We have a lab who is six and a half months. He has been on Healthy Growth for Puppies since he was 8 weeks old. He is a healthy, happy, playful & gentle giant. He loves his food & has an amazing coat! Thanks Beneful!
ScrappysMom1
Under weight
I brought this last month for our new puppy who was under weight. We took him to the vet on Saturday. ..he gas gain weight and right on track to a healthy and happy life! Thank you so much!