Create Basics Tie Dye, 47 count, .75 oz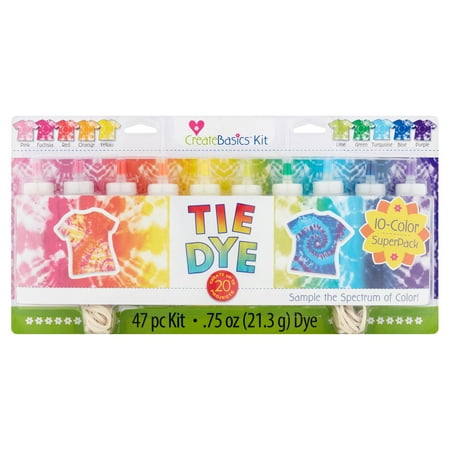 Sale :

$10.59

Sold & shipped by Walmart
Product Description

Additional Information

Reviews
Product Description
Be creative and have fun making tie-dye t-shirts and more with this Create Basics Tie Dye 47-Count 75-oz kit. It has all you need to turn plain t-shirts into colorful works of art. There are 10 squeeze bottles with tie-dye powder of 10 bright and beautiful colors. There are three pairs of protective gloves and 30 rubber bands to create bold designs. Get the most vibrant colors on 100% cotton, rayon and silk.
Additional Information

Tie Dye Kit from Create Basics:
Super pack with 10 gorgeous colors
Create up to 20 projects with this tie-dye fabric kit
Sample the colors of the rainbow spectrum and beyond
Kit includes bottles of dye, rubber bands and protective gloves to create a masterpiece
For project ideas, visit createbasics.com
Manufactured for iLovetoCreate, 5673 East Shields Avenue, Fresno, CA, 93727, USA
www.ilovetocreate.com
Copywrite 2013 by iLovetoCreate
Reviews
GamingGoddess22
This dye kit is okay.
Pretty easy to use dye kit. I like that the powder is already in the bottles and all that you need to do is add water and shake. Rubber bands and gloves provided are lacking in quality and I would not recommend using them. The rubber bands snapped so easily and most of the gloves had holes in them. I had a purple middle finger for a few days, my sister did, too. Some colors are lacking in quality, as well. After washing, the red dye turned to pink. My husband's not too thrilled about that. Lime green turned to yellow. Pictures submitted are before washing. Wish they would have stayed those colors. But they faded a lot. Followed directions on box to the last letter. But it was a fun family project to do.
Leoma
Fun
Lovely colors. Extra dye washed out well. Colors were not as vivid after being rinsed. Let fabrics sit about 8 hours. Had one full sized set of sheets and pillow cases, one size 4 kids shirt, one extra large tank top and one xxl tee shirt. Plenty of dye. For all. More instructions would have been nice though. Letting fabric sit 24 hours may have made colors more vivid.
Strap
Great kit!
Great kit! Everything you need for an afternoon project. I needed a curtain for Independence Day. 4th of July!
MemoryLane
Worked well! Video review
Worked well! Here is my product tutorial https://m.youtube.com/watch?v=Ld6VxZslLcE
meh
Nice Kit for low cost
For the price I like this kit, I used my own gloves and rubber bands, dye last several wahes but will lighten up with more washes. I usually let my shirts sit over night and rinse in cold water no soap first wash. Get your shirts damp before you use and really saturate them and your have nice results. Towels paper or old towels will also come in handy. I've used this kits several times and Like that its very easy just add your water and create. I do prefer the larger bottles with less color option after having used these kits a few times.