Plantronics Voyager Legend Bluetooth Headset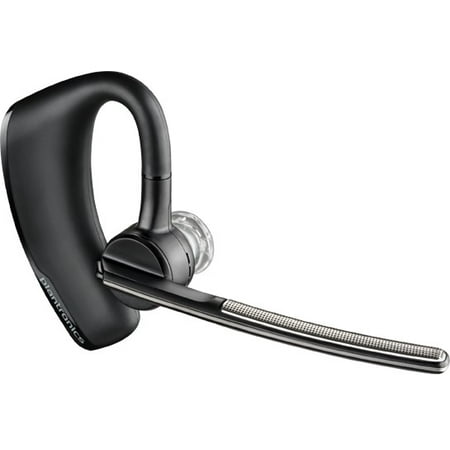 MSRP :

$79





Sale :

$75.95

Sold & shipped by Walmart
Product Description

Additional Information

Reviews
Product Description
Enjoy an enhanced hands-free experience with this handy Plantronics Voyager Legend Bluetooth headset. It is made of sturdy and durable materials designed for long-lasting use. This Voyager Bluetooth headset features triple-microphones that cancel noise and wind and voice commands for added convenience. It uses Smart Sensor technology that is designed to understand how and when you want to talk, and it provides up to seven hours of talk time and 11 days of standby time.
Additional Information

Plantronics Voyager Legend Bluetooth Headset:

Smart Sensor technology intuitively directs calls to your phone or headset, pauses music for incoming calls and allows you to automatically answer by simply placing the headset on your ear
Noise and wind cancelling
Plantronics Voyager sweatproof Bluetooth headset announces the incoming caller's name and lets you say "answer" to accept the call or "ignore" to send the call to voicemail
Simply tap the voice command button and ask to check the battery level, connection status and more
Interact with Siri, Google Now or Cortana by pressing the call button
Plantronics Legend noise-cancelling Bluetooth headset is safe and convenient to use while driving
Reviews
Bobbeast
Excellent Device
I have used a couple of less expensive types but was not satisfied. My work allows me to listen to music, talk radio, etc. pretty much all day long. This one was perfect for me. The sound is crystal clear. Background noise is minimal if any for the other party. I purchased the insurance plan for around $8. I somehow crushed my device and broke it in half. It still worked! I wasn't sure if the insurance covered that. Turns out it does. They simply sent me a UPS return label by email. I printed it out on plan paper, attached it to an envelop and dropped it off at a UPS location. Within a few hours of confirmation from UPS that I had dropped it off, I received an e-gift card for the full amount of purchase (minus the $8 insurance plan) and purchased a brand new one from Wal Mart. You can believe I purchased the insurance plan again! My whole experience with this device so far (about 6 months) has been very good. I would definitely recommend it!
BlaqKarmel
Plantronics Voyager Legend
I really wanted to love this earpiece but sadly I don't like it at all. I'm no stranger to the wrap around ear design so that is not the issue. One of my issues is with the earbud portion. I tried the different gels to see if it was the fit that was the issue but that was not it. It's the design. The gel doesn't direct the sound down into your ear like I'm used to. It just sits loosely on your ear and in doing so, it allows any sound around you to drown out the persons voice. I turned up the volume and even pressed the ear portion to my ear. Better but not much better since the audio is weak AND definitely not something that I would like to do each and every time I use it. Lastly, the charging port sux! I've used the "contact" type of charging in the past with no problems but with this unit, the magnetic contacts are not secure. Meaning, if I'm not physically holding the connections together, it won't charge. Needless to say, I promptly returned the device.
Kld0426
Disappointed
I love that this has an on/off switch and the sound quality is great however it is too big for my ears. I wear glasses so this device with my glasses I find the bluetooth falling off a lot or my glasses are crooked. I think the fold and flip feature is great so you could change it to the other ear but sometimes it gets confusing on how to open it to the way I want to wear it. Very disappointed that my motorola bluetooth decices are no longer made.
Joetruckdriver
Great Product
I've been using the Voyager Legend now for a bit over a week. I purchased it to use with my iphone 4. It came fully charged right out of the box, and turned it on, it automatically synced with my phone. It comes with different sized ear-buds which were easily interchangeable. I must say that never using a product like this before, it took me a few hours of wearing it to get used to it. I like the clarity, and no complaints from the people I talk to. I've asked several, and they can't tell I'm using it. One thing I could wish for is higher volume out of the device, but that is mostly because I have some slight hearing loss. Otherwise, great product, so far very pleased with performance.
Sheriff
Plantronics Voyager Legend 87300 (Not So)
I am a 6' 2" gregarious male and the Bluetooth has its moments when it does not respond well to voice command: I ask "call such a person (that's in my contact list)" and I get instead a made-up phone number that's not in my contact list "dialing ###" - I have to talk very LOUD and separate the first and the last name of the person I want to be called with a brief pause for the voice command to respond successfully. Also, when tapping the Voice button for available commands, once in a while it has the tendency to disable the voice command altogether "voice command disabled." One time I had to call customer service and go online to download a program to reset the Bluetooth. I was hoping that when a call comes in from a person who is in my contact list that it would be announced who is calling but it only announces that I have a call and choose whether to accept or reject. In the future I will be looking for something more reliable in function.