French Toast Crunch Breakfast Cereal, 11.6 oz, Box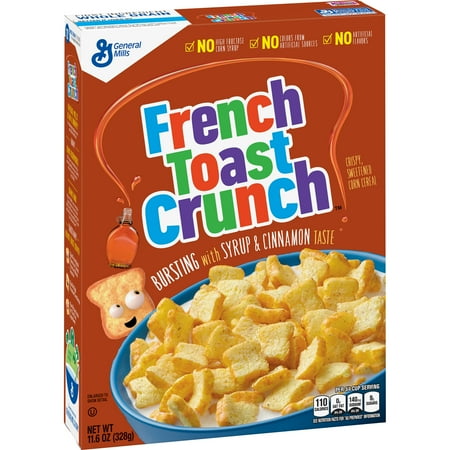 Sale :

$2.98

Sold & shipped by Walmart
Product Description

Additional Information

Reviews
Product Description
Start the day of right with French Toast Crunch Cereal. It's a nostalgic and tasty option that features whole grain as the first ingredient. In fact, this scrumptious treat offers 10g whole grain per serving, or about 20 percent of the recommended daily value. It's a good choice for breakfast, snacks as well as dessert. Sweet sugary topping mingles with spicy cinnamon to create a distinctive, mouth-watering flavor. It's crispy for a satisfying crunch with each bite. This kosher whole grain cereal comes in a 11.6 oz package.
Additional Information
French Toast Crunch Cereal is a delicious breakfast cereal for the entire family to enjoy
Fun flavor and shape kids and adults will love
Contains whole grains for a well rounded meal
Enjoy the flavors with milk or by itself for a school snack
A pantry staple for breakfast that's a sweet, crunch cereal
Reviews
Bris1fan
Very Tasty Cereal
I am not a big fan of the sugary cereals but this one wasn't that bad. I especially liked the way each cereal piece is shaped like toast. It even looks like toast with the cinnamon sprinkles on it. My son tried it and absolutely loved it. He finished that box and is now on his 3rd box in 2 weeks. It's the only one I have been able to get him to eat lately. Go figure. I also liked the fact that it didn't get all soggy in milk. I really don't like when you get to the end of the bowl and it's all mushy. This cereal is not like that. which is a plus in my book. I recommend this cereal....Tasty, not too sweet and doesn't get soggy.
Dmml4
Good
I got the cereal to try it and my girls thought it was the best in the world. My brother ate most of the cereal but goes to show that it's good. It tast just like French toast. I was so exited to try this new but old cereal because I hurd how good it was and wanted to try it and so glad it is kinda sweet but good. You can go to Walmart and other grocery stores. If you have kids they will love this cereal and if you like French toast then you will like this kind. I am going to get 2 more boxes before it's gone.
Spark13s
Really tastes like French Toast!
I don't know how they did it, but they really did capture the whole taste of actual french toast in this cereal, the hint of vanilla, the maple syrup, it tastes and smells just like it, only crunchier of course. When I first openned the box and looked inside, I about started laughing, my first impression was that this was like teeny tiny little pieces of toast, so cute! I have to admit, the thought of having my kid pull out her dolls and mini tea set passed through my mind when I first saw this. Once I got past the first impression of the cute design of this cereal and maple scent it gives, I went on to tasting it. I found it that it tastes good both dry and even better with milk in a bowl. The only thing that I would change about this cereal is the fiber content. I would like it better if it had the density and fiber content of something like FiberOne Honey Clusters. That would also be more fulfilling and satisfying. So for now, I mix the two type of cereal together in a bowl at about a 50/50 ratio, which makes for a more satisfying meal. I hope they add more fiber to it in the future and maybe a bit less sugar.
Takoyakiplease
yummy cereal that isn't too sweet
Although I have never had cinnamon french toast crunch back when it first came out in the 90's. I am a fan of the regular cinnamon toast crunch cereal and grew up eating a lot of it. I would say that this product has a distinct french toast taste to it that is different from the normal cinnamon toast crunch cereal and I would recommend it to french toast fans that don't want a cereal that is excessively sweet. The cereal stays crispy even after having opened the box for more than a week. There's nothing worse than a stale cereal. It's good even just as a snack right out of the box.
Luvsny
YUMMY !!!
I opened this box expecting to see the familiar shape of the regular Cinnamon Toast Crunch , (square shape , I really didn't look at the outside box carefully ) and to my surprise were hundreds of tiny , square shape French Toast !!!! I was amazed at how cute they were shaped !!! Now for the taste : I tried them first without milk , they were really good ! Then I tried them with some milk , and they were REALLY good !!! They taste almost as if you have a plate of French Toast in front of you , kind of buttery tasting with just a hint of maple syrup and some cinnamon on top. YUMMY !!!!! These are great as is without the milk if you want to snack on something light and tasty , or with milk for a nice breakfast with some fruit on the side . A bowl of this cereal with 1/2 cup skim milk is only 150 calories , without milk is 110 calories , so snack away , your gonna love this cereal !!! Unfortunately I tried to upload a pic, but it wouldn't go thru ......