Cheerios, Gluten Free, Breakfast Cereal, Large Size, 18 oz Box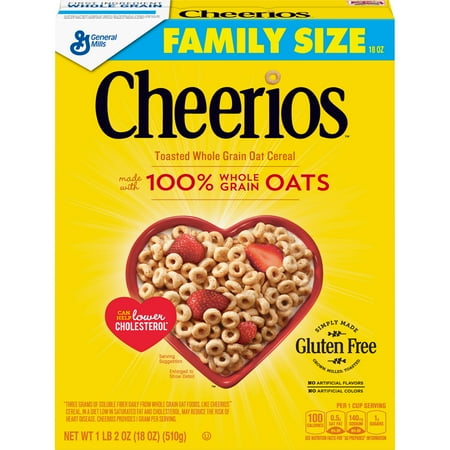 MSRP :

$5.15





Sale :

$3.68

Sold & shipped by Walmart
Product Description

Additional Information

Reviews
Product Description
Cheerios Cereal is a delicious breakfast cereal for the entire family to enjoy. Made with 100% WHOLE GRAIN OATS, No artificial flavors and No artificial colors. And it's Gluten Free!100% whole grain oats in every single gluten-free O. Each bowl of Cheerios is so much more than cereal. It's whole-grained fuel for your day. Finger food for little hands. A shared moment across generations. So grab a box and have an OATSTANDING day! 100% whole grain oats your heart will thank you for. These little Os are circular dynamos packed with soluble fiber that is linked with happy, healthy hearts* – Thanks for that, whole grain oats! Or just think of them as a delicious start to your day. Either way, it's 100% oat-loving awesomeness.
Additional Information
BREAKFAST CEREALS: Wholesome breakfast that's a good source of iron, calcium and fiberGLUTEN FREE: Gluten free and simply made without artificial flavors or colors; Good source of iron and calciumWHOLE GRAIN: Made with 100% whole grain oats and fortified with 11 essential vitamins and mineralsHEART HEALTHY: Three grams of soluble fiber daily from whole grain oat foods, like Cheerios cereal, in a diet low in saturated fat and cholesterol, may reduce the risk of heart disease. Cheerios cereal provides 1 gram per servingBOX CONTAINS: 18 oz cereal box; Perfect as toddler snacks or a gluten free snack for everyone
Reviews
TowerOB1
Cheer for Cheerios!
Fast shipping and only 97 cents to have it delivered to my house. Cost of the Cheerios was cheaper than ANYWHERE else I looked. Excellent bargain. Highly recommend ordering them and having them shipped unless you live really close by and it is cheaper to drive.
kikithec
love my cheerios
love cheerios because their heart healthy and their gluten free so their easy on the stomach. And Walmart has great prices on their cereals.
Familyflower
Cherrios
Usual good taste. Just bought too large a box. Will not sit upright in my cabinet. Must lay it on it's side.
craig
A simple classic
There are reasons that certain things become classics and are able to endure the rapid changes of historical taste and opinion to be enjoyed by multiple generations. A scant few books, music and movies transcend time and are universally recognized as classics. There are reasons that Cheerios are one of the select foods that is deemed a classic. It is delicious in its simplicity. It is crunchy toasted oats. No more. No less. It is not covered in sugar frosting and imitation flavors. I can devour bowl after bowl without being haunted that sickly after coating on my tongue that is characteristic of most every other cereal. It keeps from absorbing milk and turning into soggy glop. These qualities also the reason that I am comfortable saving a couple dollars by buying the family sized box. I never grow tired of the taste or consistancy, so there is I have no fear of waste by buying a too large package. My days of being swayed by too smart for their own good modern marketers are long gone. My needs now are simply to cut down on sugar, watch my gluten intake and enjoy Cheerios in mass quantities.
annierw
Love Cheerios!
Truthfully, I'd been buying Cheerios from Amazon.com for a while but their prices started going through the roof. I started looking elsewhere and lo and behold discovered Walmart's great prices on this cereal (and other items as well!). I bought 6 boxes at one time and was very happy to discover that the expiration dates are far off and I didn't have to worry about getting old & stale cereal. Cheerios is a terrific cereal and really, buying from Walmart is a no-brainer.