The Life Of A Song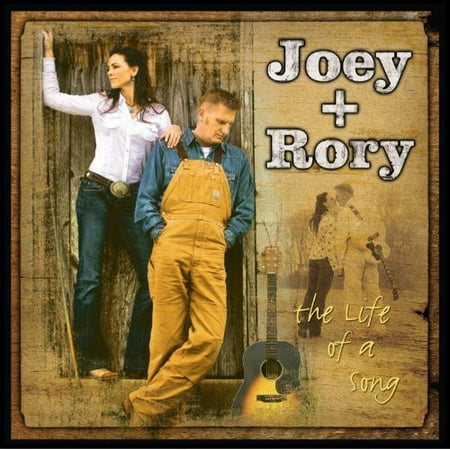 MSRP :

$17.98





Sale :

$15.81

Sold & shipped by MovieMars
Product Description

Additional Information

Reviews
Product Description
Additional Information
Reviews
AuntieHa
AWESOME AND LOVE TO LISTEN TO THEM
I was touched the first time I was aware of them by a commercial they had on television. Then I looked them up and ordered a couple of their CD's. One with hymns on them and one country. Both AWESOME. Then I became aware of Joey's cancer and began serching on more information on how she was doing. Three day's later she passed away. I was so touched by them and her death hit me pretty hard. They were inspring on their lives and their new child with down syndrome and the delight they had for Gods hand in their lives. Life is a gift and they treated it as it was. I now have all their CD's am still inspired by their life.
NashvilleGirlAtHeart
ABSOLUTELY BEYOND EXPECTATIONS!!!
I can't say ENOUGH about this CD. You absolutely WILL NOT be disappointed with these two American treasures! It is SO refreshing to see someone bring back more traditional country music that will grab a hold of the older generations... yet, they still be contemporary enough that they will tug at the hearts of the younger 'pop/country' souls as well. I could not wait for this CD to be released. I called around to many Wal-mart's this morning because I wanted to find this CD BEFORE I went to work!!!! I only found one Wal-mart that had it so I bought two CD's (one for me and one for my best friend)! My favorite song is 'To Say Goodbye'... but there IS ABSOLUTELY NOT a bad song on the CD - they are all wonderful!!!!!! If you listen to the CD, you will be fans of Joey+Rory's for life - just as I am. The thing is... if you enjoy the CD... just know that if you ever have the pleasure of hearing them LIVE, you will wonder why they added all of the instruments in on this CD because unlike a lot of country artists, Joey+Rory sound EVEN BETTER in person!!! LIVE or on CD, you can't go wrong with these two. They have a magic about them that will be sure to make them the next Johnny and June Cash of our generation! They will help to bring traditional country music back into the mainstream... while keeping it 'fresh' enough for the 'pop/country' folks to enjoy as well! Best of luck Joey+Rory. I can't wait for the NEXT CD... because I know the treasure chest of songs you have up your sleeves. Thank you for the wonderful CD!!! A true J+R fan for life! B~ (NashvilleGirlAtHeart)
LuSie
ABSOLUTELY BEYOND EXPECTATIONS!!!
I really liked this cd. Joey has a really nice voice and when Rory joins in it's great. They are having fun and they don't need to be "yelling" to get the messages of the songs across. They make you want to hear more of their music.
Bluebomber
Great
Great songs, a joy to listen to.
DeeW
Love it!!!
Love Joey and Rory! The cd's are great! I couldn't wait to get them in the mail and listen to them in my car. I listen to it everyday. They are such a great couple and an inspiration to all. If you love some good down home country music these are the cd's for you.