OCuSoft Lid Scrub Original Individually Wrapped Pre-Moistened Pads - 30 CT30.0 CT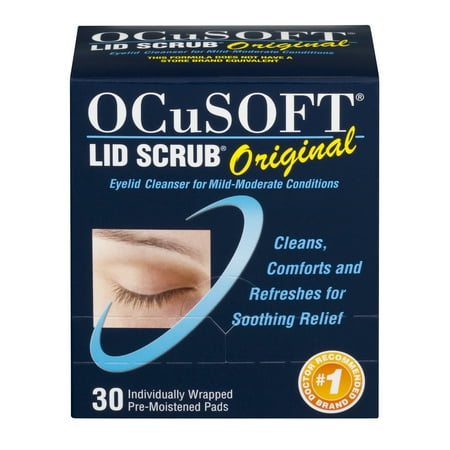 MSRP :

$10.69





Sale :

$9.97

Sold & shipped by Walmart
Product Description

Additional Information

Reviews
Product Description
The Ocusoft Lid Scrub Original Formula Eyelid Cleanser, 30 ct, cleans and refreshes your eyes. This lid scrub is the No. 1 doctor recommended eyelid cleanser. The original formula of this lid scrub comforts and soothes your eyelids. This eyelid cleanser may be FSA eligible. Learn more about FSA.
Additional Information
OCuSoft® Lid Scrub® Original Individually Wrapped Pre-Moistened Pads.
Eyelid cleanser for mild-moderate conditions.
Cleans, comforts and refreshes for soothing relief.
#1 Doctor recommended brand.
Reviews
SillySillyGrandma
No more itchy eyes
My eye doctor asked if my eyes itched because I have a bacteria build up in my eyes. I responded yes, there always like that. He recommended I use these twice daily for for ten days then once a day for two weeks. Then every couple of days thereafter. No more itchy eyes. I'm around dust and dirt frequently which causes the bacteria. I get 4 uses out of each pad by tearing them into 4 pieces. I put the unused pieces back into the package and they stay moist until I'm ready to use them.
JRJRJRJRJRJR
The best eyelid scrub EVER !!!
Love these lid cleaners. I use them twice a day. I cut one in half and put it back in the package and fold it a few times for the night time cleaning. So I do it once in the morning and once before bed and it has worked amazing!!!
riptide1979
The best eyelid scrub EVER !!!
I got this produce for chronicly burning eyes and it really relieved this problem. A little expensive, but worth it. Nothing else has helped.
Mineme
A good product
I have alergies, & these help to keep my eyelids clean, especially the lashes, it is also great for cleaning off eye makeup.
mm331
Very soothing.
My opthamologists recommended that I use the lid scrub for my red eyelids. It worked wonders and they are so soothing. I will always use them. Very soothing and clean feeling.