Battlefield 1, Electronic Arts, PlayStation 4, 014633733891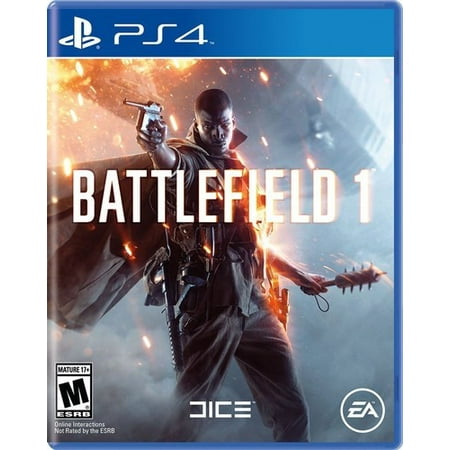 MSRP :

$39.99





Sale :

$14.99

Sold & shipped by Walmart
Product Description

Additional Information

Reviews
Product Description
Battlefield 1 for PlayStation 4
Additional Information
Battlefield 1 for PlayStation 4
Reviews
Battlefield1
Very good.
There is only one thing I can say that I don't like about this game... that is how well of a game it is. The problem is, it's too good like you get so involved in the game 30 minutes flies by. If your debating on whether you should buy this game or not, I definitely recommend it. First off it's made by Dice, they put a lot of thought into all their games and Battle Field 1 is arguably their best one yet. Battlefield one has also blew its competition outa the water. Battlefield has 235,245 players currently playing on its servers. It's competition infinite warfare has only 15,076 players. If your looking for good, first person shooter game, battlefield 1 is a great choice. I recommend it and I'm sure the other 200,000 people would too.
Brian
Battlefield lost its flair
I've played Battlefield games since Bad Company 2. The game has transitioned from full scale destruction and awesome maps from BC2 and BF3 to now a WWI inspired battlefield. This newest Battlefield lacks that same appeal that I had from previous iterations. I used to feel SUPER immersed in the gameplay during BF3 from suppression and destruction. This year's Battlefield is fine if you're new to the series. Lack of gun variety because there is really only about 3 or 4 viable guns in every class with little customization. Games are more lop-sided than ever before. In BF3 I had more games where the winning team only won by 1 ticket. Those were great times! Though Operations is the only game mode I really enjoyed in this game.
IridiumV
Awesome
Not a fast past game. Patience and strategy is key. Awesome game.
number1jOHN
excellent game
ea just needs to keep this thing up online. other than that, i love this game. it just throws you onto a field and you got a shoot everything that moves.
BattlefieldGuy
This is a must-buy title!
I have no regrets getting this title. It has all the action you can handle with plenty of game modes and fantastic graphics and sound. I personally recommend playing in Hard Core mode which adds an added layer of realism to the whole experience.