Need for Speed Rivals, EA, PlayStation 4, 014633730623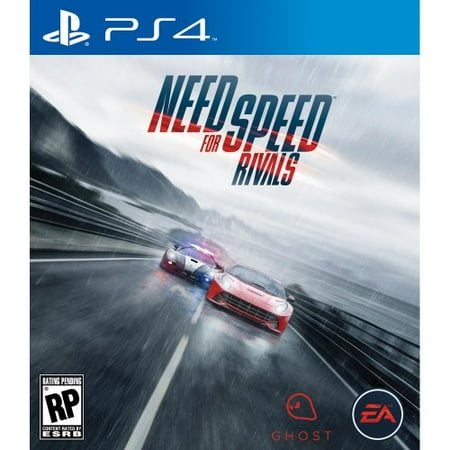 MSRP :

$19.99





Sale :

$16.82

Sold & shipped by Walmart
Product Description

Additional Information

Reviews
Product Description
Welcome to Redview County, where a street-racing rivalry between cops and racers never stops as both sides compete in an all-out war featuring the fastest cars, mods and technology in a gritty open road environment. Play as either a cop or racer, where each side of the law has its own set of high stakes challenges, rewards and consequences. Risk everything in the ultimate high stakes rivalry. Includes all six previously released downloadable content from Need for Speed Rivals.
Additional Information
Need for Speed Rivals, EA, PlayStation 4, 014633730623
Reviews
Frank
Need for speed
Very good game lots of excitement.
tjz7thpowerband
Need For Speed Rival's Awesomeness!
Worked Great & had Every thing I needed To Play The Game. I Think This game Exceeds The new need For Speed game That has A Lot Of talking In it. & You can Play On line But that Cost to Be On PSN Play Station Network. As It Should They made this Game & They half To Keep up With it to. I Wished Playing on line was Free But I Understand it cost Money & Time So I'm Ok With it. The Graphics Look Soo Real & The Cars Look & Sound Like Real Car's To. 5 Out Of 10 I Give It A 1000! So Much Fun & it's Not Like Playing A game it's like Driving In The Real World You Can Crash Your car Even Small Bump's Into A Guardrail Scratch your Paint. & They Have gas station's Where You can Fix Your Ride. Just Drive Through One. & You Can Be A Police Officer Or A Racer & You Can Switch Careers At Any Time & You Don't Loose Any Thing.
JETucker
This game is awsome first timer with NFS
I got this game 12/7/2013 I have become addicted to it. Really good graphics and you have so much more freedon to do things and switch between being a racer or a cop. I really need to get in the bed and get some sleep but I am having way too much fun wiith this. I only had my PS3 about 2 months and I tried Battlefield which is a great game and a few others. But since I got this game i seem to have forgotten all of the other games. Nothing like driving games to keep your interest because there is so many ways to keep the excitement going unlike the shooter games that I played on my PC for years. Get this and you won't be sorry i can promise you that. Yes I am an old guy at 51 with grown children enjoying myself.
Dujealonglog
Neat concept!!
I got this game yesterday for Christmas and it is awesome!! I love the fact that this time you can play as cop or racer and the all drive feature is awesome!! I liked the fact that in last years need for speed you had to find the cars to drive them but this time it is even cooler!! You have to complete a speed wall to unlock cars!! whether you are a racer or cop. Over all it is a great game and I would highly recommend it to a friend!
blurracer2010
Great game, best racing launch title
For those who have suffered through sub-par racing games when various consoles have launched, you won't have to do that with NFS: Rivals. NFS: Rivals takes the best parts of NFS: Hot Pursuit and makes them better. You've got two distinct tracks to go (Cops and Racers# up to 60 ranks, and the game's map is open from the start. You progress by choosing and completing Speedlists. Some of them are very simply #"Bronze any Interceptor event"). Some, near the end, have 5-6 different requirements which all must be filled. Basically, the game will force you to try all the tech options and force you to be consistant if you want to unlock all it has to offer. The newest edition to the series is AllDrive. This means that if you are playing single player and another driver is also playing single player, you games could literally MEET in the same place at the same time. You might be on an interceptor event and see a race blow by you, now it turns into a Hot Pursuit event! Busting human racers as a cop or getting away from a human cop definitely is the highlight of the title, as some epic cat-and-mouse games can happen. Contrary to the other review, you CAN play offline and free roam just fine. There are 80+ jumps & 80 + speed cameras to find. There are no billboards or gates like in NFS: Most Wanted, so yes, if you're one of those perfectionists/play a game to death people, you might run through most of the content fairly quickly. But if you need a next-gen racing game that runs butter smooth with no lag, that improves on one of the best NFS games ever released, then NFS: Rivals is an outstanding choice.