Titanfall (Xbox One) Electronic Arts, 14633730326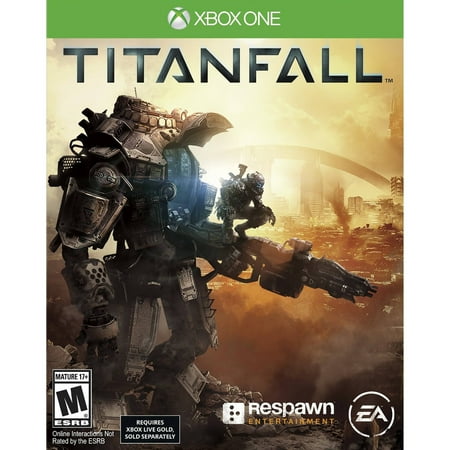 MSRP :

$14





Sale :

$8.7

Sold & shipped by Walmart
Product Description

Additional Information

Reviews
Product Description
Prepare for Titanfall. Crafted by one of the co-creators of Call of Duty and other key developers behind the Call of Duty franchise, Titanfall is an all-new universe juxtaposing small vs. giant, natural vs. industrial and man vs. machine. The visionaries at Respawn have drawn inspiration from their proven experiences in first-person action and with Titanfall are focused on bringing something exciting the next generation of multiplayer gaming.
Additional Information
Fast-Paced Future Warfare - In Titanfall the advanced warfare of tomorrow gives you the freedom to fight your way as both elite assault Pilot and agile, heavily armored 24' tall Titans. Titanfall rethinks fundamental combat and movement giving players the ability to change tactics on the fly, attacking or escaping depending on the situation.
The Future of Online Multiplayer Action - The game is entirely multiplayer, in a new experience that combines fast-paced online action with the heroic set piece moments traditionally found in campaign mode. The intersection of the two is a big part of what gives Ttianfall its iconic identity.
The Visionaries that Defined Gaming for a Generation are back! - Founded in 2010, Respawn Entertainment was formed by Vince Zampella and Jason West, former co-founders of Infinity Ward and two of the co-creators of the multi-billion dollar franchise Call of Duty. They are building on their pedigree and taking a new approach to game design and creating an all new universe with Titanfall.
Record setting 6 Game Critic Award Wins! Best of Show, Best Original Game, Best Console Game, Best PC Game, Best Action Game, Best Online Multiplayer. 60+ total wins over 100 nominations.
NOTE: In order to enjoy the game and its multiplayer features, you must have an Xbox Live Gold membership. Don't have one yet? Get ready to fight and buy one at http://www.walmart.com/cp/1102579.
ESRB Rating: MATURE with Blood and Gore, Strong Language, and Violence
Reviews
SilverwingXXI
Titanfall PC
Fun game. Not so much trash talking. New maps are OK but the multi-player is fun and not a lot of trash talking. Bought the game from Wal-Mart online because it was cheaper compared to in store & other stores out there. The game does have a code and comes with 3 DVD discs to install the game. Origin Required.
josh2222
good
Josh 2222 good buy at a good price
Skalywag
Inventive and Addicting
As someone who has greatly enjoyed this game thus far, I have to say that you should not buy it if story is essential for your gaming experience. While there is a bit of a story, it is far from fleshed out. And this is coming from someone who craves games that are more story driven (mass effect series, Telltale's games, etc.). With that said, the gameplay is phenomenal. I enjoy multiplayers and shooters just as much as I enjoy my RPG's. If you can look past the lack of a deep storyline, and be content with inventive and addictive gamplay mechanics, then this game is a must. The way you can traverse on "foot" with your jump pack, really does make you look at possible routes in the map differently. So far all the different weapons and gear feels and plays uniquely without feeling overpowered. All in all, if you enjoy a good shooter but want something different from CoD and Battlefield then you should certainly check this one out. (Garden Warfare is also a breath of fresh air, but that's a different conversation for a different game) I love both CoD and Battlefield myself, and I have to say that Titanfall certainly gives FPS multiplayers something of a refreshed feeling. Now if you will excuse me, I must get back to playing! =)
SGTMODOG
Great game
I pre-ordered this game when offered with the free game bundle, although the free game case was broken upon arrival, game still functioned and meets my expectations. If your on the fence about buying the game, I would go ahead and buy it. Its worth the money, plus the season pass is only 25.00, the lowest I have seen in a while...especially with COD charging 49.99 for a season pass...and 99% of the time its not worth the price.
MrMindcrime
Think Vertical!
Love this game, unlike any other shooter out there. You climb up, run along walls to jump from one to another. If you get the right burn card you can hang from the wall for a much longer period and wait for someone to come by. Most of the maps are big and look and play great. The season pass is only $25 dollars. Lots of weapons to choose from for you and your mech. the matches are fast and your mechs are powerful. The connectivity of this game is great I played a lot of games and only experienced lag a few times and I'm playing wireless on my XB1 (Xbox One) and the router is downstairs in my house. If you like shooters you will like this game. One thing I miss is a single player campaign only because I'm used to having one. Yes think vertical when you play this game because the best players are.