Battlefield Hardline, Electronic Arts, Xbox One, 014633367515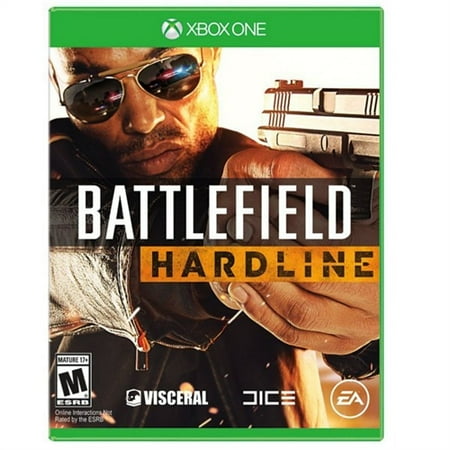 MSRP :

$18.95





Sale :

$11.11

Sold & shipped by Walmart
Product Description

Additional Information

Reviews
Product Description
Get a piece of the action in Battlefield Hardline, a fresh, new take on Battlefield that allows you to live out your cops and criminal fantasy. Combining an emotionally-driven single player story inspired by popular TV crime dramas, and an all-out-war multiplayer on the streets of Los Angeles and Miami, Hardline delivers the most complete FPS on the market.
Additional Information
First Person Shooter - Xbox One
Battlefield Hardline
Reviews
Zane
Wouldn't pay 5 dollars for this game.
The graphics are terrible compared to its BF4 counterpart. Then again, you really have two different development teams doing each game(Visceral for Hardline) and (DICE Stockholm/now DICE LA taking over) While DICE did provide opinions on what Hardline should be to Visceral, this game just isn't a good one. Especially if you are a Battlefield veteran looking for a Battlefield game. The terrible netcode is back, the maps are small, the game type are boring, and here's the kicker, nobody is playing it any longer. The game came out in March 2015 whereas BF4 came out when the PS4 launched back in November of 2013 and BF4 still has triple the players active and playing at any time compared to Hardline. A game a year and a half older has a LOT BIGGER player base. People just don't like Hardline. You should just save up for BF5(coming in November of 16') or buy BF4 rather than this cash grab of a game from EA.
Darwood1
Quality video game
Battlefield Hardline is a good game with a lot of things making it a great game. Lots of levels, simple but complicated, easy to use. I like it a lot.
Cpataki
Hardline Review
It is a pretty great game, never played battlefield a lot but this one is works for me, can't wait to have more time to play it.
Wivm1014
Great FPS!
The game is great. The graphics are exactly what you would expect from the One. Battlefield, in my opinion, has been outdoing Call of Duty since Black ops 2 and since Battlefield 3 came out. I like the new spin on things where you play as a cop instead of a soldier. It keeps things fresh and keeps me playing the Battlefield games. Long story short i love the game. 4/5 because a tiny bit more attention could've been paid to the little details, especially on firearms. Overall, its great. And THANK YOU Battlefield for not going super futuristic on us!
rocky28054
awesome
this is amazing game