Ball Wide Mouth Pint Glass Mason Jars with Lids and Bands, 16 oz, 12 Count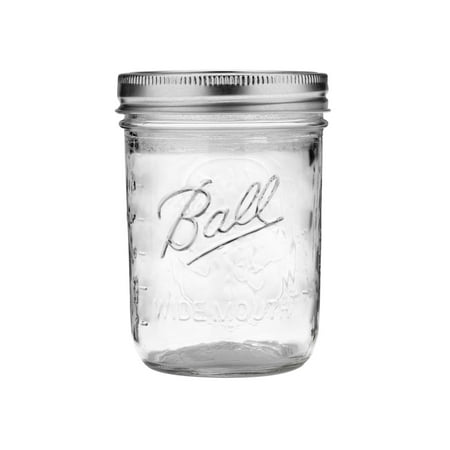 MSRP :

$10.83





Sale :

$9.83

Sold & shipped by Walmart
Product Description

Additional Information

Reviews
Product Description
Over 100 years of research, testing and advancing the art of fresh preservation go into every product Ball sells like Ball Wide Mouth Pint Jars. You will need to choose the jar that fits your needs. Jar Size—Choose from over 5 jar sizes. Some jars have shoulders while others have straight sides that work best for freezing. Your recipe will guide you on the recommended jar sizes. here are some suggestions to get you started. Mouth Size—The diameter of the jar opening determines the mouth size. Choose from either regular or wide mouth sizes. All Jelly Jars have a regular mouth. Regular mouth works best with pourable foods such as jams and jellies, salsas, sauces and pie fillings or chopped fruits and vegetables. Wide mouth works best with whole fruits and vegetables or when you need a large mouth for filling. Note: When filling freezer safe jars, leave 1/2 inch headspace to allow for food expansion during freezing.
Additional Information
•Includes 12 wide mouth pint mason jars, plus lids and bands
•Perfect canning jars for salsas, sauces, and fruit
• Also great for drinking glasses and crafting
Reviews
AndyC
UPC : 014400660009 - Ball Wide Mouth Pint Glass Mason Jars with Lids and Bands, 16 oz, 12 Count - PickPanda.com
Great jars!
Shelley
ball pint wide mouth jars
I love, love, love this product in the pint wide mouth size, we canned salsa in them and they worked perfectly for the salsa. we also canned diced tomatoes in the pint wide mouth size and are planning to can carrots, peas, diced potatoes, and corn in the same size. The wide mouth makes them way easier to get your items into and out of and my kids will eat salsa right out of the jar, as they allow room for dipping your chips into. I will be buying several more cases of these in the near future. They arrived today and the only complaint I have is that it was raining and they were left outside on my porch and the box got wet and soggy, but the jars were in perfect shape and no broken jars which concerned me. very satisfied customer, and I will be getting more of these. Oh, it took only 3 days to get them here. Satisfied customer.
PoisonusOblivion
Excellent for Making Cat Food
I make my own cat food using a raw chicken recipe found on a cat nutrition website. I use these jars to freeze the cat food for long term storage. These jars are freezer safe because they are wide mouth, but make sure not to fill them beyond the fill line at the top of the jar, especially if you are freezing something completely liquid. I recommend getting the plastic storage jar lids, sold separately, for these made by Ball instead of using the tin canning lids because those are not air tight the way the plastic ones are. These jars are of excellent quality. I freeze cat food in them and later on run them through the dishwasher and each time they are like brand new. I've even dropped a full jar with frozen cat food in it twice and they've never broken. I've never had any jars break during the freezing process as well. I think its because I make sure to leave about a half inch of air space before screwing on the plastic lid and putting them in the freezer. These are even wonderful for storing dry goods in as long as you use the plastic lids. I keep one jar in my pantry with popcorn kernels and it looks so pretty. I recommend these highly, and for the amount of years I'm sure these will last me they are well worth the price!
Cliff
Ball Canning Jars
This season I was very late in purchasing my canning supplies. It wasn't until the late fall that I had items that I wanted to can. Unfortunately, the usually places that I would purchase Ball canning jars no longer had the sale price. They had the premium price of $12.00 plus dollars for 12 jars. I lucked out when I went to Walmart. Their prices were reasonable and they had stock. I was able to get both jelly jars, quilted, tall and short pints, as well as wide mouth and regular pint size jars for canning pears, apples and green beans and meats. Next, I needed pectin and pickling spices, but, I didn't want to pay the $4.00 and $3.00 that my other sources sold their pectin and spices for. Walmart had all my canning products and supplies that I needed for my out of season canning needs at a reasonable price. A real life saver. From now on I will shop at Walmart for my canning needs first. With Ball jars available at Walmart, I am certain that my canning will be successful, safe, and last for a long time to come. Ball jars are the quintessential backbone when it comes to canning, a quality and name that has last for generations.
Janina
Not happy
There was three jars broken. Therefore I didn't get the dozen I paid for.