Canon Imageclass WiFi MF232W Monochrome Laser Printer/Scanner/Copier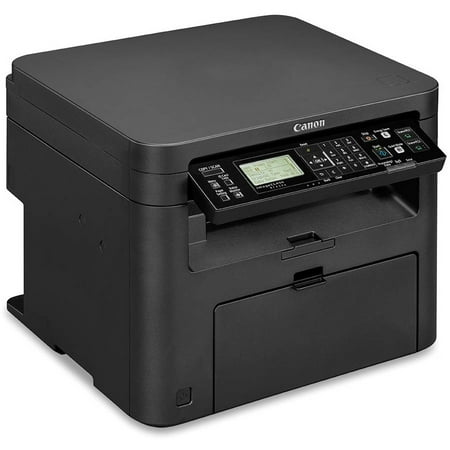 MSRP :

$513





Sale :

$99.99

Sold & shipped by Walmart
Product Description

Additional Information

Reviews
Product Description
A 3-in-1, WiFi Direct, AirPrint printer from Canon with an easy to use display delivers exceptional black and white laser output at 24 pages per minute and various mobile solutions for printing on the go. The built in 802.11b/g/n WiFi allows you to connect multiple devices wirelessly so you can print without needing to connect to a computer first.
Additional Information
Canon Imageclass WiFi MF232W Monochrome Laser Printer/Scanner/CopierKey Features:Print SpeedUp to 24 ppm; Color: Up to 24 ppmPrint ResolutionUp to 1200 x 1200 dpiBuilt-in WirelessEnergy Star certifiedReplacement InkCartridge 137Additional Specifications:Built-in Wireless LAN (802.11b/g/n)Print from multiple computersDirect Print Supported10/100 Base-T Ethernet, USB 2.0 portCopier Settings:Resolution: 600 x 600 dpiPaper and Media Compatibility: 250-sheet cassetteMedia Types: Plain PaperSystem Requirements:Compatible Operating Systems: Windows Vista, 7, 8, 8.1, 10, Server 2003/R2, Server 2008/R2, Server 2012/R2, Mac OS X 10.5.8 and upWhat's Included:Quick ReferenceUser's GuideInstallation DVD-ROMsPower cordUSB cable not included. To shop for a USB printer cable, click hereENERGY STAR®Products that are ENERGY STAR-qualified prevent greenhouse gas emissions by meeting strict energy efficiency guidelines set by the U.S. Environmental Protection Agency and the U.S. Department of Energy. The ENERGY STAR name and marks are registered marks owned by the U.S. government, as part of their energy efficiency and environmental activities.
Reviews
Takoyakiplease
Fast Multifunction Printer with Basic Features
The setup of the printer was straightforward and easy. You can connect it via USB, Ethernet or wireless. I was able to set it up with my wireless network without installing any clunky software which is not the norm. The printer features Apple AirPrint which allowed me to print from my iPhone. This is a handy feature for printing last minute documents. For my Android device, I had to download an app in order to print as it does not support Google Cloud print. The printer warms up and prints quickly. It is also very quiet. You can only scan one piece of paper at a time via the flatbed scanner. I was also able to scan directly to my computer after installing the scanner drivers. Initiating the scan from the machine was not as reliable as starting it from the computer. I have a couple complaints about the physical design of the printer. The tilt-screen is a nice feature, but it collapses once you press the button. The paper also does not sit flush in the paper drawer because of the paper guides. This did not affect the actual printing, but this seems like a basic design flaw. Overall, the Canon MF212W is a fast laser printer and scanner that does not take up too much space. The basic functions work well but it is missing some of the nice-to-have features that come with more expensive systems.
LeHale
Great, except for the cost of the toner
I have a home business, and I also have a tiny home. My studio isn't very big, and this laser printer/scanner/copier saves me a ton of precious space. It measures roughly 13 inches deep, 15 inches wide, and 12 inches tall. The scan/copier area is about 9 inches by 12 inches. It fits nicely on my shelf, and takes up less space than my old printer and scanner. I save time and money with this unit. First, it is wireless, so I don't need to mess around with cords, or be stuck next to my printer while I'm working on my laptop. I was a little intimidated about setting up a wireless unit, but it was simple. The included installation CD had simple instructions, and it took very little time. The part that took the longest was typing our WiFi code into the printer. Second, I have a copier now. I no longer need to waste time going to the local print shop. It prints, scans, and copies quickly. The quality looks just as good (maybe a bit better) than going to the local print shop, and I get to stay home, sipping coffee in my pajamas, while I make my copies. It also does a fine job at printing out stickers and labels. The images on my adhesive labels were crisp and clean. What I don't like is the toner. I checked a few local stores, and none of them carry the toner that I will need for this unit. It looks like I will need to order it online, and it will cost at least $80. I think this seems a little high. Toner shouldn't cost nearly as much as the printer. The unit comes with a "starter" cartridge, but I'm still a bit disappointed by the price of the toner. Hopefully I can locate a refill service to save some money.
DropDeadCurious
My family loves this printer
The Canon MF212w Mono MFP (Multifunction Printer) works great in my busy techie home. I have three students in different grades and a mix of devices (both mobile and desktop) on multiple platforms (Apple, Android and Windows). Installation: • For the printer, there's an "auto connect" type feature, however, I had to use the manual settings due to my network set up. But it was still a piece of cake to set up. The quick start instructions seemed adequate. For more detailed instructions, there is a DVD included. • My Windows 8.1 device picked up the printer right away and was a quick and seamless install. • For the Android devices (a phone and a tablet), it was a matter of making sure the correct version of Android was installed (4.4 minimum) and installing the print service app. You will need to install two different apps, one for printing and one for scanning, if you want to scan. I installed the Canon Mobile Printing service and it was fast and easy. For example, you can print from an image by selecting it and tapping the Canon app logo or the share symbol, then choosing print, or you can start the app and go from there. Alternately, you can open the app and navigate to the desired file then print. • The Apple iPad/iPhone used Canon's Print App to print, but it can also use AppleAir. Performance: • The printed product was of a nice quality. Definitely business quality for documents. The image I printed came out decent, too, since the max. resolution is 600 x 600, it is adequate for grayscale images. • However, when I copied the image I printed and compared the qualities, it was noticeable that the copy was degraded. • Quiet mode is a nice feature for small spaces. • The Id Copy feature simply takes a two-sided document and puts both sides on one page. I guess it's a paper saving feature. • I like that there is still an option to plug in, in case the wireless goes down. • I also like the manual feed for envelopes and such. • The page print time on this printer is much faster than my wired ink jet printer. • Don't be shocked by the price of the replacement cartridges – there's a huge capacity of 2400 pages on it. • The size of the unit is nice, being mostly square. I also appreciate the fact that it does not have paper trays that stick out awkwardly and become a nuisance – these paper trays and quite compact. • The paper tray is covered, which is really nice because pulling dusty paper through a printer makes a dirty printer.
Mcarthurdw
A good choice for a small business or home office.
I was somewhat skeptical when we first considered this laser printer. I work in Information Technology and most I.T. folks tend to cringe when they hear the words multifunctional and printer in the same sentence. In the past the driver software for multifunctional printers has been poorly written and most often caused more issues than ever benefited the user. I can honestly and frankly happily say that this is not the case with the Canon MF212w. The driver software is well written and works quite well. The printer includes the extra functions of both a copier and a scanner, a FAX option is not included, but FAX seems to be going the way of the Dinosaurs in any case. I tested the printer in the various configurations it offers, standard "hard wired" Ethernet 10/100BaseTX (RJ-45), USB 2.0, I was surprised that the printer did not come with the current USB 3.0 standard, but USB 3.0 Ports are backwards compatible with USB 2.0 so there is no connectivity issue. Lastly I tested the Wireless 802.11b/g/n configuration. A quick caveat on the wireless function, it works best if the wireless modem is in the same room as the printer. It will work at a fairly long distance but walls, doors or other obstructions can cause issues. For the most part, if you have a strong signal on a wireless device like a laptop or a tablet the printer should work fine in that area. For me all the advertised functions worked just fine in all configurations.
GreatValue123456
Canon Printer
This Canon printer allows you to either print, copy, or scan. Some of the great call out about this printer include: 1) installation was straightforward. You pretty much remove all of the stickers and the cartridge tab and you're ready to go, 2) the printer has a square-ish design and is all black, so it has a very sleek look, 3) it prints very quick (24 pages per minute) 4) the printed text is very crisp, 5) the Ethernet speeds is pretty fast, 6) the scanning speeds are decent, and 7) it was easy to set up with the wireless. However, some potential areas of improvement include: 1) the buttons on the dash board can feel a little cheap and 2) for the price, it doesn't have duplex printing or color (unless it's available and I wasn't able to figure it out), which I was surprised that this was not available. The main reason I gave this printer 2 stars is because of the missing duplex printing, missing color printing, and the price point. Also, since there are many functionality on the printer, it may take a little time to get used to the many buttons/settings on the printer for the various options. Overall, this printer will get the job done, but it will depend on what you are looking for. For example, this machine feels more for a small office rather than home use.