Canon PIXMA MX490 Wireless Office All-in-One Printer/Copier/Scanner/Fax Machine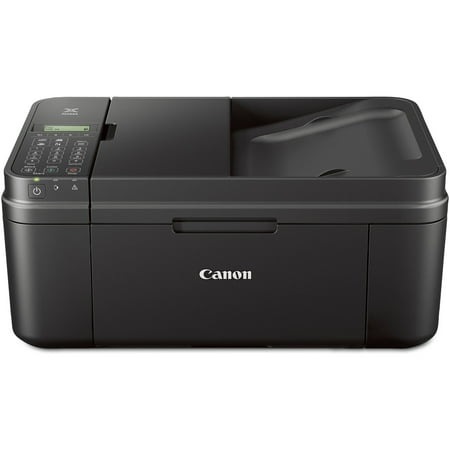 MSRP :

$49





Sale :

$39.99

Sold & shipped by Walmart
Product Description

Additional Information

Reviews
Product Description
Get more with the Canon PIXMA MX490 Wireless Office Printer/Copier/Scanner/Fax Machine. Print from more locations than ever with the MX490 with its outstanding connectivity options. With Google Cloud Print and AirPrint, you can print wirelessly from a compatible smartphone or tablet from virtually anywhere around the office. The wireless all-in-one printer is loaded with time saving features, including a fully integrated automatic document feeder that holds up to 20 sheets. Follow set-up and printing instructions on the 2.5" LCD screen while utilizing the built-in wireless LAN connectivity. The office all-in-one printer can print from multiple computers for easy use. Another fantastic feature of the PIXMA MX490 is its included My Image Garden software. My Image Garden puts all your favorite printing features, such as special filters and Full HD Movie Print, in one convenient software application. Organize your photos with calendar view and facial recognition.
Additional Information
Canon PIXMA MX490 Wireless Office Printer/Copier/Scanner/Fax Machine:
The Canon PIXMA MX490 Wireless Office Printer/Copier/Scanner/Fax Machine is ideal for use in just about any setting.
Print from more locations than ever with the MX490 thanks to outstanding connectivity options and the ability to place the printer more places than ever with its 30 percent reduction in size over previous MX models.
The printer is Energy Star certified, helping to minimize its carbon footprint, along with its physical size.
Print Speed: Black: Up to 8.8 ipm.Products that are ENERGY STAR-qualified prevent greenhouse gas emissions by meeting strict energy efficiency guidelines set by the U.S.
Environmental Protection Agency and the U.S. Department of Energy. The ENERGY STAR name and marks are registered marks owned by the U.S. government, as part of their energy efficiency and environmental activities.
Reviews
bjtazz
Canon Pixma MX490 All In One
I read the reviews completely before making this purchase... to replace an HP All in one that had stopped feeding paper. I think that the majority of people that wrote bad reviews based on their experience with the machine have forgotten that ALL PRINTERS come in several levels... Home Home/Office and Office. This is purely a Home printer. Ideal for the average home user that needs to copy a receipt, fax over a canceled check , or print something from online. Ideal for a student or casual user. The print quality was good, the speed could have been a little faster... but it is a HOME Printer. Anyone looking for faster brighter sharper... should move up to the next level... along with the cost increase. This unit sells for about $60... but you can find them less expensive... open box, demo (static display).... it can be had for less. I had no problems with set up.... it's pretty much plug and play. Even though I used the programming Disc that came with the unit... I still downloaded the latest driver from Canon's website. That just makes sense to me. I paid $40.00 open box from WalMart... so at roughly the cost of a set of ink cartridges I think I got a fair deal.
Icantbelieveitsnotbutter
Awesome All-in-One Printer
This is one of the best printers I have ever purchased, and very inexpensive too. I caught this one on sale for $37.78. It has been tested out and is very quite, has good quality print, and is very easy to use. I love the design and the all-in-one procedures of printing, copying, scanning and faxing. What an awesome printer! :)))
lVlelissa3
Works great, easy set up! Perfect for me!
I bought this specifically to setup & print off my iPhone. It works great! There's an app you can download on your phone when you're ready to scan stuff too. But everything else can be printed off your phone. Setup was super easy too, just follow instructions & you won't have any problems. Works great!
Benjaminn
Great printer
This printer is awesome. Admittedly when I first went to set it up I didn't know the bottom tray slides forward, this is where you put the paper in. Also there is a lever to the right that if you don't move it to the right, the paper will never load right and cause jams. Move that lever to the right all the way and your paper stack fits like a glove. Also there are times when you go to print the print job wants to save as an xps file, that is a bit annoying, however, just hitting ctrl shift P, will bypass this and get on with the print job. Setting the printer up is very easy, everything is explained, almost everything you do with this printer will always have a confirmation beep sound, to let you know you are doing it right. If you don't hear this, you are not doing something properly. It prints fast for me, and it looks very professional. The scan feature works very well also, good quality image scanning. A really nice printer for the money.
dave
Canon PIXMA MX490
i myself purchased this unit for $37.80. this unit by no means is an office grade printer,at best a small job home printer. i would not recommend this unit if you plan do a lot of printing. the cost replacement of ink is more expensive than i paid for the unit. bottom line is you get what you pay for.