Canon PG-245 Black Inkjet Printer Cartridge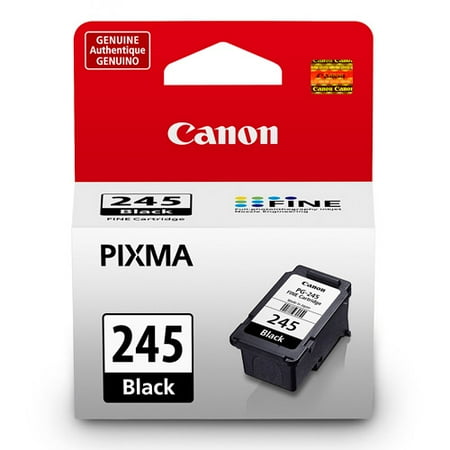 Sale :

$17.97

Sold & shipped by Walmart
Product Description

Additional Information

Reviews
Product Description
Print clear and vivid photos that will not easily fade over time with the Canon PG-245 Black Inkjet Print Cartridge. This product delivers a fine, crisp finish. This particular product is compatible with the PIXMA MG2420 Inkjet Printer and is designed using FINE technology, which delivers detail and quality with every run. Using this black ink cartridge, you can expect sharper and smudge-resistant quality text. Genuine units also allow you free access to exclusive content online through Creative Park Premium.
Additional Information
Canon PG-245XL/CL-246XL Inkjet Printer Cartridges &

amp

50 Sheets of Glossy Photo Paper Combo Pack:

Compatible with PIXMA MG2420, PIXMA MG2922, PIXMA MG2924, PIXMA MG2520, PIXMA MG2920, PIXMA MX490 &
amp
PIXMA IP2820
Dye based ink formulation for beautiful
Genuine Canon Ink Cartridges allow free access to exciting exclusive content via Creative Park Premium
FINE (Full-Photolithography Inkjet Nozzle Engineering) Technology
Includes 50 Sheets of Glossy Photo Paper
Reviews
HeatherDaye29
UPC : 013803233384 - Canon PG-245 Black Inkjet Printer Cartridge - PickPanda.com
It all ok
Sienna
PG -245 cartridge CANON
Pleased with this ink product for my Canon wireless printer. Clear & sharp images are produced
THEItalianStallion
Pretty good printer, but—
Canon makes excellent products in all lines, i.e., cameras, printers, copy machines, etc, so I have nothing but respect for the quality of its products. This printer is light, has a small footprint, does a good job of printing, copying, and scanning. However, the area where the ink is accessible and for cleaning is not big enough for a big man's hands. My hands are medium size, and I can pretty much get in there, but with a little difficulty. The software that came with the printer is, um, well, it certainly could be improved. I think there are too many "cute" icons and options. Not enough "productive" options, like for doing some serious work. If my main interest was printing greeting cards, collages, albums, etc., it would suit me just fine. But for someone whose main interest is productive work, the options are much fewer. Overall, though, it is a good printer, and (repeating myself) it is light, easy to move around, and does not take up a lot of desk space. That is why I gave this four stars instead of five. I definitely would recommend this printer to a friend.
lennonscat
Good if you like to buy ink all the time....
So I had to replace a printer and I bought a Canon MG2520 because the reviews were good and the price was great. I sell on eBay and print multiple labels everyday. My previous printer was an Epson and the black ink would last a month or more before I had to replace it. With this Canon I am buying a Black Cartridge every week or so. So I spend about $20 a week on ink. The printer I bought cost $25. So the day that I need to buy color ink and black ink will cost about $60. When that day comes I am just going to buy a new printer that has the ink included because I will spend $35 less than just paying for ink. It is sad that you can pretty much buy a new printer cheaper than you can buy replacement ink.... Since these reviews can be edited before they are published on the website, I expect half of this review to not even be included....
Gollita
Great buy. Great price!
I am beating myself up for passing up the $19 blackfriday deal in this printer! It was super easy to install with my smartphone alone. No need for a laptop or desktop!!!!! Those who wrote bad reviews on the instruction obviously didnt read them correctly. The quality of printing is excellent. Speed of printing is quiet and quick! If you are looking for a good price or a great printer, then you cant go wrong with this one!!!