Summer Infant In View Duo, Video Baby Monitor, Bonus Camera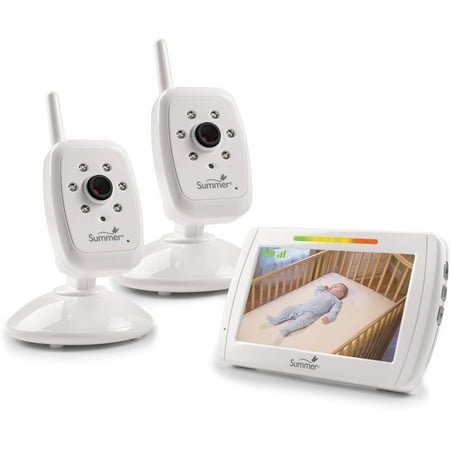 MSRP :

$189





Sale :

$124.99

Sold & shipped by Walmart
Product Description

Additional Information

Reviews
Product Description
The Summer Infant In View Duo Video Monitor is a large five-inch flat-screen color LCD video monitor with digital zoom and rechargeable batteries for handheld portability, now with an extra camera! Digital technology ensures a private and secure connection providing parents peace of mind, day and night.
Additional Information

Summer Infant In View Duo Monitor with Bonus Camera:
100% digital technology for privacy and security
Range: up to 600'
Expandable system; add cameras to monitor for multiple children or rooms with video and audio scan between rooms (up to 4 total)
Features a 5" color LCD screen
Includes 2 cameras, table top or wall mountable
Sound-activated LED lights
Adjustable volume and brightness controls
Auto power save mode
Low battery indicator
Package includes a color video monitor, 2 cameras, rechargeable batteries, a kickstand/belt clip and a wall anchor
1-year manufacturer's warranty
Reviews
cmt42090
awesome
This is a wonderful monitor and I love that it has night view and so many great features to keep an eye on my precious baby at all times.
cmt42090
ABSOLUTELY THE BEST no joke
High picture quality Night Vision High quality sound No lag Durable equipment High quality cameras Long lasting battery Nice size monitor Over all well worth it 10 out of 10
SarahO
Takes the stress out of bedtime monitoring
I got the Summer Infant In View 2.0 Duo Video Monitor for free as part of weeSpring's Parent Panel, in exchange for an honest, authentic review. I'm under no obligation to give a positive review if it's not warranted. That said, I really liked this, and was excited to be selected to try it. The Duo Video Monitor is just that - two cameras, one monitor. You can either use the two cameras in one room to see different angles of the room, or use them each in separate rooms. The best part is that the monitor allows you to add up to two more cameras, so if you have 4 rooms of kiddos to monitor, you don't need to carry around a stack of monitors. I really liked how easy it was to set up - a lot of cameras, you have to go through a setup process to pair them with their monitor. In this set, the cameras are paired with the monitor at the factory, which is great for two reasons: saves you the annoyance of having to go through all the steps to do it yourself; and two, ensures that the connection between the cameras and the monitor is secure. I can't speak to how easy add-on cameras are to pair with the monitor, because I didn't get any, but I can't imagine they're very hard to do. All I had to do was open the box, charge the monitor, plug in and place the cameras, and done! I also loved the size of the monitor. The large screen makes sure you can see a good amount of the room you set it up in. The buttons are discrete on the sides of the monitor, but easy to find and press despite their sizes. There's also a sturdy stand you can pull out of the back of the monitor, so you can prop it up if you're keeping it on a nightstand or a desk. The sound is really great, with a good volume range, and I love the sound lights across the top of the screen of the monitor. The lights go from green, to yellow, to red across the top depending on the volume of the sound. This is perfect for if you're watching a movie or have company over, where you don't want to turn the volume on but you still want to know if the baby is crying. I found that the mic in the camera is pretty good about not picking up too much ambient noise - it would always pick up my son crying or babbling, but rarely picked up sounds from right outside his room. A couple of other comments: - There's a nightlight on each camera - I like this feature, but I really wish there were a way to dim them or change the color (blue), either on the camera itself or from the monitor. I do like that you can turn the nightlights on and off from the monitor, though. - The monitor is easy to navigate, and I like that you can easily switch between cameras, or put it on the cycle setting to have it switch between camera views every 8 seconds. - The wires of the cameras are very long, which is excellent if you want to put the camera in a spot that isn't near any outlets. - The monitor holds a good charge - I could keep it without charging for roughly 10 hours, I'd say. - I wish you could pan the cameras from the monitor, but I get that it would probably be an expensive feature to add. - I don't love the zoom. I really wish you could zoom in, and then move around the zoomed-in view. Instead, it just zooms into the center of the picture, and that's all you get to see. So if my son moves to the far end of his crib, I can't zoom into him, I'd just see the sheets. - The image isn't as good as other monitors I've had. It's still good, you definitely won't have trouble seeing what's what, but it isn't always as clear as some other brands. - The power button and light button being connected as one button (press one side of it for the power, the other for the light) is annoying, because if I want to turn the monitor on or off, I usually accidentally turn the nightlight on or off too. I also don't think the power button should need to be held for up to 5 seconds any time I want to switch it on/off, but I'm also kind of an impatient person :P All in all, I definitely recommend this. I'm donating my previous monitor set because I'm so set on this one. When I have more kids, I love that I can just buy more cameras and have everything already all set up. Worth every penny, in my honest opinion.
Emily
Decent Monitor for the Price
I have a 5 year old and 2 year old who sleep in separate rooms, so a double monitor is a must in our house. Pros: Camera design: they look nice and are easy to tilt and adjust Blue glowing "night light" that can be turned off via the parent handheld set Optical zoom that is adjustable via parent handheld set Ability to switch between monitors Ability to adjust brightness via parent handheld set LARGE parent screen! :) Long battery life Easy to set up and use Cons: No split screen ability The picture is not great and definitely not as good as the advertisement images (Compared to an older Summer infant monitor that we owned, the picture quality is not any better.) No ability to pan or move camera via parent handheld set Night vision is not great Ability to add additional cameras easily Although these are decent monitors for the price, you may want to spend a little more for better picture and other capabilities if those are important to you. If you're looking for a basic double video monitor for a growing family, this is a good choice. Thank you to WeeSpring Parent Panel for the opportunity to try this monitor!
KiwiTheGreat
Amazing Especially For First Time Parents
Easy To Use And Perfect For Me As A Hard Sleeper