Summer Infant My Size Potty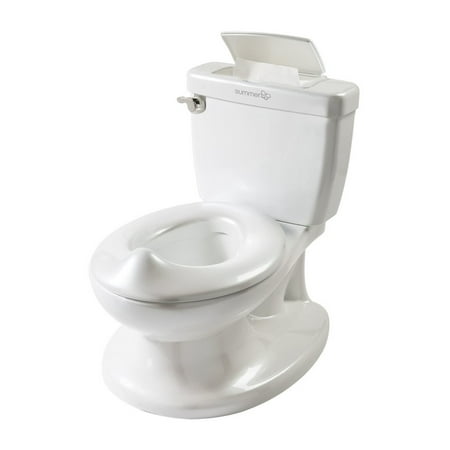 MSRP :

$37.9





Sale :

$24.86

Sold & shipped by Walmart
Product Description

Additional Information

Reviews
Product Description
The Summer Infant My Size Potty features the look and feel of an adult toilet to ensure a comfortable — and confident — transition to the real thing. The handle even features a flush and giggle sound to reward a job well done.
Additional Information
Realistic design looks and feels just like an adult toilet
Handle features a flush and giggle sound to reward a job well done
Flip-up lid and removable, easy-clean bowl Built-in wipe compartment promotes healthy habits Clip on splash guard for boys
Reviews
Kelliet11
Very cute seat; accompanied parts DO NOT work
I saw this potty chair online and I immediately wanted it for my daughter! She's a little nervous around actual toilets, so I hoped that by getting her a realistic looking potty chair, that it could help her overcome her fears. The pros; It is so cute and so realistic! The problem is that when I attempted to assemble it, the screw that they provide to attach the base to the "tank" is far too short to actually keep the 2 main parts together. It's impossible to attach the washer to the provided screw. I love the chair, the flusher makes noise (which I didn't even realize when I purchased) the tank has a space tl hold wipes and/or potty trainer seat liners (no mess!!!)- it's perfect! I'll probably go to the hardware store to purchase an adequate sized screw- but it's annoying that I have to!! For $30, this thing should come with the correct parts to properly assemble it together. I'll be contacting the company to complain and hopefully they correct the issue in the future!!!
Singlemomof1
God product
I purchased this item because i wanted my son to learn on a realistic toilet, not one with 500 bells and whistles. This chair is too cute. The design, however, is not so great. The tank sits on the bowl, no screws or interlocking. Just sits there. So when my son flushes, i have to hold it down so it doesnt fall off. I will be fixing this issue myself with a couple small screws or something. The size is great, and the lid that goes over the removeable bowl is nice. The wipes holder at the top has no snapping or locking into place, just a plastic flap. Its also very tiny and a normal pack of wipes wont fit. Even a small pack of adult wipes doesnt. You cant really just fold a few in there due to the non snapping lid..the wipes would dry out. I have only had it in use for a few days, but my son likes the flushing sound and has really made the "potty time" correlation. His potty looks and sits next to mommys potty. All in all i like this product, but if i had known about the tank not locking into place i would have searched for a similar one that has a more solid design.
mommyof2
I'd be more pleased with it if it were Taller!!!
Just recently bought this for my 2.5 year old son and he LOVES it however it is really low to the ground. I would say the age range would be 18 months-2 yrs depending on your child's height. It was easy to put together and very easy to clean up. Just wish they would have made it a little taller so you could get more use out of it.
None
Perfect size!
Its a great size and the pee guard does come off the only issue to me was that the wipe container on the top does not fit a regular pack of wipes so I'm not exactly sure what it's for because I don't know any white packs that small. To screw on the flush handle requires a small screwdriver but that's really all the assembly required.
Kiki9690
Perfect
Great height and it's not as wobbly as I thought it would be. Very realistic. I love it for my baby!!! The back is great to store a couple pull ups too