Summer Infant My Size Potty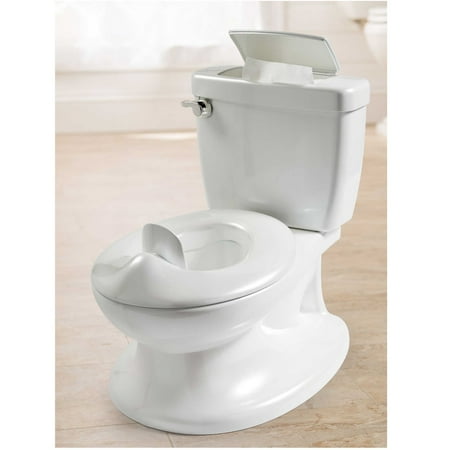 MSRP :

$37.9





Sale :

$24.86

Sold & shipped by Walmart
Product Description

Additional Information

Reviews
Product Description
The Summer Infant My Size Potty features the look and feel of an adult toilet to ensure a comfortable — and confident — transition to the real thing. The handle even features a flush and giggle sound to reward a job well done.
Additional Information
Realistic design looks and feels just like an adult toilet
Handle features a flush and giggle sound to reward a job well done
Flip-up lid and removable, easy-clean bowl Built-in wipe compartment promotes healthy habits Clip on splash guard for boys
Reviews
xxmrsbellxx
My toddler loves to use her new potty!
My daughter is 2 years old, and has been using the potty for a few months now. But the potty chair that I have just doesn't hold her interest and it does not have a fun flushing sound. I was excited to give this a try for my daughter. To my surprise, it was very easy to assemble and only took a few small screws (which are provided). The handle also comes pre-loaded with batteries so it's ready to use right away. This potty looks exactly like a real toilet. Just like the one mom and dad use. My toddler was excited to see this (she kept saying my potty!) and was pushing the handle before I even had it all assembled. I love how the lid lifts up, and the bowl comes out. It makes it very easy to remove to clean and then to put back in place. This is very durable and well made. It will not tip over, and is very well balanced out. I will say that this on the larger size of the potty scene, but it doesn't bother me because it's really cute and matches our toilet in our bathroom. My toddler has been successful with this and I think it strongly relates to how similar this looks to a real one and also the fun flushing handle. Pros: > Realistic flushing sound (and little giggles) > Very realistic design, makes it look like a real toilet > Lid lifts up so you can remove the bowl, making it easy to clean > Top of the toilet opens up, so you can put toilet paper or something in there for your child (not larger enough for a pack of wipes) > There is a clip on splash guard for boys > Made for ages 18 months and up, Up to 50 pounds Cons: > I wish the top compartment was bigger so it could hold toilet wipes in their package Overall, I am very pleased with this potty chair. It holds my busy toddlers interest, and my child has been successful using this potty chair. I would recommend this to anyone starting to, or currently potty training. You could also allow your child to put stickers on it for a reward if you want. We like this potty, so does my toddler and I think anyone else would too. It is great for boys and girls. I received this product to test from Summers Infant in exchange for an honest and unbiased review. It was my choice to also post it on Walmarts website, so that others can read my review and hopefully it can help them :)
Singlemomof1
God product
I purchased this item because i wanted my son to learn on a realistic toilet, not one with 500 bells and whistles. This chair is too cute. The design, however, is not so great. The tank sits on the bowl, no screws or interlocking. Just sits there. So when my son flushes, i have to hold it down so it doesnt fall off. I will be fixing this issue myself with a couple small screws or something. The size is great, and the lid that goes over the removeable bowl is nice. The wipes holder at the top has no snapping or locking into place, just a plastic flap. Its also very tiny and a normal pack of wipes wont fit. Even a small pack of adult wipes doesnt. You cant really just fold a few in there due to the non snapping lid..the wipes would dry out. I have only had it in use for a few days, but my son likes the flushing sound and has really made the "potty time" correlation. His potty looks and sits next to mommys potty. All in all i like this product, but if i had known about the tank not locking into place i would have searched for a similar one that has a more solid design.
FirstTimeHome0411
Hard time potty training
This is the cutest potty ever! Well worth the money. I've been having a hard time potty training my daughter who just turned 3. She is so interested in using her toilet on her own. We've tried the adapter for the toilet in the past along with traditional potty seats but with this toilet I was able to potty train her in 2 days. Wish I would have purchased this sooner. She is more interested in using her toilet and its perfect for her size to go on her own.
chris
my size potty
although there are less expensive potty chairs out there that all serve the same purpose, we like this one because there's no issue with it being a "toy" as some of the other cartoon looking ones. it also teaches flushing with the cute flush sounding handle. ( we all know small children aren't the greatest about doing that) also if you lift the lid, the back can store small books, and the top has a compartment for storing wipes!
mommyof2
I'd be more pleased with it if it were Taller!!!
Just recently bought this for my 2.5 year old son and he LOVES it however it is really low to the ground. I would say the age range would be 18 months-2 yrs depending on your child's height. It was easy to put together and very easy to clean up. Just wish they would have made it a little taller so you could get more use out of it.