Glad Tall Kitchen Drawstring Trash Bags - 13 Gallon - 120 ct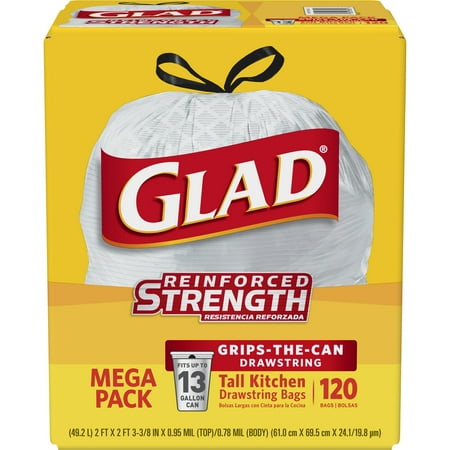 Sale :

$17.98

Sold & shipped by Walmart
Product Description

Additional Information

Reviews
Product Description
Glad Tall Kitchen Drawstring Bags are designed with a reinforced top, middle and bottom to features reinforcing strength bands to prevent rips and tears and the bottom is made with a thicker plastic for leak protection. Glad trash bags are stronger with less plastic. The strong 3-layer drawstring closure makes trash removal easy to lift, carry and toss away. Simply pull up on the drawstring to close the trash bag and then knot the drawstring for extra security. The 13 gallon size is perfect for the kitchen or throughout the house and is great for your seasonal cleaning needs like Spring Cleaning and Back to School. Get a handle on trash with Glad.
Additional Information
13 GALLON WHITE PLASTIC TRASH BAGS: Handle daily kitchen and household demands with Glad's ideally sized 13 gallon garbage bagTALL GARBAGE BAG: Prevent rips and tears with Glad's unique design allowing bag to stretch at top while reinforced bands through middle contain bulkDRAWSTRING TRASH BAGS: The drawstring ensures a tight grip on trash cans and makes for a simple removal with a quick cinch of the durable drawstringSTRONG AND RELIABLE GARBAGE BAG: Backed with Glad strength, these 13 gallon trash bags were designed to handle the heaviest of loadsCLEANING MADE EASY: Glad 13 Gallon trash bags support an active kitchen and provide a versatile plastic bag to tackle any household or office chorePackaging May Vary
Reviews
laialrose
Trash bags
I've always use this bags , They are very strong and don't break easy .
Mike
Trash bags
2 problems, first miner problem, difficult to pull the tie cords out to tie. That's just irritating factor. What upsets me most is.....to INSURE no leaking, I find it necessary to USE 2 BAGS to keep my floor dry going to the trash. In essence it costs me double what I pay at the checkout counter. About $15 at buy time, $30 out of my wallet in reality!
N
Trash bags
I really like these bags because they hold up well and don't hurt my fingers when replacing a new bag and pricing is good. I don't like that the tie string doesn't pull close tight when disposal time comes.
mavc47
Trash bags
I bought my last bags a month ago they are all damaged the seems are open
Dale
Bags too small
I've been using these bags for many years with no problems. I love the built-in tie handles that let you easily tie the bag shut and carry it out to the bin. Lately the bags seem to have changed; they no longer fit well on my 13 gallon kitchen trash can. The bags seem to have been made too small, when I try to fit one into the trash can I have to very carefully stretch the bag to get it over the rim of the trash can. About 1/3 of the time the Glad bag rips. Sometimes the rip is small and I go ahead and use it, other times the rip goes down several inches and I toss the bag and grab another. Maybe they changed manufacturers, maybe they changed the bag specifications. All I know is that I'll be buying a different brand next time I'm at the store.