Glad OdorShield Tall Kitchen Drawstring Trash Bags, Febreze Fresh Clean, 13 Gallon, 110 Count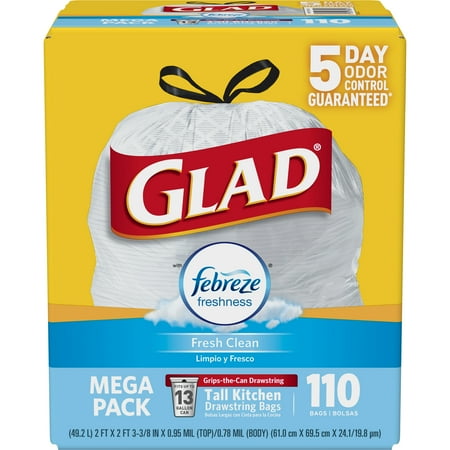 Sale :

$18.48

Sold & shipped by Walmart
Product Description

Additional Information

Reviews
Product Description
Stock up on strong tall kitchen trash bags that neutralize odors with Febreze Freshness in a fresh clean scent with these Glad tall kitchen trash bags 13 gallon.
Additional Information
13 GALLON WHITE PLASTIC TRASH BAGS: Handle daily kitchen and household demands with Glad's ideally sized 13 gallon garbage bag
5 DAY ODOR CONTROL: OdorShield technology guarantees protection against the strongest trash odor, refreshing your kitchen with Fresh Clean scent
TALL GARBAGE BAG: Prevent rips and tears with Glad's unique design allowing bag to stretch at top while reinforced bands through middle contain bulk
DRAWSTRING TRASH BAG: The drawstring ensures a tight grip on trash cans and makes for a simple removal with a quick cinch of the durable drawstring
CLEANING MADE EASY: Glad OdorShield supports an active kitchen and provides a versatile plastic bag to tackle any household or office chore
Packaging May Vary
Reviews
Erin
Rips every time!
These bags are terrible! We usually purchase Glad trash bags and never have any problems. However, we were highly disappointed in the quality of these bags. Every single bag ripped when we tried to use it. They do not stretch at all, even enough to fit our 13 gallon trash can.
Patsy
Not as expected
Coming from a life long Glad product user: I began using product from a new box of these bags. Upon removing the first bag from the bin, it split along the side seams. No, it was not overstuffed nor had sharp edges inside. I covered that with a second bag to get it out of the kitchen and that bag also split along the sides. This normally is a satisfactory product to get my dry recyclables to the bin, but not this box. Im very disappointed with it and will not continue to use this unreliable bag further. Side note: Scent is far too heavy for my personal taste. Let it smell, we can empty the trash more often. Thank you.
Molly
Terrible chemical smell
My family recently bought the Glad Febreeze "Fresh Clean" scent, and it smells absolutely terrible every time we open the garbage can. The garbage bags have an overpowering chemical smell that we can smell in the next room; it is not a pleasant smell in the least bit. We are very disappointed because we have been happy with previous Glad odorless products, however will not be buying this particular product again due to the intolerable smell.
Rye
Iffy
Like the smell but the bags tear easily.
DianeR
I was completely amazed!
I was in a big hurry on Christmas morning as I was leaving to catch a flight. My daughter and I put 2 bags of trash in our SUV along with our luggage and headed to the airport. We had every intention to drop the trash at the dumpster, but alas we arrived at the airport and realized we had left it in our car! We were very worried about this for 3 days, because by the time we arrived in the parking the shuttle was waiting for us and we did not want to miss our flight. We left the trash in our car. We were the talk of the family during Christmas dinner. HOWEVER, when we arrived back to our car 3 days later we were very pleasantly surprised by how well the Glad Febreeze bags had held up and the very minimal smell that we had in our car. The shuttle driver was laughing and was very impressed also. He was nice enough to take them to the company dumpster for us, but needless to say we could have easily driven the 30 miles back to our home with them in the car because there was NO SMELL! I will never buy another trash bag.