Glad Tall Kitchen DrawstringTrash Bags - 13 Gallon - 45 ct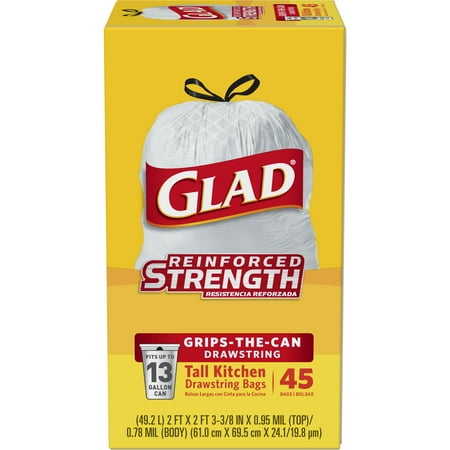 MSRP :

$13.96





Sale :

$8.58

Sold & shipped by Walmart
Product Description

Additional Information

Reviews
Product Description
Glad Tall Kitchen Drawstring Bags are made strong and durable to help prevent trash disaster in the home. These kitchen garbage bags are guaranteed strong with reinforcing strength bands that make the trash bags stronger while using less plastic, when compared to a leading branded bag. They are reinforced at the top, middle and bottom. These drawstring bags are made with a unique diamond pattern that stretches around objects to prevent rips, reinforcing bands to add strength plus a thicker plastic for leak protection. The strong 3-layer drawstring closure makes trash removal easy to lift, carry and toss away. Simply pull up on the drawstring to close the trash bag and then knot the drawstring for extra security. The 13 gallon size is perfect for use in the kitchen and other areas throughout the home. They are also great for seasonal cleaning needs like Spring Cleaning and Back to School. Get a handle on trash with Glad.
Additional Information
13 GALLON WHITE PLASTIC TRASH BAGS: Handle daily kitchen and household demands with Glad's ideally sized 13 gallon garbage bagTALL GARBAGE BAG: Prevent rips and tears with Glad's unique design allowing bag to stretch at top while reinforced bands through middle contain bulkDRAWSTRING TRASH BAG: The drawstring ensures a tight grip on trash cans and makes for a simple removal with a quick cinch of the durable drawstringREINFORCED STRENGTH: Backed with Glad strength, these 13 gallon trash bags were designed to handle the heaviest of loadsCLEANING MADE EASY: Glad 13 Gallon trash bags support an active kitchen and provide a versatile plastic bag to tackle any household or office chorePackaging May Vary
Reviews
mavc47
UPC : 012587783627 - Glad Tall Kitchen DrawstringTrash Bags - 13 Gallon - 45 ct - PickPanda.com
I bought my last bags a month ago they are all damaged the seems are open
cat lady
Tall kitchen trash bags
I don't like the gathered top, the drawstring is too short, it makes it difficult to get over the top of the can.
Cathy2121
Why are these scented????
I read every word on the box so that I did not get anything with frebreeze or gain added to my trash bag! This bag smells like some sort of plastic soap. I cannot use them. I bought the 'mega' pack of 90bags and I am going to have to throw them away. PLEASE STATE IN PLAIN SIGHT IF YOUR PRODUCTS ARE SCENTED. These have made me very ill
Lynnea
They used to make me Glad but now they make me sad
I have been using Glad Tall Kitchen Trash Bags forever. I use either the easy tie or the handle tie, which I don't even see listed here. A few months ago I noticed the box of bags I purchased seemed different. They used to rarely ever rip, but almost every bag in the box did. I thought maybe I got an off box but now I've purchased 2 boxes since and sad to say, Glad has somehow managed to make a great trash bag into a horrible trash bag. I haven't changed the garbage I make, so this one's on you, Glad. I just now pulled the bag out of the can to take to the curb and it ripped spilling coffee grounds all over. I had to double bag it in order to take it out without leaving a trail coffee grounds, and whatever else, behind me. This is becoming a daily occurance, and who's got the time, money, or patience for that? Not cool. It looks like I'm not the only one who has noticed. Did you really think we wouldn't, Glad?
ds46
Bags are good drawstrings are terrible
The bags are strong, but the drawstrings pull out of the bags when you go to tie them 90% of the time