Frigidaire 70 Pint Dehumidifier FAD704DWD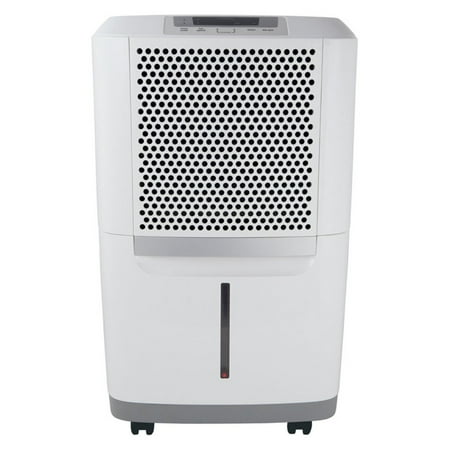 MSRP :

$249.99





Sale :

$239.99

Sold & shipped by Walmart
Product Description

Additional Information

Reviews
Product Description
The Frigidaire Dehumidifier, FAD704DWD is capable of continuous operation when the unit is located near a suitable drain. The Frigidaire Dehumidifier, FAD704DWD features top-center mechanical controls, an easily accessible collection container with level indicator and a washable filter that reduces bacteria, room odors and other airbourne particles
Additional Information

Frigidaire 70-Pint Dehumidifier, FAD704DWD:
70 pints per day
Effortless clean filter reduces bacteria, room odors and other airborne particles for a cool, comfortable environment
Operates at a low temperature, using less energy and saving you money
Protects your home from mold and mildew caused by excess moisture
Helps eliminate bacteria in the air that can make breathing difficult
Unit shuts off automatically when the water tank is almost full
Frigidaire FAD704DWD dehumidifier includes washable filter to keep air smelling fresh
Continuous drain option drains your dehumidifier, so you don't have to empty the water bucket
Water bucket is conveniently located in the front of the unit for easy access
Slide-out bottom filter access
Full 1-year parts and labor warranty, limited 5-year sealed system warranty
Dimensions: 11-5/16"L x 16-1/8"W x 24-3/4"H
Frigidaire dehumidifier model# FAD704DWD
Reviews
Tatt2edtears06
saved my home
I have single pane windows in all my home and with winter being pretty cold I would have a ton of condensation, so much that it would pool on my window will and leak down to the floor! Mold everywhere! I did not have the money to replace all my windows, but the more I didn't do anything about it the more it was ruining my windows my walls and the value of my home. I bought this in hopes that it would help and it did. Absolutely zero condensation as long as I keep it going. I had a rough time trying to set it up to empty automatically, but it's pretty easy to empty manually I have to do it maybe once or twice a day but we have very high humidity here. I definitely recommend this product not only is it priced very good, but it works like a charm. I do see an increase in my electric bill but its well worth it.This product literally saved my house.
GoWithTheBest
No guessing on settings.
Quiet operation, digital humidistat, digital humidity adjustment. Setting the humidity level is simple. Also has a selectable two speed fan. We replaced a 10 year old unit that was very loud and did not have a digital display.
aledoni
Wonderful!!!Fresh Air in Basement
About 6 months ago, I bought a 1910 house with a 1000 sq ft somewhat finished basement. The washer and dryer are located there and so I make several trips downstairs every week. I dreaded the moldy, musty smell, and stale air down there. Well I started reading reviews about this product and was quickly sold. I placed the order for the 70 pt Frigidaire dehumidifier and in no time it was delivered to my home. I got it set up, plugged it in and let it run on CO (continuous) for 2 days. I was shocked at the amount of water it took out of the air! I later set it on 55% on the low fan speed and let it run. Still pulling out loads of water! But here's the best part... the air is fresh and sweet. It's unbelievable. Now I feel like I just opened up a huge addition to my house which before, I could not bear to enter. Thank you Reviewers for sharing your stories with me.
jamest08
Lasts 3 years and 2 months.
Worked well until it stopped working. Purchased 10/2013. Died 12/2016. That's almost $100 per year for using this thing.
Keota66
More effective than expected
I was advised to get a large capacity dehumidifier and 70 pints is almost big enough. This unit really works great. I have to empty the 2 gallon reservoir about every 8 hours. Removing the holding tank takes a bit of practice and patience. So far, have not spilled any condensate. As recommended in the instruction manual it ran continuously for 4 days then we set it to the target humidity level we wanted. The unit produces a small amount of heat as it dehumidifies. The squirrel cage fan is relatively quite on high speed and did not impede sleeping after we got used to it. Controls are well marked with small type and the LED is large enough to read 10 - 20 feet away. On top of the unit is a disappearing handle I didn't discover until I had removed the unit from the shipping container. The handle would have been a big help to get it out of the box. The wheels are minimal sized but roll OK on hard surfaces and thin carpet. Otherwise, when its empty, lift it and move it around as required.