Brother Computerized 100-Stitch Project Runway Sewing Machine, CE1100PRW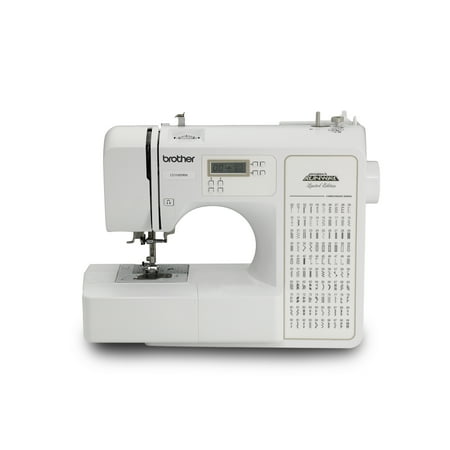 MSRP :

$200





Sale :

$90.97

Sold & shipped by VIPOUTLET
Product Description

Additional Information

Reviews
Product Description
Create your own clothes and crafts right at home with the Brother Project Runway Sewing Machine CE1100PRW. It includes a wide variety of professional features, such as eight styles of one-step and auto-size button holes. The LCD display for the stitch selection makes it easy to choose the stitch you want, while 100 different types of stitches built right in give you plenty to choose from. The work area on this computerized sewing machine is lit with an LED light, making it super bright and easy to see what you are doing. It also has an advanced needle threading system, so threading the machine is practically effortless. This means that the sewing can get started in just a few minutes and creating projects is a breeze with the seven accessory feet. This durable Brother Project Runway Sewing Machine CE1100PRW has a drop-in top bobbin system as part of the simple threading process.Becoming a sewing fashionista has never been easier and offers a wide range of convenient features, so get started on your runway creation today. It is the ideal machine for embellishing virtually everything, from clothing to home decor items, and for creating unique quilt designs. It is easy to use and is lightweight, portable and allows you to create wonderful clothes, tablecloths and much more.
Additional Information
Brother Computerized 100-Stitch Project Runway Sewing Machine, CE1100PRW
Reviews
PatioGurl
Sewing Machine Snob loves it!
I will say that I am posting a review for the contest but this little machine blew me away. I sold sewing machines early in my adult working life and always used the high-end 'thousands of dollars' machines. I didn't sew for several years but when I started back up I was shocked to find out my 25 year old, $1500 high end machine could not be repaired as the factory no longer existed. Of course I thought that was the sewing machine that I would have for life...so much for that idea... I was in a class to make a coat and needed a machine fast. Since $1500 + is not in my budget anymore, I decided to try an inexpensive machine. I chose Brother model CE1100PRW because of the Project Runway affiliation. I didn't have huge expectations but when I got into my class and got going I was amazed at what this machine could sew through. I used a heavy fabric, flannel, pleather, and light weight lining and this baby sewed it all...just as well as that $1500 machine I might add. Thank you Brother and Walmart for renewing my passion for sewing. There is no need for me to go back to those high-end machines.
XNTRIK91
More than what i had expected for the price
My sewing machine, 45 yrs. old, finally gave out. I wasn't doing much with it, mostly just mending, sewing on buttons, darning jeans, that sort of thing so I wasn't looking for something really fabulous, and to be honest I chose this machine because the price would fit into my budget. what a surprise, I had never used a machine that was computerized and this is fantastic, its so much fun to sew again, I have begun to make clothing for myself this time. the old machine was mostly purchase to make clothes for my son when he was little, but this is much different now, I recently lost my husband and was looking for something to fill the empty space in my life and this machine had done it. My cousin just gave me a Brother 1034d over locker for my birthday as she has seen such a change in my attitude since I got the machine and now I am really ready to go. you will love this machine if you get it.
NewbieSewist
Great for beginners
I am very new to sewing. I bought this to learn how to sew and to grow into making quilts and such. It is an easy machine to learn on. I was afraid of messing it up so I did read the manual. As for the manual, it was easy to read and follow along (no confusing jargon or hard to understand terminology). I like that the light covers the whole work area. I wish that the arm was a bit longer as I have had a hard time with fitting baby blankets through the hole to do tacking down. Some of the stitches seemed repetitive (on the pictures they look identical even though they may require different feet to stitch). I do wish there were a full set of completely different stitches. It is easy to set up for bobbin winding and threading (I love the drop in bobbin feature). It is super light weight and I can move it around easily. After learning more about different sewing machines, I wish that I had gotten one with a speed control (as I have made many mistakes by accident with the foot pedal). Over all this is an excellent machine for beginners and it gets the job done.
Meli
Love it!
I have always wanted a sewing machine, but I thought they would be difficult to use. Well, I have very tall windows that not even the 84" curtains can cover; so my boyfriend took it upon himself to buy fabric for the curtains, and material for a blanket for me to practice with and he even chose out this sewing machine! I was nervous at first, I thought it was going to be hard but that same night I made my first pillow and the next day a blanket. The computerized stitching is awesome! It was so easily to use and it worked easily on the thick blanket material. I had very little problems, once I got going everything was a breeze. I only got the blanket stuck in the machine once and it was so easy to fix the problem, it took simple common sense to take a couple parts out. I am officially addicted to sewing and I'm stuck on pinterest looking for curtain ideas and other projects. I can truly say as a first timer that this machine was easy to use and I'm overly excited about my purchase. The price was great too so we were able to purchase a lot of tools and material to start me off with. Needless to say both my sister's will be purchasing this same sewing machine so we can learn how to sow together :)
dmclark1964
Brother CE1100PRW can get any job done
This machine did a beautiful job with my free motion quilting project. Easy to use and came completely assembled. The computer part of it is very easy to use, just press the number for your stitch selection and start sewing!! The machine does the needle down position and has 100 preset stiches! What more can I say! I was able to bring it home, plug it in and start quilting right away. I realized after finishing my quilt, everything from fabric, batting, needles, basting spray and rotary cutters came from Walmart sewing center. Thank you!