P & G Old Spice High Endurance Deodorant, 3.25 oz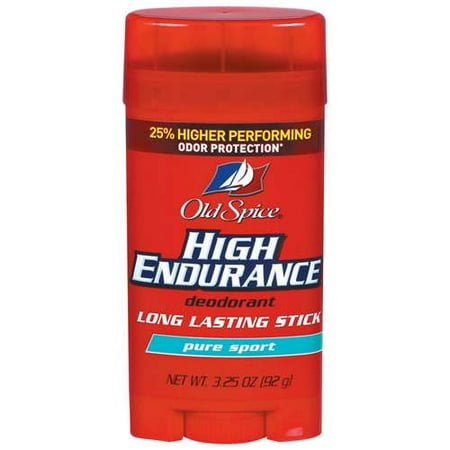 Sale :

$7.78

Sold & shipped by DopTop
Product Description

Additional Information

Reviews
Product Description
Deodorant, Long Lasting Stick, Pure Sport 3.25 oz (92 g) Same stuff! Different label. Contains odor-fighting atomic robots that shoot lasers at your stench monsters and replaces them with fresh, clean, masculine scent elves. Twist up product. Apply to underarms only. Use daily for best results. Do not apply to broken skin. If rash or irritation develops, discontinue use. Use only as directed. Keep out of reach of children. 3.25 oz (92 g) Cincinnati, OH 45202 800-677-7582
Additional Information
25% Higher Performing Odor ProtectionLong Lasting Stick
Reviews
Druboutin
Bleached and ruined my shirt
Great job, old spice. Way to formulate a Deoderant that bleached and ruined the armpits on a new work shift worn for the first time. Upon inspection, several other shirts have also been bleached, but didn't bleed through like this one. Terrible product.
KB2018
Poor antiperspirant overpowering deodorant
on first use I noticed that the scent was extremely powerful and lasted for a really long time. I also noticed that over the two weeks of use, I've regularly sweated through it, even on days when I was not exerting myself at all. The application of the stick was so difficult and thick that I have noticed my underarms turning red from basically applying sandpaper to my underarms.
Kobe
New pure sport is disgusting
Used pure sport for over 10 years and then one day I bought it in 2015 and the new scent Just smells terrible. Please go back to the old pure sport scent.
Manny34
Why? Just why?
I've been a loyal customer to old spice for many years. This Deodorant used to be the KING of all scents! Now instead of it being Pure sport it's Pure trash. I was extremely dissatisfied and dissapointed by the new smell, I will never buy another old spice pure sport stick again, unless you change the formula back.
Old spicey29
I love it
Rolled some on it was really good the scent On point and I love it so much I love the smell alone I love the Jord on point and I love it so much I love the smell alone I love the Deodorant hope everything about it pure Sport is best or all time