Repel Lemon Eucalyptus Natural Insect Repellent Pump, 4 ounces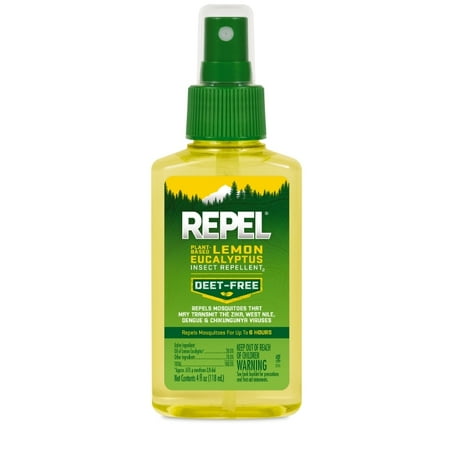 MSRP :

$6.99





Sale :

$6.07

Sold & shipped by Walmart
Product Description

Additional Information

Reviews
Product Description
Enjoy the great outdoors, naturally, with the Repel Lemon Eucalyptus Pump. This plant-based insect repellent provides up to six hours of relief from mosquitoes and deer ticks along with a cool, refreshing scent. The CDC recommends using an EPA-registered personal insect repellent, such as Repel Plant-Based Lemon Eucalyptus Insect Repellent2 (Pump Spray), as a highly effective way to reduce mosquito bites. You should also consider treating clothing, backpacks, tents and shoes with a permethrin-based spray when doing outdoor activities like hiking or camping. Outdoor enthusiasts know that when the going gets tough, so should their insect repellent. However extreme the activity or terrain, there's a Repel insect repellent designed to offer dependable and long-lasting coverage. Repel products make effective mosquito protection simple under any circumstance - so you can heed the call of the wild wherever the trail takes you.
Additional Information
Repel Lemon Eucalyptus Natural Insect Repellent Pump, 4 ounces:

Repels mosquitoes that may transmit the Chikungunya, Zika, Dengue and West Nile viruses

Repels mosquitoes for up to 6 hours

DEET-free

Contains Oil of Lemon Eucalyptus
Repels mosquitoes for up to 6 hours
Cool, refreshing scent
Reviews
thebittenone
bad bad
ok. now I'm that shopper that keeps it all the way real. and I haven't been to the jungles or camping. just sitting outside listening to some tunes and chilling. was so excited from reading the reviews. went to my local Walmart and got product for only $4.95 (4oz.) it worked for maybe about 3 hrs. then I reapplied a couple times and still have been bitten hard. a picture is worth a thousand words. so just look what has happened to me while using this product (that I'll surely be returning) and I actually should get a gift card. but anyways I had to share my experience with the REPEL Planted - based Lemon Eucalyptus Deet-Free insect repellent. it sucks. and it really does have a strong powerful unpleasant scent. someone said it smell so good - that's or those people doesn't know what a pleasant scent is. this product does actually smell like a combination of lemons and fuel. it's definitely not at all what I was hoping for. giving 2 stars only because it did work for a couple hours.
Momster67
Excellent product that works.
I heard about this item thru a Consumer Reports study about the best mosquito repellents, in particular the one that carries the Zika virus as I'm pregnant. This one is supposed to repel against the aedes mosquitos for 7 hours, according to the study. I think it's probably closer to 5/6 hours, as I don't smell it after that amount of time. I didn't get bitten once in Florida nor in the Bahamas for my vacation, nonetheless. Great product, would recommend for expecting moms. No harsh chemical smells as its plant based. Smells like the spa!
CJqa
Smell like kerosene and not effective
I am using since 2-3 years now but this time I bought from Walmart.com 1 dozen bottles but it smell like kerosene and not effective. It burnt eyes and irritating. Spoke with manufacturer and he said not kerosene but alcohol. I complaint this product has lost its Eucalyptus and lemon smell. I send them an emails and pictures. Also read lot # and bar code over the phone and send via email. I think they started Mfg. Inferior products or not sealed hence easily tempered by Walmart or during shipping.
Chad
Works as advertised
My wife has Type O blood and she gets bit a lot, just like literature documents it. When she got bit around 8 pm outside and then she applied the new Repel Oil of Lemon Eucalyptus and was outside for another hour, she never got another bite. The key is however to make sure every inch of your exposed skin and your clothing is smeared with it too. It can however make stains if you apply in excess to clothing but nothing that won't come off with washing if you wash right away. My 7 year old daughter uses it too. I make sure to dab it on her skin than spray lavishly and waste a bunch. On the clothes, I get close enough and gently spray them. Don't place it on kids' hands (front or back) since they have a tendency to rub it. I did it the first time accidentally and my daughter complained her eyes were burning because she rubbed them. We immediately used a whole bunch of saline drops on her eyes (we prefer not to use eye drops with chemicals) and she was fine the next day.
lizzieinih8md
Even works against deer flies!
I live in an area which is teeming with mosquitoes and deer flies. I was desperate to find something that would keep the deer flies away from me (especially my head!) when outside during warm weather. I have a wide brimmed hat that I wear to try to keep them away from my head, but they would swarm around my head and face to the point that I had to go inside. I decided to spray some of this product on my hat and try to go outside again. To my relief...it worked! The flies kept their distance and I could stay outside as long as I wanted without being bothered. I was absolutely amazed because it seems there is little that will deter the pesky deer flies. It, of course, works very well against mosquitoes too. Would never be without it! Highly recommend.