Danskin Now Women's Plus Size Dri More Core Bootcut Workout Pants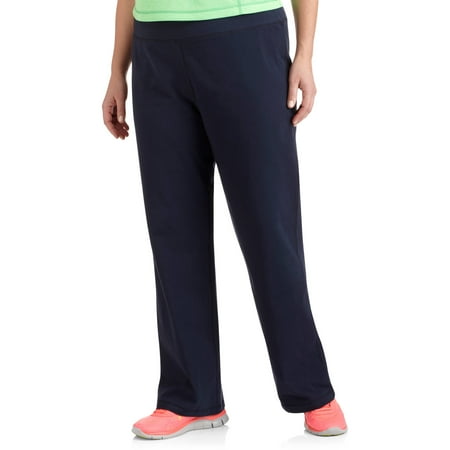 MSRP :

$14





Sale :

$13.96

Sold & shipped by Walmart
Product Description

Additional Information

Reviews
Product Description
Danskin Now Plus Core Bootcut Pant features a fitted pant through hip and flares at the knee. They come in regular and petite for the perfect fit for you. These bootcut pants feature your favorite Cotton/Spandex fabric, wicking properties and a hidden pocket inside the contour waistband!
Additional Information

Danskin Now Women's Plus Size Dri More Core Bootcut Workout Pants:
90% cotton, 10% spandex
Dri-More wicking technology
Comfortable contour waistband
Danskin workout pants with hidden media pocket in waistband
Machine wash cold
Fitted at hip, slightly flared at hem
Reg- 32" inseam, petite 30"
Available colors: Black Soot, Dark Navy and Med Grey Heather
Available sizes: 1x, 2x and 3x
Reviews
Unknown Customer
Wicking for My Size
Last month, a friend raved about moisture-wicking shorts from a particular company. I searched the company's website for the shorts, but it did not carry my size. Dejected, I moved on. Then, I was shopping at a local Walmart yesterday and stumbled upon Danskin Now Dri-More. I found a 3X in a tank and a pair of bootleg pants. Without trying on the items, I headed to a checkout lane. Eager to test my new purchases, I went to a park with one of my cousins. OMGoodness! I could not stop talking about Dri-More! Sweat only appeared on exposed areas -- face, shoulders, and arms. My torso, crotch, thighs, and legs were dry! I did not have the heavy, icky feeling that sweaty workout clothes create. Furthermore, the cool and dry feeling that I had under Louisiana's merciless sun encouraged me to do more than walk. I engaged in a walk-run-walk-run routine around the park. My cousin and I even returned to walk in the evening. I was cool, confident, and courageous! I will certainly purchase more Danskin Now Dri-More apparel.
BklynBella
My Yoga Pants Have Never Been to Yoga
Let me save you some time. THESE are the pants you're looking for. I'd bought two pairs of these last year at a Walmart store and I practically live in them. I wanted to order more but I couldn't figure out which version were the ones I wanted. I was looking for the cotton-y somewhat stretchy (but not too stretchy) soft version. I did not want the ones that are stretchy and somewhat shiny...the fabric you think of when you think "moisture wicking." (So in my mind, I wanted yoga pants not workout pants if that makes sense.) Doing some in-store research, I found out that the ones with polyester are the moisture wicking ones. If you read the description, you'll see these are cotton with no polyester. These are the most comfortable pants I own. I mostly wear them around the house (I have all black pairs) but they look good enough to run errands in. Oh, and they're probably good for yoga, too, I guess. Highly recommended! Don't buy a pair, buy three!
SoniaBmore
Great Pants
i'm plus size - 5'3 280lbs. and these pants are great. they really hold up - ive been buying them for at least 3 years - and am always washing them. when you're big you usually stick with what fits - so its these pants over and over again - i think i have about 6 pairs. always the black and blue - the gray seems to show more of my cellulite. (gross i know but i love an honest detailed review) they have no pockets - so no additional bulk - and no extra seaming in the front of the legs (one of the pictures shows this but that's incorrect). they also have a wider modern waistband of the same material - not bulky at all - it just feels more substantial - and adds some quality to the look - a little modern - rather than an old fashioned band of puckered elastic at the top. they come a little long (dont know if they have a petite version) so i hem them and cut off the white logo at the bottom - and then i can wear them out sometimes and they look like somewhat dressier yoga pants - i wear them with a cute top and some wedges. buy them you wont be disappointed.
ricecakejunkie
great fabric & length
These are my favorite workout pants - better material and fit than $30+ Lane Bryant and Avenue yoga pants I've owned. I'm 5'9", size 18/20, and have a tough time finding plus-sized workout pants that are long enough; these are perfect. The material is thick enough that it doesn't accentuate cellulite (but still quite fitted--I wear tunic-length tees with these), and the bootcut shape is flattering and un-frumpy. They have a tiny pocket inside the waistband that looks like it would hold an mp3 player (?). I've been wearing these to the gym 2-3x a week for about six months now and they're starting to fade and fuzz a bit, so I just ordered two more pairs. I have Danskin workout pants in capri length, too, but this version (ankle length) is more flattering. The Danskin tanks are also great--I layer them under long t-shirts to ensure that I don't accidentally flash anyone when I'm working out.
AmBulldogLady
Best Active Pant Out There!
I have a whole line of Danskin clothing I purchased from Walmart over the years. I am still wearing every single piece. These pants are great! They don't have pockets, so there is no side bulge. They are soft, yet very durable and hard wearing. I prefer this mostly cotton fabric to the others made with partial polyester. The polyester type are better for working out, where moisture-wicking is preferred. These still do a nice job, esp in summer if you need a fabric that breathes. For over-all comfort and everyday wear, these pants can't be beat! They wash and wear excellent. I am in-between sizes (2X & 3X). I have found that if I want a more fitted look, to go with the 2X. If I want a looser more generous fit, I go with the 3X, according to the mood I'm in. These pants are versatile and can easily be dressed up or down. Pair them with a nice blouse or dress flats, and nobody would even guess they are "workout" pants OR slip-on your sneakers and a comfy tee for a sporty look. Really can't say enough about how much I love these pants, and hope that Walmart continues to carry this brand.