Danskin Now Women's Dri-More Core Bootcut Yoga Pants available in Regular and Petite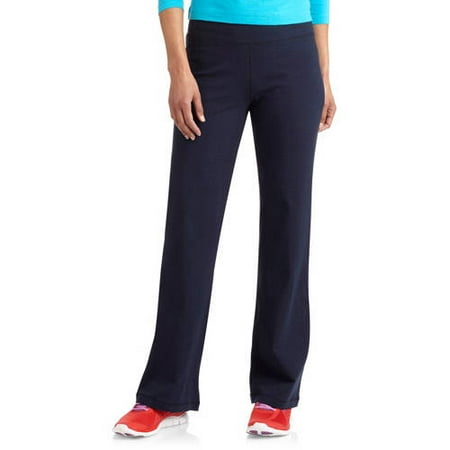 MSRP :

$12.96





Sale :

$10

Sold & shipped by Walmart
Product Description

Additional Information

Reviews
Product Description
The Danskin Now Women's Dri-More Core Bootcut Pants let you step out in style. They're made from a cotton-blended fabric designed to provide a stretchy fit. These women's bootcut pants are available in regular and petite sizes. It features Dri-More wicking technology to keep your skin free of moisture. The pants are shrink resistant to stay the size they were when you bought them. They're excellent for relaxation or even working out. The pants come in your choice of several colors so you can coordinate with the rest of your wardrobe.
Additional Information
Danskin Now Women's Dri-More Core Bootcut Pants:
90% cotton and 10% spandex
Shrink-resistant
Dri-More moisture wicking technology
Wide elastic waistband with hidden pocket
32" inseam
Available in assorted colors
Available in regular and petite lengths
Sizes s, m, l, xl, xxl, petite small, petite medium, petite xl, petite xxl
Colors available are Dark navy, Medium Heather Grey, and Black Soot
Wear Dri-more yoga pants the gym for a workout, a yoga class, a walk around the mall or park, running errands or just for lounging around in your home
Reviews
NeedSize34A
BRING BACK THE OLD STYLE!
I bought 3 pair in size small without trying on. I'll be returning all. These are not the Danskin pants I bought from Walmart a few years back. These new pants are great that they come in petite (the length and the bootcut was fine) but the fabric is thinner (shows every bump and panty line) and the center seem digs into the butt crack and gives terrible camel-toe in the front. My old pair (I bought 5 pair b/c I liked them so much!) were also Danskin Now Bootcut yoga pants in style # DL30B054, 90% cotton, 10% spandex, Made in Kenya and oddly enough I had to get those in size XS (0-2)...I'm 5'3" and about 115 lbs. The fabric on the old ones is more substantial and does not dig into all the wrong places. Those have seems that run from the waistband down the FRONT of the leg (over the knee) and also straight down the back of the pants. This style seeming avoids the tug through the center that digs into the crotch. PLEASE BRING THOSE BACK!!!
pattyasm
Great style comfort for me
Yes these pants are not the skinny pants and that is why I love them! I love the soft snug waistband with no thin elastic waist. I love these pants for their comfort and suit my style, as we all have our own style these days and I am VERY glad they are still available. I recommended them in a petite to my mom. The ones I bought last winter I wore in Winter, Spring and Summer the fabric is soft and light weight and I love the flair they are not huge. I am glad you still have this exact pant still available, yet I bought them in a 2- set last year purchasing both navy and black. Washing them in cold water inside out helped a lot to keep the colors from fading. Got that tip of washing them inside out along time ago and it works on dark colors. I always wash them on the gentle cycle. I won't wear any other pant. I am so glad you still have this pant in stock! Please do not discontinue them. They are the best fitting most comfortable pant style and I love them!!
southcentral
Soft material, washes great!
On the fence for number of stars to give these pants ... 3 or 4? I bought these to walk for exercise and lounging around home. They fit well around the waist, are very soft, wash up nicely and are comfortable on. The legs are sort of 'stove pipe' fitting and the boot cut flair is wider than I expected. The problem I am having is that they are overly long for me. I normally wear 'regular' length (32") but maybe I should have ordered petite. I'm 5'3" with 31" inseam and wear low heel shoes or boots so my pants don't normally drag the ground. I washed these pants in hopes they'd shrink in length, but they have not. So I wore them again (to kind of stretch them a bit) and hope that, after washing this time, they'll shrink. I will have to hem shorter to wear them if they don't shrink up. I'll keep them because they are affordable and comfortable and I just wanted them for around the house. I am considering ordering petite to see if that will make a difference.
Feisty181
Soft material, washes great!
These pants are wonderful especially considering the price. First I will say I found the length to be perfect for me at 5'8". However if you're looking for a super snug fit to help hold everything in you might be a little disappointed. I wear a size 10 normally, so I ordered the Medium (8/10) the first time around. When I received them and tried them on, while they were super comfortable and decent quality, they were definitely on the loose fitting side. So I decided to keep them for lounge pants at home, and reordered them in a small (4/6). I received these and found them not to be much smaller than the medium. They'll work for going on walks though. I lost a LOT of weight quickly and if you have ever been in that boat you'll know that there are certain physical things that come with that where you need something to sort of shape and squeeze everything in. These won't do that so much. But for the price, I guess I shouldn't complain. I was just hoping that I would be able to get the same Spanx like shaping a less expensive way. They are still a great, inexpensive workout pant though.
Elizadolittle
Soft material, washes great!
These pants are great! I was pleasantly surprised that they were mostly cotton (90% cotton/10% spandex). The fabric information was lacking on the website and I was afraid they would have a lot of polyester in them and therefore subject to "pilling". If they had been a mix of polyester I would have returned them for that reason alone. They have a very nice smooth finish to the fabric. They are sized right however I personally should have ordered a Large instead of a Medium. I plan to exchange them for a Large so I cannot comment on the laundering, possible shrinkage etc. However, when I wash cotton knit I always use permanent press cold wash cycle. That works for me. By the way I ordered two pair and still wear similar cotton Danskin pants purchased in the past from Walmart. two pair and still wear similar Danskin cotton pants purchased in the past from Walmart.