Purina ALPO Variety Snaps Little Bites Dog Treats With Beef Chicken Liver & Lamb Flavors Dog Treats - 32 oz. Box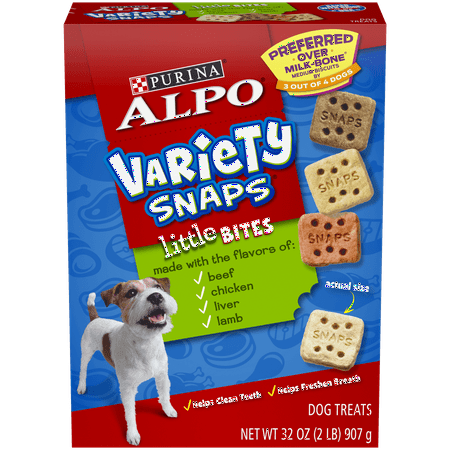 Sale :

$4

Sold & shipped by Walmart
Product Description

Additional Information

Reviews
Product Description
It's a snap to give him a treat any time. It's a snap to share the meaty tastes he loves. It's a snap to treat him to a little variety. It's a snap to make his day.

Happy and wholesome! Baked-in flavors of real beef, chicken, liver and lamb. Calcium for strong teeth and bones. No added artificial flavors or preservatives. What could be better? Another Snap, of course!
Additional Information
Made with flavors of beef, chicken, liver and lamb
Crunchy texture helps reduce plaque and tartar buildup while freshening breath
Calcium to help support strong teeth and bones
No added artificial flavors or preservatives
Preferred by 3 out of 4 dogs over Milk-Bone medium biscuits
Reviews
ChihuahuaGirl
My dogs love them
This is a real favorite with my dogs. Every morning I give a treat to my dogs when they come back in the house, and this is one of the treats that they get. (I alternate with other snacks.) The size is perfect for my small pups, and they seem to really like them. I like that they come in different flavors, to avoid boredom, but they have no stinky odor at all, and they are not messy.
Gmannhtown
Very affordable and all our dogs love them
Both my dogs love these, more so than more expensive treats actually. One dog is 10 years old and the other 12 weeks. My father's puppy, also 12 weeks, and the mother to both his and my youngest pup, enjoy them equally as well. Between them we can through a box in two days. Good thing they are so affordable. Yay!
jadis66
Alpo Snaps
My finicky dachshund LOVES these! We've tried ALL kinds of treats....expensive, all natural, etc. He hated all of them! Except these! Over a year and going strong!! <3
DeLeon53
She loves them
I have always made dry food constantly available to my pets, given moist on occasion and given them the option of earning treats for doing tricks. The dog (and the cat who gets "temptations" or something similar) seem to enjoy the interaction. I would prefer a smaller size to allow for a longer play time without having to break the treats, but these do break easier than the bone shaped competition, and given the choice, she asks for these. The photo is of a synchronized "high five."
Bobo
AWESOME
my dogs absolutely love these treats, thank you so much for always having them available.