BISSELL 3-in-1 Stick Vacuum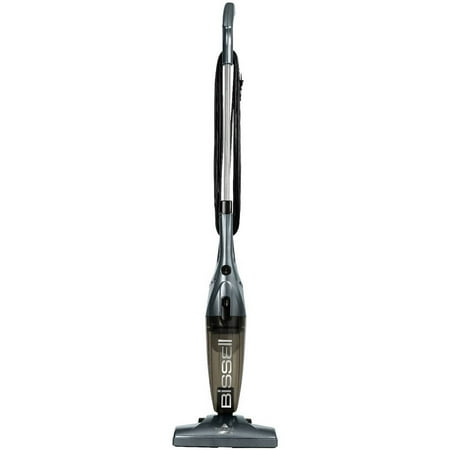 Sale :

$18.96

Sold & shipped by Walmart
Product Description

Additional Information

Reviews
Product Description
The BISSELL 3-in-1 Stick Vacuum is designed to be your go-to vacuum for cleaning up throughout your home. It easily converts to go anywhere you need it! Use it on carpet, bare floors, stairs and upholstery. The BISSELL 3-in-1 Stick Vacuum provides the versatility of a stick vacuum, hand vacuum and, with the included, a vacuum that easily gets into those hard-to-reach areas.
Additional Information
BISSELL 3-in-1 Stick Vacuum:Lightweight convertible stick vacuumFor use on carpet, bare floors, stairs and upholsteryEffective and convenient cleaningQuick release handle, converts to a hand vacuumEasy-wrap cord storage15' power cordEasy to empty dirt cupWeighs less than 4 lbs
Reviews
tfindley
UNEXPECTED SURPRISE! I will never sweep again.
I bought this online and picked it up from the store. I was hesitant about the quality bc it is so small and light, and affordable! My vacuum broke a while ago. I have wood floors, tile with grout, and a big shaggy area rug. I live in a small rental on a busy road, have a one year old who loves to eat stuff off of the ground and two dogs. These old wood floors just don't get clean with a broom, nor do I have time to constantly sweep, which I do daily. This vacuum completely astounded me. It not only cleaned all of my wood floors and grout, it gets in the corners, has great suction, and picks up everything from pet hair to cheerios. Also, it's quiet, light, easy to use and assemble, and it doesn't suck up fabrics. I used it on the Christmas tree skirt and it just cleaned it instead of sucking it up! This is truly the coolest "toy" I have bought in a very long time. I wish I could afford to buy everyone one for Christmas. This cut my cleaning time by an hour easily. I have some pics of how well it picks up! Also, it fit under all of my dressers and bed and got behind them and under them, my vacuums couldn't fold flat enough to do that.
BCSA
Great Little Vac for Quick Cleaning
I read many reviews before purchasing. And I must say, I love it!! No disappointments here. And I got some great ideas from other reviews. This little Vac is great for reaching and cleaning cob webs in your corner ceilings or wherever. Fits behind and between tight places and can be reconfigured very efficiently: take off the floor part, and use without, or use with crevice tool. Remove handle or use handle to reach high spots as stated above. Looks like a toy, but is great for hard surfaces. And great for doing my stairs as well when I need them quickly cleaned for last minute company or either I don't feel like dragging out my heavy vac and dragging it up the stairs. Not made for carpet, I don't think, but picks up well enough on rugs and carpets. Not used as the "Main" vac, but I tell you, I use it more than my heavy duty one. Cleaning the filter is easy and a small inconvenience for all the benefit you get with this vacuum. One last important thing. Anther reviewer mentioned that they wished the 16 foot cord was longer. I added an extension cord to mine to make the cord longer, worked great. So glad I purchased this. And for the price, I may purchase a few more for other parts of the house. So quick and easy to use and store!!! Definitely, clean the filter regularly. IF it breaks after a year, I will have gotten more than my monies worth out of it. It's not a quality heavy duty vac, but for quick, pickups in tight spaces, stairs, ceilings, hard floors, etc, it's fantastic!!!!!
keeperofthecats
GREAT
Got this for $8.50 on Black Friday (actually bought 2). Great for pet hair pick up. I don't have carpet but is wonderful on hard floors.
keeperofthecats
efficient lil guy
I needed a light vacuum for my pets hair and dust that trails like crazy into the house here in Dallas. Maybe i should have gone with the beautiful turquoise color, But im am supppper pleased with this vacuum. My dogs think all machines are cyborgs and so they attacked it. PEOPLE THIS ISNT A REGULAR VACUUM. ITs the little handheld thing with a suction guide and a detail attachment. ITs light weight and compact. Its perfect for my low carpet clean up ad as a floor sweeper. *****SEE PICTURE TO HOW MUCH DIRT THIS PICKED UP!**** My regular vacuum broke and its been a month. so i got this and it did better than expected. thank you / go buy it. To prevent slow suction...CLEAN THE FILTER OUT OFTEN. I do after every use. most people who complain dont know how to properly use and maintain things.
mclovinchic
I love it
I was walking through the store and spotted this in mint color and grabbed this bad boy up. I needed a new stick vac forever. Ive been bending over using a dust buster killing my back but completely broke and trying not to spend $. So i saw $18 and was like oh yeah!!! You're coming home with me little guy!!! So i really dont care about the dust buster function seeing as im sick of using mine anyways but i love the stick vac portion. It sucks great, its so light, its cute, it does what its supposed too, and lets not forget the $18... wooohooo. Its great, its picked up cat litter, dirt, dust, lots of hair scattered around the floors, pet hair, pet food, etc. I recommend this vac completely and would purchase it again. Even though i tried to stay on financial track, this little gem was worth the slight detour lol.. Thanks walmart!!!