Dove Beauty Bar Sensitive Skin 4 oz, 6 Bar, more gentle than bar soap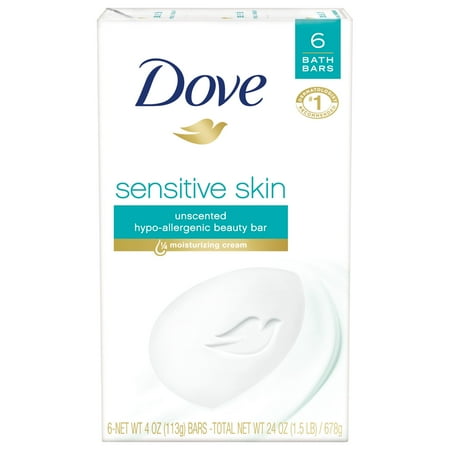 MSRP :

$6.99





Sale :

$6.47

Sold & shipped by Walmart
Product Description

Additional Information

Reviews
Product Description
Dove Sensitive Skin Unscented Beauty Bar pampers sensitive skin with Dove one-quarter moisturizing cream, and a truly mild formula that's fragrance-free, hypoallergenic and unscented. Dove is the #1 cleansing bar recommended by dermatologists and pediatricians.
Additional Information
Dove Beauty Bar Sensitive Skin 4 oz, 6 Bar, more gentle than bar soap
Dove Sensitive Skin Beauty Bar is hypoallergenic, unscented and fragrance gentle cleanser

#1 Dermatologist Recommended Bar Cleanser

With ¼ moisturizing cream and mild cleansers, Dove helps your skin maintain its natural moisture unlike regular bar soap

Dove Beauty Bar leaves you with smooth skin and leaves skin looking and feeling softer and more radiant than ordinary bar soap

Dove Sensitive Skin Beauty Bar and Sensitive Skin Body Wash are hypoallergenic skin care products you can add to your shower routine

Unlike other bath soap, this Dove Beauty Bar is a shower product gentle enough to be used as a face cleanser for sensitive skin

Reviews
bleh
Works for My Teen Acne!!
I've always had acne on my face, but recently my face has gone CRAZY with painful cystic acne. I used a product recently that gave me a sort of allergic reaction that caused me to get these tiny bumps ALL OVER my face. Someone recommended to me to use a simple dove bar to calm my skin down, which I was surprised at; I thought dove was just for your body! But I bought it and started using it with my basic benzyl peroxide spot treatment. Immediately I was impressed at the feel of the bar on my skin. It felt nourishing and cleaning at the same time! I didn't feel the need to use my regular moisturizer or toner, so I ditched them! Soon, the tiny bumps on my face disappeared, and a week later, my regular zits faded away and my cystic acne was MUCH better. I think if I keep using it, it'll clear my skin completely. I've always heard that "less is more" but never believed it! If you have been in search for something that is simple and effective, I would definitely recommend this to you!
MG in Maryland
Dries Skin- not the same bar
I used the Dove Sensitive Skin Beauty Bar years ago. I stopped and started using the Dove body washes. I recently repurchased a large pack of the Dove Sensitive Skin Beauty Bars and after the first few uses, I noticed that my skin was dry, flaky and itchy because it was so dry. I continued to use it thinking my skin needed to readjust from the Dove body wash back to the beauty bars and unfortunately it continues to keep my skin dry, flaky and itchy. I can't return the pack of bars because it is open. I am no longer going to use the beauty bar- something changed. The formula, the scent, the composition of the bar has changed. Instead of moisturizing my skin it now makes it dry and flaky. My arms and legs are so dried out that they are itchy and I constantly have to put lotion to moisturize them? Many reviewers are asking you to go back to your original formula-- you may want to listen to the consumers since they purchase your products, review them and tell others about it.
preetl
Dries Skin- not the same bar
This soap is the best. I have tried all kinds of daily facial cleanser and almost every one of them causes my face to become too dry or too oily after a few hours. This bar is just right, it keeps my skin moisturized through out the day and does not cause it to overproduce oil. Perfect balance.
missmay35
I love this beauty bar!
I have been using this same beauty bar since I was 17 and now I'm 20. I have used other skin cleansers high end and drugstore that say they're for "dry" skin or for "sensitive" skin even organic brands but nothing compares! I have dry skin which is very sensitive and combine that with painful cystic acne my face really hurts sometimes so when I use this it really soothes my skin and makes my acne go away and when I use other products they come back ! So I will defiantly be sticking with this. Plus I love the campaigns!
mvmb92
I love this beauty bar!
Very smooth and gentle to my skin. It does feel like I rub on misturizer. It has a really light and fresh smell and I use it quite often, most of the time when I feel like my skin is dry and needs some pampering