Dove Beauty Bar Sensitive Skin 4 oz, 6 Bar, more gentle than bar soap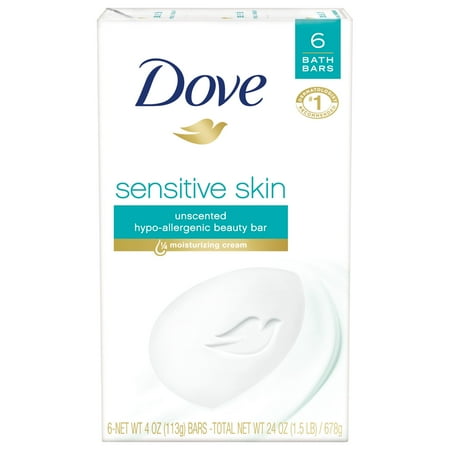 MSRP :

$6.99





Sale :

$6.88

Sold & shipped by Walmart
Product Description

Additional Information

Reviews
Product Description
Dove Sensitive Skin Soap Bars, 10-count, contain one-quarter moisturizing cream to smooth and soften skin. Designed for all skin types, this product will leave you feeling clean and refreshed. The unscented soap is the number one dermatologist choice and helps you experience radiant, hydrated skin. It can be used daily for best results. It is hypo-allergenic and fragrance-free.
Additional Information
Dove More Gentle than Bar Soap Sensitive Skin Beauty Bar, 4 oz, 10 Bar
Dove Sensitive Skin Beauty Bar is hypoallergenic, unscented formula is gentle on sensitive skin unlike harsh soap bars
#1 Dermatologist and Pediatrician Recommended, Dove Sensitive Skin Beauty Bar won't leave skin feeling dry or tight like ordinary bar soap
With ¼ moisturizing cream and mild cleansers, Dove helps your skin maintain its natural moisture better than bar soap
Leaves skin softer, smoother and more radiant-looking vs. ordinary bar soap
Dove Beauty Bar doesn't dry skin like bar soap can
Unlike some harsh body soap, Dove Sensitive Skin Beauty Bar is suitable for daily use on face, body and hands
Reviews
bleh
Works for My Teen Acne!!
I've always had acne on my face, but recently my face has gone CRAZY with painful cystic acne. I used a product recently that gave me a sort of allergic reaction that caused me to get these tiny bumps ALL OVER my face. Someone recommended to me to use a simple dove bar to calm my skin down, which I was surprised at; I thought dove was just for your body! But I bought it and started using it with my basic benzyl peroxide spot treatment. Immediately I was impressed at the feel of the bar on my skin. It felt nourishing and cleaning at the same time! I didn't feel the need to use my regular moisturizer or toner, so I ditched them! Soon, the tiny bumps on my face disappeared, and a week later, my regular zits faded away and my cystic acne was MUCH better. I think if I keep using it, it'll clear my skin completely. I've always heard that "less is more" but never believed it! If you have been in search for something that is simple and effective, I would definitely recommend this to you!
bosslady68
Return previous sensitive skin Dove, PLEASE!
About 10 years ago I switched to Dove sensitive skin because I was so itchy I swore I had scabies, but it turned out I was allergic to the soap I had grown up using. This was a shock to me because I had no other allergies, not even to pets or anything in nature. A few months ago I started itching again so badly that I went to the dermatologist. She couldn't find anything wrong with me so she suggested I change my laundry detergent and other things. Nothing worked. I finally realized that the itching is so much worse after bathing. When I started reading these reviews I knew I had found the answer. PLEASE, PLEASE go back to your previous formula. I have about 15 boxes of your soap that I cannot use and I do not know what I am going to be able to clean myself with. I am clawing myself so much I have scratch marks all over my body. I've been so desperate for relief I walk around with a hairbrush with hard bristles to scratch myself with.
bella75
drying
This soap is only for someone who does not tolerate a smell. But for someone who has sensitive skin, this is not the soap for you. I am very upset for having been led by this company. It left my face super dry after 3 times use and it will take a long time to heal. I used this soap many yeas ago, and it had a very light soft smell and it was called "sensitive". This soap is NOT for sensitive skin. In order not to have a smell, another chemical to hide the smell needs to be added.
MG in Maryland
Dries Skin- not the same bar
I used the Dove Sensitive Skin Beauty Bar years ago. I stopped and started using the Dove body washes. I recently repurchased a large pack of the Dove Sensitive Skin Beauty Bars and after the first few uses, I noticed that my skin was dry, flaky and itchy because it was so dry. I continued to use it thinking my skin needed to readjust from the Dove body wash back to the beauty bars and unfortunately it continues to keep my skin dry, flaky and itchy. I can't return the pack of bars because it is open. I am no longer going to use the beauty bar- something changed. The formula, the scent, the composition of the bar has changed. Instead of moisturizing my skin it now makes it dry and flaky. My arms and legs are so dried out that they are itchy and I constantly have to put lotion to moisturize them? Many reviewers are asking you to go back to your original formula-- you may want to listen to the consumers since they purchase your products, review them and tell others about it.
emb0a4
Dries Skin- not the same bar
Dove's sensitive skin beauty bar is an all time favorite. My mom has used this bar for years, I grew up using this bar of soap and still love to use it in the shower. Each bar seems to last forever and knowing the great quality that Dove has, you can't beat the price!